October Evacuation Exercises Planned for Ketchikan

September 27, 2006
Wednesday

Ketchikan, Alaska - On October 6th and 7th and again on October 21st, multiple agencies from throughout the Ketchikan area will come together and work as one during "EvacAlt-2006".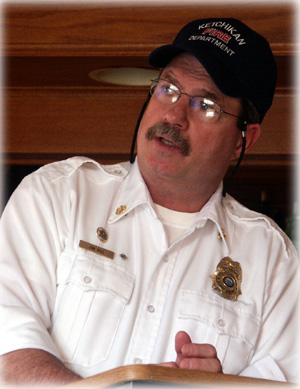 Asst. KFD Fire Chief Jim Hill
File Photo by Dick Kauffman
Assistant KFD Fire Chief Jim Hill stated in a news release that for several months, representatives from The City of Ketchikan, Ketchikan General Hospital, Ketchikan Indian Community, The Alaska Division of Public Health, The Ketchikan Gateway Borough, Ketchikan Public Utilities, and The Ketchikan Gateway Borough School District have been preparing an exercise that will test our local response capabilities regarding evacuation, mass-immunization, and alternative care sites for the sick or injured.
Hill said there will also be a law enforcement component, emergency medical services will be tested, Ketchikan's EOC (Emergency Operations Center) will be operational, and for several hours we will evaluate our strengths and weaknesses regarding disaster response and what we need to do to improve.
"On October 6 and 7 we will have an evacuation scenario and we will also be providing actual patient care at what is called an "Alternate Care Facility," said Hill.
Hill said, "We will also be exercising our local capabilities regarding "Mass-Immunization" on October 21st at The Mall." According to HIll, local citizens will be given a "free" flu shot that day between 10:00 am and 12:00 noon. He said citizens need to know that this is not the normal vaccination process and things will be hectic. "We will be practicing/ preparing for an "outbreak" event and we will be processing folks very quickly', said Asst. Fire Hill.
In addition to the agencies mentioned above, there will be numerous other agencies involved in these exercises. Members of the North Tongass and South Tongass Fire Departments, The Ketchikan Police Department, Coast Guard Station Ketchikan, The United States Forest Service, The South Tongass Fire Department Auxiliary, and many others will also be participating.
Hill said, "It's important to note: There will be no actual evacuation of citizens. We will be using city employees and volunteers to simulate evacuees, the sick, and the injured." He said, "There will be some activity on the streets but there will be no cause for alarm."
Assistant Fire Chief Hill said the City, The Borough, Ketchikan General Hospital, Ketchikan Public Utilities, and Ketchikan Indian Community will operate as normal for the duration of the exercise. This includes police, fire, emergency medical services and all normal governmental services.
This exercise is made possible by funding from The Alaska Department of Homeland Security and Emergency Management (DHS&EM) and The United States Department of Homeland Security's 2005 Homeland Security Grant to the City of Ketchikan and funding from The Alaska Division of Public Health.

E-mail your news & photos to editor@sitnews.us


Publish A Letter on SitNews Read Letters/Opinions
Contact the Editor
SitNews
Stories In The News
Ketchikan, Alaska