Volunteers tackle 50 years worth of trash on Gravina Island
By M.C. Kauffman
September 06, 2006
Wednesday

Ketchikan, Alaska - Dedicated volunteers who weren't put off by a little rain collected a large quantity of material during the first weekend of the Gravina Island clean-up said Ketchikan Borough Code Enforcement Officer Jerry Cegelske.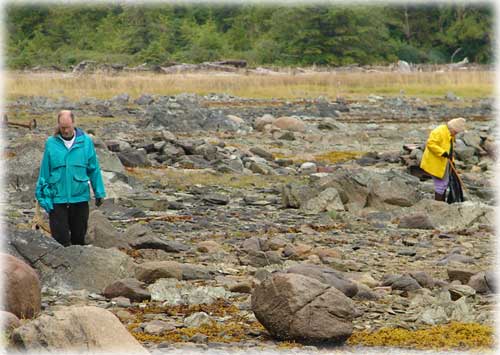 David Lieben and Mary Hastings collecting trash
during the first weekend of the Gravina Island clean-up.
Photograph courtesy Jerry Cegelske

The Clean-up is the first work to be done by volunteers to satisfy the requirements of a $125,000 grant received by the Ketchikan Gateway Borough in July of this year from the National Oceanic and Atmospheric Administration, Marine Debris Program. "The grant requires matching funds in the form of volunteer labor and in kind donations in order to be successfully completed," said Cegelske.
He said of one volunteer, "Mary Hastings would put the battery bunny to shame as she worked both days in the rain and sunshine!" Cegelske also extended a special thanks to Wylie Allen, Carol Cairnes, Jesse Harrington, Jonathan Lappin, Jim Pomplun, Mary Hastings, David Lieben and the other volunteers.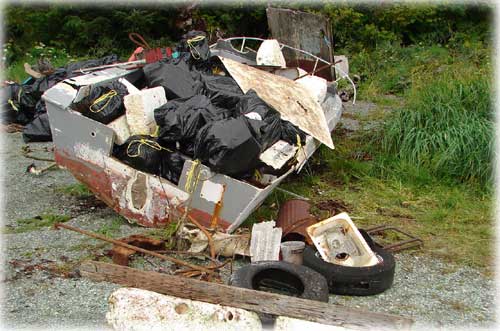 Some of the material collected over the weekend
Photograph courtesy Jerry Cegelske

Among the items collected by the volunteers on the 2nd and 3rd of September were an outhouse, a gallon of fresh oil, a baby bottle, fuel tanks, tires, a water heater, electric motor windings, beer and liquor bottles, blue tarps, plastic of all shapes and sizes, 40 pounds of tar, sheet metal, wire rope, glass, water tanks, carpet, plastic bags, and a thousand different items were collected. Cegelske said, "If you think of everything that is taken to the landfill, you could probably find it on the shores of Gravina Island."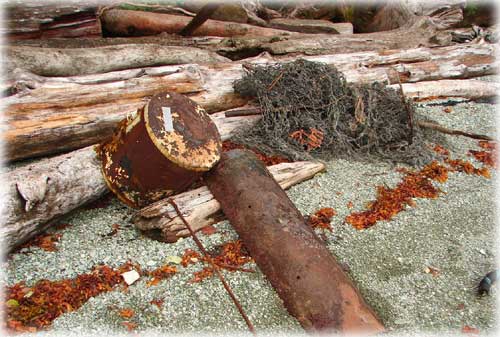 Netting, hot water heater and metal collected Sunday
Photograph courtesy Jerry Cegelske

Cegelske noted that some of the plywood covers for the jewelry shops were found on the island and at lunch David Lieben stated that his daughter had painted a portion of the plywood. The discussion turned to children said Cegelske, and Mary Hastings made the statement "We're all kids!". Cegelske said, "The statement seemed appropriate for her to make as she had worked both days picking up trash and worked harder than many teens would have."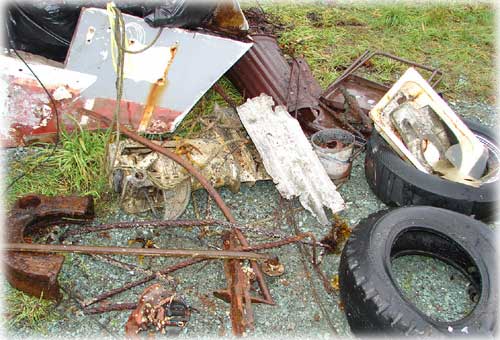 Some of the material collected on Saturday
Photograph courtesy Jerry Cegelske

"If you haven't met Mary and would like to, she will be found on Gravina Island this Saturday and Sunday doing something that she believes in, picking up the trash that has been deposited there over the last 50 years," said Cegelske.

To join in the clean-up this weekend, participants will start at 8:30 am on the 9th and 10th of September at the Harbormaster's office at 2929 Tongass Ave. Cegelske said, "Your participation and help would be greatly appreciated and a hamburger and hot dog lunch will be provided."
Related article:
$125,000 Grant & Volunteers Will Put Bite on Gravina Litter - For several years Ketchikan Borough Code Enforcement Officer Jerry Cegelske said he's received telephone calls from concerned community members asking if something couldn't be done about the abandoned boats and trash on Gravina Island. Not only is this trash an eyesore but also a hazard to navigation and to the safety of people using the beaches in the area. - More...
August 10, 2006
E-mail your news & photos to editor@sitnews.us


Publish A Letter on SitNews Read Letters/Opinions
Contact the Editor
SitNews
Stories In The News
Ketchikan, Alaska