Viewpoints
Gravina Island Clean-up Begins
By Jerry Cegelske
September 02, 2006
Saturday

The Gravina Island Clean-up will start this Saturday September 2nd at 8:30 am, and continue at 8:30 am on the 3rd, 9th and 10th. Participants should meet at the Harbormaster's office for transportation to Gravina. Having walked the shoreline, I have to say there are many interesting items scattered in the tree line and on the beach. Some of the barges have square spikes about a foot long in them. There are heavy chains and other items used in the logging industry. I found a drivers license from Nevada several weeks ago!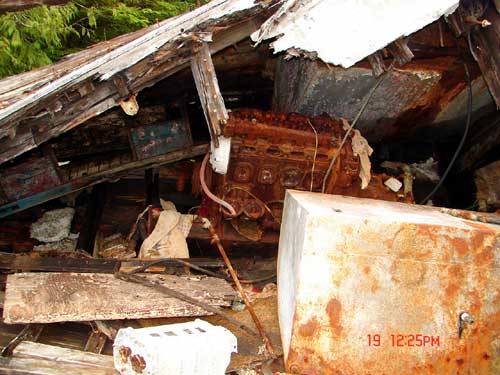 Abandoned boat interior

Unless you have been on one of the clean-ups, it is hard to understand the fun and sense of accomplishment you get from participating in the cleanup. Showing the items you find to the volunteers around you can produce laughter and questions on how the item got there. It makes for a fun day. Looking back on a clean section of beach with bags piled high with trash gives you a sense of satisfaction that you helped make Ketchikan a cleaner and better place to live. Your efforts are appreciated by the community even though I may be the one the comments are addressed to. The spoken appreciation comments belong to the volunteers that do the hard work. Your efforts will be noticed and commented on.

There will be a cookout with hamburgers and hotdogs, soda, chips and cases of water for participants.

Bring a backpack to carry your necessities, snacks, found treasures and other materials. Good boots, gloves, raingear and warm clothing are also suggested items.

Businesses have responded with agreements to take materials to be recycled such as batteries and scrap metal. The City, through the Harbormaster's office is providing transportation. They are also taking the trash for disposal at the landfill. This is a community effort requiring community participation to clean up a community problem. Your participation would be greatly appreciated.


I hope to see you on the beach!

Jerry Cegelske
Ketchikan, AK - USA
Received: August 30, 2006, published by SitNews September 02, 2006.
About: Jerry Cegelske is a Code Enforcement Officer with the Ketchikan Gateway Borough.

Related Article:
$125,000 Grant & Volunteers Will Put Bite on Gravina Litter - For several years Ketchikan Borough Code Enforcement Officer Jerry Cegelske said he's received telephone calls from concerned community members asking if something couldn't be done about the abandoned boats and trash on Gravina Island. Not only is this trash an eyesore but also a hazard to navigation and to the safety of people using the beaches in the area. - More...
Thursday - August 10, 2006
Note: Comments published on Viewpoints are the opinions of the writer
and do not necessarily reflect the opinions of Sitnews.
Send A Letter -------Read Letters

E-mail the Editor

Sitnews
Stories In The News
Ketchikan, Alaska