Karaoke With a Twist

September 26, 2005
Monday

Ketchikan, Alaska - The recent Karaoke event at the Pioneers' Home had a twist... a young twist. Members of the Boys and Girls Club spiced up the evening last Tuesday with their favorite Karaoke tunes and received a lesson in true Karaoke from Pioneers' Home residents and VFW Karaoke specialists Ken Horn and Dennis Spurgeon.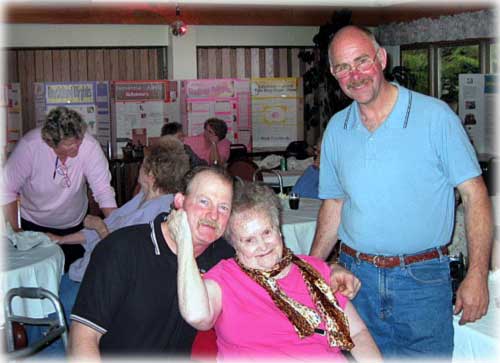 Ken Horn, Stella Mackie and Dennis Spurgeon

Horn and Spurgeon have been throwing Karaoke parties at the Pioneers' Home for over two years, said Priscilla Barnett. The atmosphere invited fun, and both groups forgot about their age differences she said. Old and young alike shared a love of Karaoke which blended the event into a common focus. When asked said Barnett, many party goers said they were excited and looking forward to the next Karaoke event.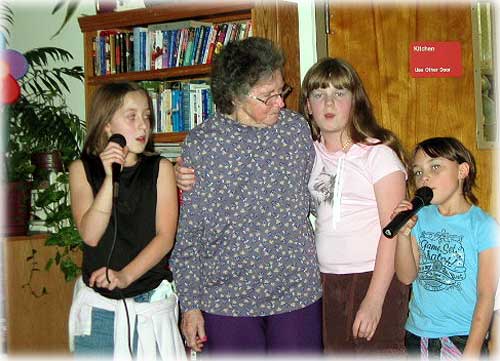 Aurora, Wilma Sande, Elizabeth and Felicia

This party was more than a night of Karaoke said Barnett, of Alaska Community Services. "It was fertile ground for friendships to grow between the youth and elders." The youth learned a practical reason to work on their reading skills as they tried new songs said Barnett. "These songs were actually the Oldies but Goodies that the seniors knew from their youth. In a familiar setting the seniors got to meet young people they would not have otherwise met," said Barnett.
Barnett said Alaska Community Services, the Pioneers' Home, Sea View Terrace, and Boys and Girls Club all hope to foster relationships into mentorships for both the youth and elders. These parties are an introduction. They are meant to give an opportunity for elder mentor matches.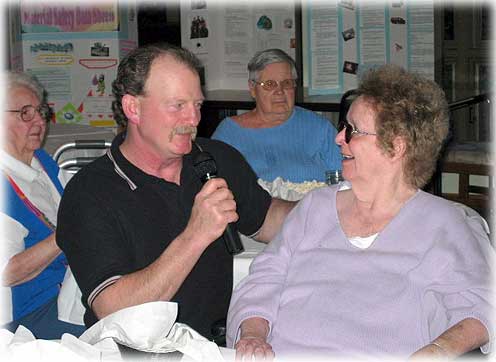 Ken Horn and Mary McDonald

Every third Saturday of the month from 1-3 p.m. an intergenerational event is scheduled. Barnett said, "Come join us!"
For more information about intergenerational events call:
Bett Jakubek - Pioneers Home at 225-4111 ex. 322
Amy LaSage - Boys and Girls Club at 247-4256
Priscilla Barnett - Alaska Community Services at 617-4685




E-mail your news & photos to editor@sitnews.us


Publish A Letter on SitNews Read Letters/Opinions
Submit A Letter to the Editor
SitNews
Stories In The News
Ketchikan, Alaska