Operation Alaskan Road Wraps Up 2005 Season

September 23, 2005
Friday PM

ANNETTE ISLAND, Alaska - Operation Alaskan Road 2005 is wrapping up for the season.
The eighth year of the road-building concluded today, with significant progress reported by the Joint Task Force undertaking the construction.
Operation Alaskan Road is part of a continuing effort to make good on a 60-year-old promise by the Alaska Department of the Interior, the Alaska Road Commission, and the Army Corps of Engineers to the Metlakatla Indian Community here to build such a road connecting the town with a ferry dock that will be built on the northeast side of the island.
Regular ferry service will provide a link between this island and Ketchikan, Alaska's fifth-largest city, across the bay, increasing access to medical, educational, and legal services as well as providing employment opportunities to the Metlakatla residents.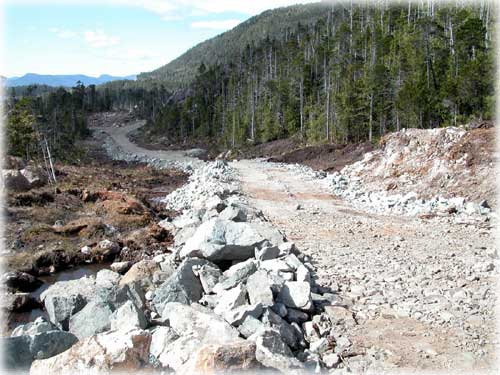 View along the Walden Point Road project site, Annette Island.
Photo by Maj. Richard C. Sater, U.S. Air Force Reserve

Specifications - determined by the Federal Highway Administration - call for a 14.5-mile road, two lanes wide, capable of 50-mph travel at a grade of seven percent or less. Design changes over the years have reduced the speed limit to 35 miles per hour in several areas. This year's construction season resulted in more than seven miles of the road being brought into rough grade, with the footprint of the road extended to 12.3 miles altogether.
"We have had a very successful year, considering all that is going on in other parts of the world," according to task force commander Col. Frederick J. West of the Missouri Army National Guard.
This year's road-building crew was a true joint force, with all branches of the U.S. Military represented - Army, Navy, Air Force, and Marines, active-duty, reserve and National Guard. During most of the season, the task force included a fulltime staff of approximately 110 personnel: equipment operators, mechanics and support personnel. Approximately 110 additional service members rotated through the operation every two weeks.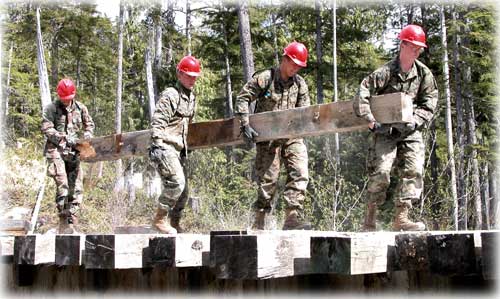 U.S. Marine Corps Sgt. Nathaniel Campbell, Pvt. 1st Class David Ridge, Pvt. 1st Class Tyler Harder, and Pvt. 1st Class Josh Daugherty, all from Combat Service Support Group 3
(Kaneohe Bay, Hawaii), break down a bridge.
Photo by Maj. Richard C. Sater, U.S. Air Force Reserve

This year, participating rotational units came from North Dakota, Minnesota, South Carolina, Colorado, Washington, Alaska, Virginia, Nevada, Missouri, Hawaii, and Okinawa, with individual support from a number of other units from California, Maryland, Texas, Delaware, and New York, among others. The last rotational unit departed Aug. 20.
Other statistics for this construction season include the following:
Heavy-equipent operators hauled in excess of 276,000 cubic yards of rock and muskeg.
Vehicle mechanics completed more than 14,000 hours of maintenance on assigned vehicles and heavy equipment.
The dining facility staff prepared more than 59,000 hot meals
The water-processing unit produced more than 891,000 gallons of potable water for camp use.
A small group of operators continues to work at various finishing sites along the road project. All construction ceased Sept. 18, and the camp will be closed on the 23rd.
The military part of the project is scheduled to continue through 2007, after which the road will be turned over to the Federal Highway Administration for asphalting and the addition of lines, signs, and guard rails.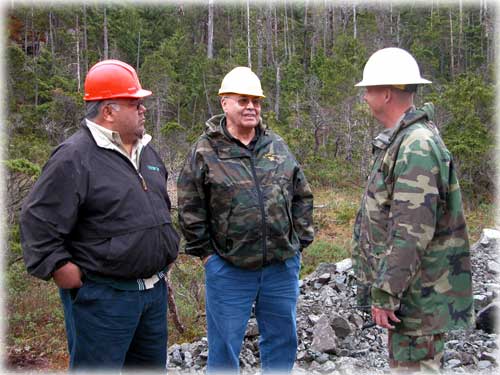 Metlakatla Mayor Victor Wellington (left), Solomon Atkinson (center), and operations officer Maj. Carl Aufdencampe, Arizona Army National Guard, on Walden Point Road.
Photo by Maj. Richard C. Sater, U.S. Air Force Reserve

The 2006 construction season begins next March.
Locally, Operation Alaskan Road is known as the Walden Point road project, taking its name from the northernmost point, where the road will end. The military participates in the project under the Innovative Readiness Training Program, administered by the Assistant Secretary of Defense for Reserve Affairs in Washington DC.
IRT is designed to promote civilian-military cooperation through projects that contribute to - and enhance - military training and readiness, and fill a need that is not otherwise being met.
The success of the Joint Task Force depends on support from a number of agencies, including the Alaska Department of Transportation and Public Facilities, the Bureau of Indian Affairs, Alaska Fish and Wildlife Service, the Environmental Protection Agency, the Metlakatla Indian community and others.
"We would not be where we are today without the tremendous support we have received from our agency partners," West said. "We will encounter several challenges during the next two years. However, our partnership will only get stronger and ensure that our military end state is successfully completed."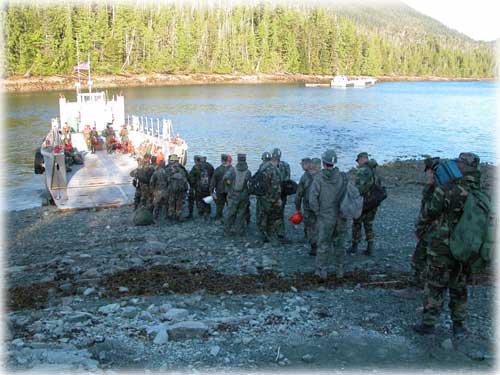 U.S. Army road workers board a Landing Craft (Mechanized) in Annette Bay at the start of the duty day. The LCM transported them to Walden Point to work on the
northern side of the road project.
Photo by Maj. Richard C. Sater, U.S. Air Force Reserve

Alaskan Command, located at Elmendorf Air Force Base, Anchorage, oversees Operation Alaskan Road.
This year's training operation is scheduled to run until late September. Units will rotate through here approximately every two weeks to accomplish the mission. To date, over 9,000 military service members have participated in the project.
Operation Alaskan Road is managed by a Joint Task Force with oversight and support from Alaskan Command, located at Elmendorf Air Force Base, Anchorage.
Other major supporting elements include the Missouri Army National Guard, which provides engineer, logistics, and personnel support and assistance; the Federal Highway Administration for road design, civilian contracts, and quality assurance to name but two. Support comes from many other agencies and sources that play a vital role in the success of the project.
The road was originally proposed circa 1946, when a proposed route was surveyed by the Alaska Road Commission and the Army Corps of Engineers, according to information provided by Sol Atkinson of the Metlakatla Indian Community. Though the route was surveyed two additional times, the road project itself was not undertaken until 1997 under the IRT program.
The mission of the JTF is to provide safe, valid joint training for all participating units in the road construction project.


Source of News & Photos:
U.S. Air Force Maj. Richard C. Sater, Joint Task Force Alaskan Road
E-mail your news & photos to editor@sitnews.us


Publish A Letter on SitNews Read Letters/Opinions
Submit A Letter to the Editor
SitNews
Stories In The News
Ketchikan, Alaska