Front Page Photo
Fast Ferry Chegena and the Ferry Oral Freeman
Photo by Dan Hart
September 21, 2005
Wednesday PM

Ketchikan, Alaska - The M. V. Oral Freeman is the Ketchikan Gateway Borough's newest ferry. It is 116' 6" long and has a beam of 48 feet. It was the first ship built by Alaska Ship and Drydock in Ketchikan, Alaska. The Oral Freeman is in service on a daily basis and has a crew of two, a captain and a deckhand.
The Transportation Services Department of the Ketchikan Gateway Borough operates and maintains the Airport Ferry System. The system provides transport for passengers and freight between the airport, which is located on Gravina Island and Ketchikan, which is located on the other side of the Tongass Narrows, on Revillagigedo Island.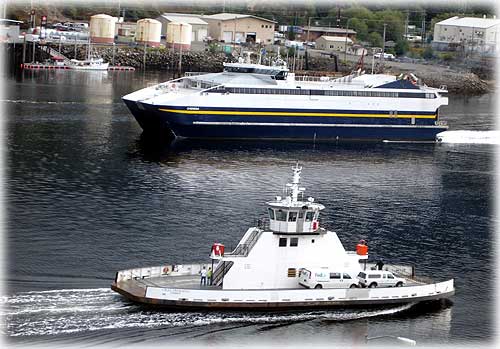 The Alaska Marine Highway System's Fast Ferry Chegena and the Ketchikan Borough's Ferry Oral Freeman (lower front) travel the Tongass Narrows Wednesday.
Dan Hart ©2005

The M/V Chenega is one of the new Alaska Marine Highway Fast Vehicle Ferries. Built by Derecktor Shipyards of Bridgeport, Connecticut at a cost of $34.5 million, she began service in summer of 2005. The Chenega's designer is Nigel Gee & Associates (NGA), a British naval architecture firm that has many years of high-speed ship design and build experience. The Chenega is powered by four diesel engines and four water jets. The hull form is a 235-foot catamaran that has been shown to provide the highest transport efficiency of any high-speed ferry of this size. The Chenega operates in Southeast Alaska during the winter months and in Prince William Sound during the summer.



Sources of Information:
Ketchikan Gateway Borough
http://www.borough.ketchikan.ak.us

Alaska Marine Highway System
http://www.dot.state.ak.us/amhs/index.html
Post a Comment
View Comments
Submit an Opinion - Letter
Sitnews
Stories In The News
Ketchikan, Alaska