Ketchikan Fire Department teams help in Katrina disaster relief
September 09, 2005
Friday

Ketchikan, Alaska - Two two-person teams from the Ketchikan Fire Department left early Wednesday morning for Atlanta, Georgia to help in the Hurricane Katrina disaster relief effort. Rich Leipfert, Ketchikan Public Safety Director, said the teams are being sent in response to a Federal Emergency Management Agency request for teams with at least firefighting and emergency medical technician level training. Leipfert said, "When we contacted FEMA about the travel arrangements they advised us that the sooner the better. The team geared up for a departure the next morning."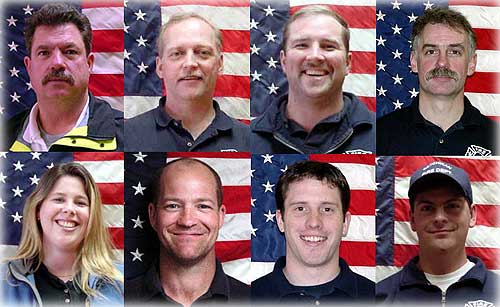 Ketchikan Katrina Disaster Relief Teams
Career staff members Jim Hill, John Goucher, Dave Breitkreutz, and Mike Moyer are members of the two teams that left early Wednesday morning.
The volunteer fire fighter contingent awaiting approval are FF/EMT Amanda Grosdidier and FF/EMT Tracy Strickland. Terry Roberts and Tracy Mettler
are standing by as the third career team.
Photographs courtesy Ketchikan Fire Department

From Ketchikan, the two teams traveled to Atlanta, Georgia, for one day of training and to receive equipment, immunizations and assignments for deployment into the affected areas said Leipfert.
FEMA pays the teams' regular salary and benefits during the 30-day "community relations deployment activation". The teams will be working in support of the disaster relief effort rather than as operational firefighters said Leipfert.
Public Safety Direct Leipfert said, "The two teams that have left are made up of career staff from the department, but there is a volunteer fire fighter contingent awaiting approval to respond to the incident also."
The first two teams to go include Jim Hill, John Goucher, Dave Breitkreutz and Mike Moyer, said Leipfert.

He said the volunteer team consisting of FF/EMT Amanda Grosdidier and FF/EMT Tracy Strickland fall under different rules than the career staff according to FEMA. They become temporary employees of FEMA. This places a greater restriction on their prerequisites and takes longer to process.
Terry Roberts and Tracy Mettler have volunteered and are standing by to go as a third career team in the event additional personnel are required after the first teams return, he said.
Leipfert said, "This deployment is truly a city-wide effort from a variety of areas: Firefighters career and volunteer deploying as well as those remaining to provide continued protection for the community. The City manager approving the deployment to assist the disaster stricken area. The community members providing support to the families and loved ones left behind by the deployed members."
"All of these components coming together to support others in need are commendable," said Leipfert.

E-mail your news & photos to editor@sitnews.us


Publish A Letter on SitNews Read Letters/Opinions
Submit A Letter to the Editor
SitNews
Stories In The News
Ketchikan, Alaska