Viewpoints
Visit to Ground Zero
By Jessica Mathews
September 13, 2005
Tuesday

I recently had the opportunity to travel to New York City and visit Ground Zero. Before I departed I contacted Richard Leipfert, Public Safety Director for the City of Ketchikan, and let him know that I was going. Without hesitation, he got together a gift package from the Ketchikan Fire Department so that I could present it to the New York Firefighters. So off I went with mugs, t-shirts, KFD patches, and really "hot" ball caps from the City of Ketchikan.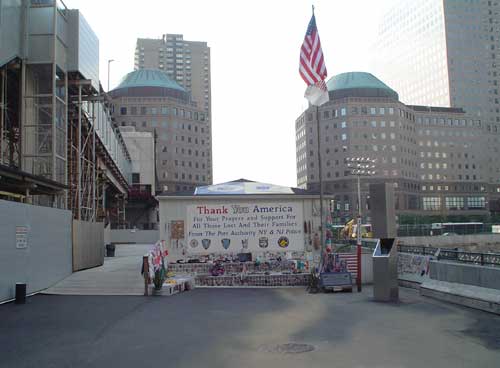 I was able to speak to several law enforcement personnel from around the nation due to a conference. I met several police officers from the New York Police Department and they directed me to a couple of fire stations that had suffered a number of losses because of September 11th. I got the chance to speak with the firefighters and shared the gifts from Ketchikan with them. They were gracious, friendly and grateful to know that the firefighters of Ketchikan were thinking of them. They were also very busy so I didn't get to spend a great deal of time with them. As a result, I let them know they were welcome in Ketchikan and invited them to come and see the Great Land.

Many thanks to Mr. Leipfert and the Ketchikan Fire Department for allowing me to be a good will ambassador for them. Your generosity and thoughtfulness was appreciated and I just want to thank you for YOUR public service.
Jessica Mathews
Ketchikan, AK - USA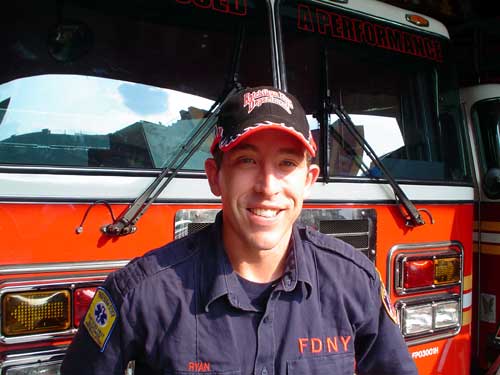 New York City Firefighter Ryan wears a Ketchikan Fire Department hat...
Photo by Jessica Mathews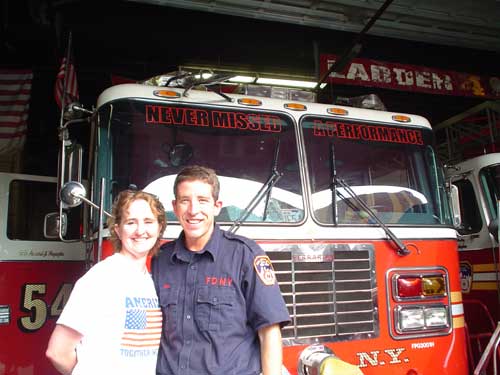 Jessica Mathews and New York City Firefighter Ryan...
Photo by Rhonda Wise from Winter Haven, Florida
Note: Comments published on Viewpoints are the opinions of the writer
and do not necessarily reflect the opinions of Sitnews.
Write a Letter -------Read Letters

E-mail the Editor

Sitnews
Stories In The News
Ketchikan, Alaska