Coast Guard suspends search for missing aircraft, occupants
10 days of searching yields no clues about five missing people, float plane
September 30, 2004
Thursday

Juneau, Alaska - After 10 intensive days of searching by air, sea and on foot, the Coast Guard suspended the search for a missing float plane, its pilot and four tourists in Southeast Alaska at 4:09 p.m.Wednesday, pending any further developments.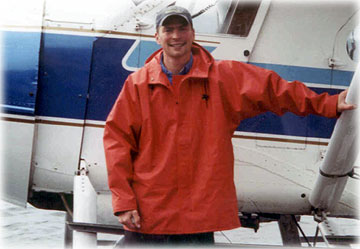 Pilot Erik Johnson in Ketchikan in September 2003
where he was flying Beavers for Taquan Air.
Johnson is one of five who still remain missing
after 10 intensive days of searching. To date,
searchers are baffled and have found
no sign of the people or aircraft.
Photo courtesy James Dalton of Seattle, WA
The five people who remain missing are identified as Jim Murphy of Sequim, Wash; twin brother Joe Murphy of Bremerton, Wash; Jerry Balmer of Auburn, Calif, Lloyd Koenig of Pleasanton, California and the pilot, Erik Johnson of Sitka.
"Suspending the active search in this case has been an extremely difficult decision," said Capt. Michael Kendall, the 17th Coast Guard District Chief of Search and Rescue. "However, after hundreds of hours of searching by the air, sea and on foot for the last 10 days, we are confident we have exhausted every reasonable effort to locate and assist any possible survivors."
Aircrews completed searches from Sitka to Baranof Warm Spring Bay and through the most likely routes the pilot may have flown the aircraft to reach its destination. Other searches examined the shoreline, nearby forest areas, Kruzof Island, Salisbury Sound, Chatham Strait, Peril Strait, Takatz Bay, Point Elizabeth, Rodman Bay, and Ushk Bay to Hoonah Sound.
The Coast Guard and CAP covered six separate search areas Wednesday. As of Wednesday morning, rescue crews searched for more than 191 hours. The Coast Guard used all of its available crews and aircraft, including night vision equipment and forward looking infrared to locate the aircraft or its occupants in the vast search area. Even the Coast Guard cutter Maple and its crew, home ported in Sitka, deployed to search both above and below the water's surface in Peril Strait. To date, searchers are baffled and have found no sign of the people or aircraft.
"He has many, many friends of all ages - we want him and his four passengers back," commented James Dalton a friend of missing pilot Erik Johnson. Dalton of Seattle, Washington told SitNews that 25-year-old Johnson was raised in Spokane Washington and holds an Engineering degree from Western Washington State University where he was on Crew and is an all-around athlete and outdoorsman. "Johnson has extensive flying experience, more than many pilots many years older than him," said Dalton.
Source of Search News:
United States Coast Guard
Web Site


E-mail your news & photos to editor@sitnews.org


Post a Comment View Comments
Submit an Opinion - Letter

Sitnews
Stories In The News
Ketchikan, Alaska