Ketchikan Little League Silver Salmon Derby's Latest Standings

Derby Still Underway Through September
September 20, 2004
Monday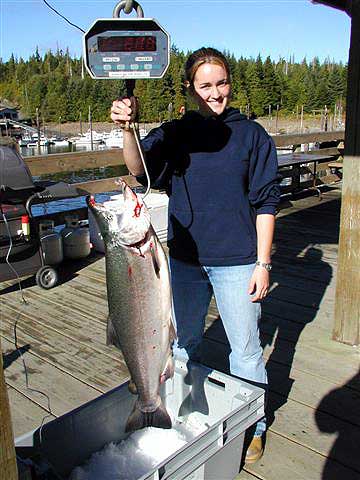 Stephanie Pattison poses with her now second place 18.4 pound Silver Salmon which she weighed in
at Knudson Cove Marina on Sept. 18th...
Photo by Misty Pattison ©2004


Ketchikan, Alaska - The latest standings for the Ketchikan Little League 2004 Silver Salmon Derby as of mid-day Sunday, September 19th, has Cynthia Stern of Grandby, Colorado in the lead with her 19.6 pound Silver Salmon. Listed in second place is Stephanie Pattison of Ward Cove, Alaska with her 18.4 pound Silver Salmon and in third place is Randy Rush of Scottsdale, Arizona with his 18.0 pound Silver. Weighing in another 18.0 pound Silver and claiming the fourth place position is Richard Atwood of Ward Cove. In fifth place is Martha Jackobson of Ketchikan with a 16.2 pound fish.

According to information provided by Tonya Rymer, the Ketchikan Little League runs from August 1st to September 30th. Weigh-In Stations are: Cedars Lodge, Clover Pass Resort, Silverking Lodge, and Knudson Cove Marina. A ticket costs $15 for an individual or $25 for a family.

Rymer noted that when fish weigh the same, the placement is determined by the first fish entered of that weight. There are 30 places on the derby prize ladder with a $1,000 gift certificate from Tongass Trading Company as the top prize.

Proceeds from the derby ticket sale will benefit the Ketchikan Little League. Rymer said tickets can be purchased at Tongass Trading Company, Reel Alaska Charters, Knudson Cove Marina, Cedars Lodge Resort, and Silverking Lodge.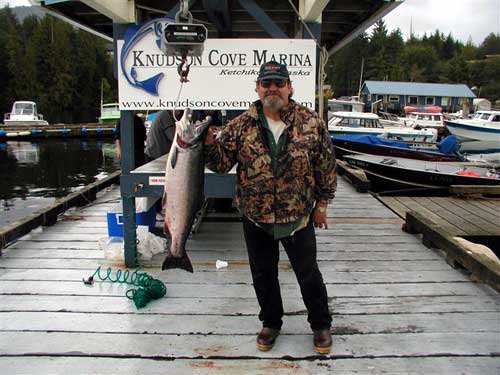 Richard Atwood poses with his 18.0 pound Silver which he
weighed in at Knudson Cove Marina on Sept. 14th
Photo by Misty Pattison ©2004
Latest Standings:
Click here to view the complete list of standings as of mid-day, Sunday, September 19, 2004


E-mail your news & photos to editor@sitnews.org


Post a Comment View Comments
Submit an Opinion - Letter

Sitnews
Stories In The News
Ketchikan, Alaska