Unemployment Essentially Unchanged
September 20, 2004
Monday

Ketchikan, Alaska - Ketchikan's unemployment rate saw an increase from 5.3 percent to 5.8 percent in August, Statewide, Alaska's unemployment rate rose on-tenth of a percentage point in August to 6.6 percent, and nonfarm payroll employment fell by 500, according to Dan Robinson, an economist at the Alaska Department of Labor and Workforce Development.
Ketchikan's labor force was reported for August at 8,009 with 7,542 employed. One year ago the the Alaska Department of Labor reported Ketchikan's labor force at 7,843 with 7,368 employed.
Both Anchorage and Juneau saw small increases in their unemployment. Anchorage from 4.8 percent to 5.0 percent and Juneau from 5.0 percent to 5.2 percent. Fairbanks recorded a decline of two-tenths of a percentage point from 5.3 to 5.1 percent.
The Denali Borough, which has enjoyed a strong summer visitor season, had the state's lowest unemployment rate in August at 2.1 percent. The Wade Hampton Census Area recorded the highest unemployment rate in the state at 26.1 percent.
Statewide, nonfarm payroll employment fell by 500. According to Dan Robinson, preliminary August payroll estimates showed a monthly decline of 2,400 manufacturing jobs due to an expected seasonal slowdown in seafood processing. Statewide, jobs in trade, transportation, and utilities declined by 200 with most of the losses in retail trade employment.
The construction industry added 800 jobs statewide in August, a noticeably larger increase than the 500 jobs added in August 2003 said Robinson. Over the year growth in construction statewide has been strong throughout the summer, averaging almost 5 percent since June.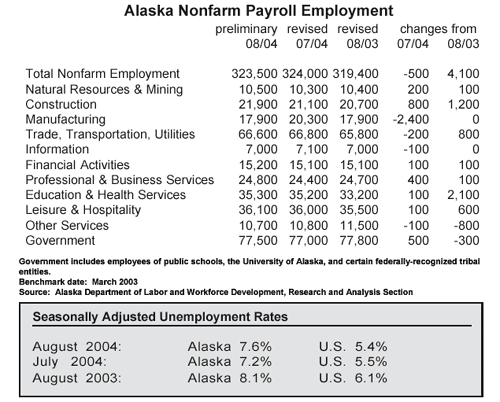 Professional and business services added 400 jobs statewide in August, most of them in the sub-category of administrative and support services, which includes everything from temporary help agencies to landscaping and janitorial service companies.
Robinson said preparations for the new academic year lifted local government employment statewide by about 900 in August, more than making up for small monthly declines in federal and state government.
Compared to August of last year, total employment was up 1.3 percent. Health care, retail trade, construction, and the leisure and hospitality industries continue to provide most of the new jobs.
Source of News & Graphics:
Alaska Department of Labor & Workforce Development
Web Site

E-mail your news & photos to editor@sitnews.org


Post a Comment View Comments
Submit an Opinion - Letter

Sitnews
Stories In The News
Ketchikan, Alaska