Math Professor Presents at International Math Education Conference
September 17, 2004
Friday

Ketchikan, Alaska - University of Alaska Southeast Ketchikan campus Assistant Professor of Mathematics Victor Zinger, Ph.D. was a presenter at the 10th International Congress on Mathematics Education in Copenhagen, Denmark in July 2004.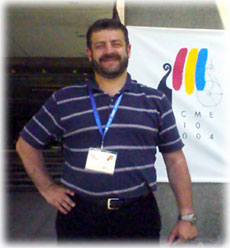 Assistant Professor of Mathematics
Victor Zinger, Ph.D.
Photo courtesy UASK
The International Commission on Mathematical Instruction (ICMI) held the 10th International Congress on Mathematical Education, ICME-10, in Copenhagen, Denmark July 4-11, 2004. The aim of the ICME congress was to present current findings and happenings in mathematics education worldwide. Both research and teaching practices were discussed.
The congress is also an opportunity for mathematics educators to exchange information on the problems of mathematics education around the world, learn and benefit from recent advances in mathematics as a discipline and interact with professionals from around the globe.
The convention is a major event in the world of mathematics and math education and occurs only once every four years. It was attended by 3,000 delegates from over 90 countries; among them were such countries as the United States which had over 350 delegates and smaller countries like Papua New Guinea which had only one representative.
Dr. Zinger presented his work on the topic of "Multi-cultural mathematics education in themes of mathematics education in society." A sub-theme of "Mathematics education within and across different cultures and traditions" was included in the presentation.
Dr. Zinger's presentation was based on his recently written paper entitled "Key Issues of Teaching Mathematics to Alaska Native Students." Dr. Zinger sees this topic as important for Alaska right now considering the emphasis currently being placed on preparation for and performance of Alaska Native students on the High School Graduation Qualifying Exam.
The presentation attracted a large turn out and was followed by a serious discussion by participants from different countries who are encountering similar problems.
Dr. Zinger has taught mathematics for the University of Alaska Southeast Ketchikan for the last two years expanding traditional face to face math classes to web-based classes as well. The University of Alaska Southeast Ketchikan Campus provides a wide variety of educational courses and programs to Ketchikan and the surrounding communities throughout the year. Many course offerings are available via both locally and through distance avenues including web-based, audio conference, teleconference and satellite offerings. Through these offerings, students can achieve certifications, associate, bachelor and master degrees.
Source of News & Photograph:
University of Alaska Southeast Ketchikan
Web Site


E-mail your news & photos to editor@sitnews.org


Post a Comment View Comments
Submit an Opinion - Letter

Sitnews
Stories In The News
Ketchikan, Alaska