Ribbon Cutting Ceremony Officially Opens "Golden Mile"
September 16, 2004
Thursday

Ketchikan, Alaska - It's open! Governor Frank Murkowski dedicated the approximately mile-long 3rd Avenue extension in Ketchikan on Wednesday morning with a ribbon-cutting ceremony officially opening the $16.6 million road connecting 3rd Avenue between Washington Street and Schoenbar Road in Bear Valley.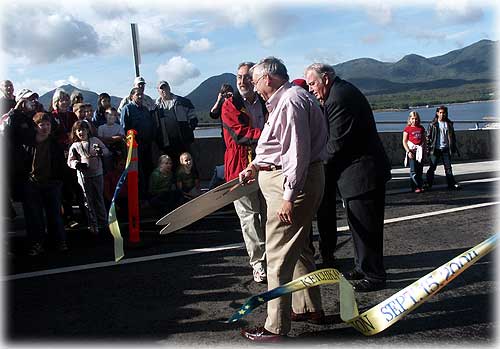 Pictured: Mike Barton cutting the ribbon; Governor Frank Murkowski; Bob Weinstein...
Photo by Dick Kauffman ©2004

Cutting the ribbon was the Alaska Commissioner of Transportation & Public Facilities Mike Barton. The Governor, Mike Barton, the Ketchikan City Mayor Bob Weinstein, Gary Paxton the Southeast Director of the Department of Transportation, and Bill Williams spoke briefly at the dedication ceremony. In attendance were numerous school children and members of the public.
The new Third Avenue Extension traverses a rugged, southwest-facing mountainside above the City of Ketchikan and was built to relieve traffic congestion along Tongass Avenue in downtown Ketchikan. The new road, at times referred to as the Golden Mile, is nearly one mile in length.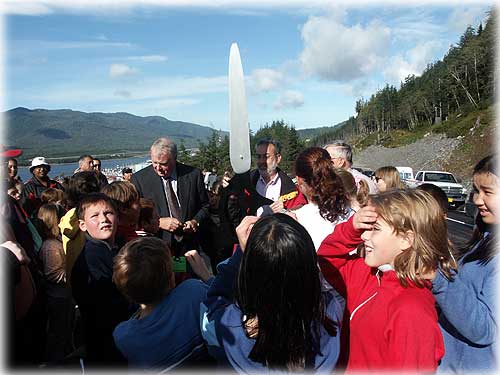 Governor Murkowski chats with some of the school children in attendance.
Mayor Weinstein is pictured holding the scissors.
Photo by Dick Kauffman ©2004

According to information provided by the AK DOT, the project was challenging due to the close proximity of residences immediately downslope, the steepness of the terrain which varied from 35º to vertical, and difficult access and construction conditions. The segment of the project most difficult was where the road crossed a 400-foot wide landslide, a 200-foot tall rock escarpment known locally as White Cliff, and a talus slope at the base of White Cliff.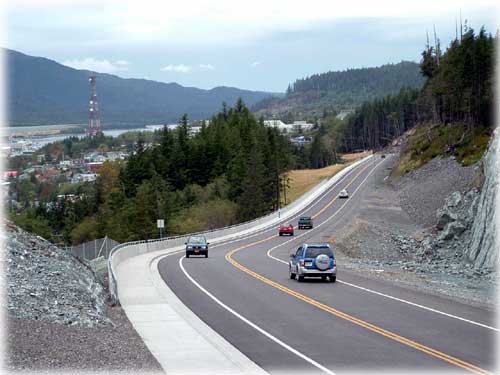 Wednesday afternoon traffic on the 3rd Avenue Extension
Photo by Chris Wilhelm©2004

The 5,345 foot roadway includes an innovative use of roller compacted concrete (RCC) to construct the embankment through the difficult central segment. RCC exhibits properties when cured similar to conventional concrete. However, for placement it was mixed with only enough water to create a damp consistency so that it could be hauled, spread and compacted using conventional highway equipment. RCC has an extensive history in dam construction but the technology has a very limited history in highway use. It's use on the Ketchikan project is a first for Alaska.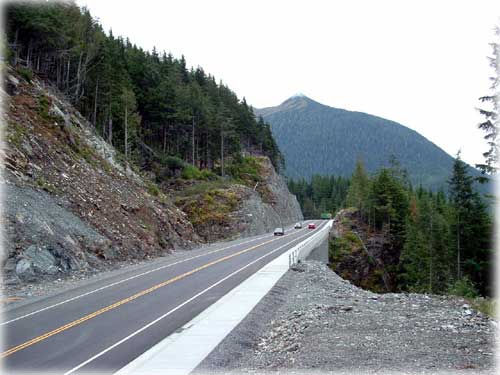 View of the embankment Wednesday afternoon
as cars travel the newly opened roadway...
Photo by Chris Wilhelm©2004

The RCC embankment reaches a maximum height of 90 feet, with an RCC volume of 60,000 cubic yards. The RCC embankment supports over 1000 feet of new roadway. Benefits of the RCC concept are noted to include indefinite service life, rapid construction with local rock aggregates, and minimal long-term maintenance requirements.
The cost of the bypass itself was $16.6. When the preliminary and environmental studies, right-of-way acquisition, and other related preparation work are added, the cost adds up to $28 million.
Reference Sources:
Office of the Governor
Alaska Department of Transportation


E-mail your news & photos to editor@sitnews.org


Post a Comment View Comments
Submit an Opinion - Letter

Sitnews
Stories In The News
Ketchikan, Alaska