Army National Guard Troops in Ketchikan Mobilized
by Dick Kauffman
September 15, 2004
Wednesday

Ketchikan, Alaska - In the first federal call-up of an Alaska National Guard infantry unit since World War II, a company of Army National Guard troops - including troops from Ketchikan - was mobilized last Friday by Governor Frank Murkowski as part of an involuntary call-up of guard units from several states to support the war in Iraq.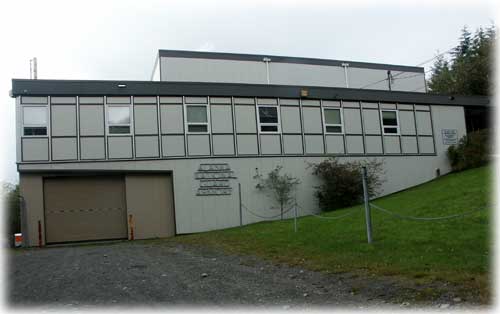 The Alaska Army National Guard, Detachment 7, Company A,
3rd Battalion (Scout), 297 Infantry building in Ketchikan, Alaska...
Photo by Dick Kauffman

About 130 soldiers of A Company, Third Battalion (Scout), 297th Infantry of the 207th Infantry Group (Scout) headquartered in Juneau were activated by the call. Their activation is expected to last up to 18 months.
According to information provided by Sgt. Keefe Blankenship of the 297th Battalion in Ketchikan, the 297th has been notified they have been activated. The 297th is attached to Juneau's 207th Infantry.
Sgt. Blankenship said there are 9 Ketchikan troops plus one guardsman from Metlakatla who are being called to active duty. He declined to name the local troops with orders to report.
To assist the troops and their families, Sgt. Blankenship said a Family Ready Awareness will be held in Juneau on September 24th-26. He said this conference is scheduled to help the troops and their families understand what deployment involves and what they can expect. Sgt. Blankenship said there will also be a separate session for children ages 6-14.
Blankenship said the Army National Guard will be offering paid airline tickets to Juneau as well as accommodations for the spouses and children. He said that along with the troops stationed in Ketchikan, troops & their families from Sitka, Wrangell and Petersburg will be attending the conference.
Sgt. Blankenship said all Southeast Alaska Army National Guard troops have been ordered to be in Anchorage on October 1, 2004. At that time he said the troops will be given medicals to assure they are physically fit for overseas deployment.
A Company, Third Battalion has elements located throughout Southeast and Southcentral Alaska. The unit will gather at Fort Richardson for its pre-mobilization station before departing to their duty assignments. The unit will be assigned to blend with units from Hawaii that are bound for Iraq according to the Office of the Governor.
"The President has asked and I've concurred with the involuntary call-up of a portion of our Alaska Army National Guard troops for duty in the global war on terror. We're extremely proud of their selfless service in our communities, throughout our state, and now to America, in this time of need," Governor Frank Murkowski said.
"These are our families, our neighbors, our friends. They go forward with our thoughts and prayers and with the knowledge that Alaskans across our state await their safe return," said the governor.
According to information provided COL Marc Williams of the Alaska National Guard, Ketchikan resident and Guardsman 2LT Bryan Perez was earlier deployed to Operation Iraqi Freedom. COL Williams said, "LT Perez is a proud Alaska Army National Guardsman who volunteered to assist the 30th Armor Brigade in Iraq as an Infantry platoon leader. Ketchikan should be exceptionally proud of this young patriot."

E-mail your news & photos to editor@sitnews.org


Post a Comment View Comments
Submit an Opinion - Letter

Sitnews
Stories In The News
Ketchikan, Alaska