From Peru to LA, more than 50 years in nursing
September 14, 2004
Tuesday

Ketchikan, Alaska - In Ketchikan and at Ketchikan General Hospital (KGH) it is a normal occurrence to receive visitors who've lived fascinating lives from all over the world. One recent visitor was a patient with a remarkable history as a nurse.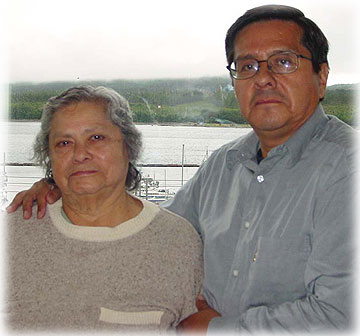 Zoila Bonilla and her son George Bonilla
Zoila Bonilla, who came to KGH recently when she suffered a cardiac crisis aboard a cruise ship, was extremely thankful for the care she received in Ketchikan. "Dr. Rice saved my life," she said. Both she and her son George expressed enormous gratitude for the ER staff, the care received on the Med/Surg Unit, and the loving attention from Sister Betty Kane. In turn, she and her son, who flew in from California to join her and travel home with her, shared a glimpse of her more than 50 years as a nurse.
Born in Peru in 1924, Zoila lost her parents at an early age, and - according to the cultural expectation that girls did not need to be educated - should have settled for a life as a wife and mother. However, she wanted to study, so as a 15-year old she "lied about her age" and went to study nursing with an order of nuns in Lima. By the age of 20 she was working as a nurse at Children's Hospital in Lima, and shortly after that entered training as a pediatric nurse. For about ten years between 1947 and 1957 she worked for the Peruvian government in various clinics, then went on to another year of schooling in adult nursing care in 1960, followed by a year of training to specialize in the nursing care of premature infants.
Zoila had five children of her own to raise and educate, filling her days around the clock. To gain better opportunities for her children they traveled to the United States in 1968 where Zoila - though initially criticized by other nurses for her non-university education with the Sisters - was the top choice for a position in premature nursery in the Margaret Hague Hospital in New Jersey. There she cared for babies weighing as little as one pound. Following nearly a decade on the east coast, she moved to the Los Angeles area and worked for another 15 years in hospitals there.
All five of her children are highly-educated in fields such as dentistry, nursing and engineering. George, who traveled to Ketchikan to be with her so that other family members could continue on their cruise, is an engineer in the health care field. Their comments about Ketchikan glowed with appreciation both for the people as well as for the scenic beauty, especially the harbor view from KGH Room 216.

Story & photograph courtesy:
Ketchikan General Hospital
Web Site


E-mail your news & photos to editor@sitnews.org


Post a Comment View Comments
Submit an Opinion - Letter

Sitnews
Stories In The News
Ketchikan, Alaska