Blaze causes substantial damage to downtown home
by Dick Kauffman
September 06, 2004
Monday

Ketchikan, Alaska - What has been called a stubborn blaze caused substantial damage Sunday to a three-story house located above the downtown tunnel at 411 Front Street. According to information provided by David Hull of the Ketchikan Fire Department, the fire was difficult to fight due to the construction and the age of the building. Firefighters were eventually pulled off the structure when smoke and fire conditions along with increasing instability of the structure itself made interior operations too dangerous for the firefighters.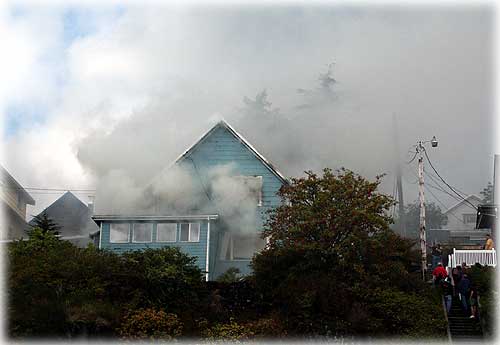 Heavy smoke conditions contributed to making the blaze difficult to fight...
Photo by Dick Kauffman ©2004

Firefighters were able to eventually get the fire extinguished after battling the blaze for approximately four hours. The basic structure of the house still stands although sustaining substantial damage if not more. Fire damage was reported throughout the house including the apartment located on the 3rd floor of the building.
This fire call was the second this year in which personnel from the three fire departments fought together to control a fire. The first was in May on Strawberry Lane when a double wide trailer caught fire. In all, 8 department vehicles responded to Sunday's blaze with 22 firefighters from the Ketchikan Fire Department, 9 firefighters from South Tongass Volunteer Fire Department, and 4 firefighters from the North Tongass Volunteer Fire Department.
According to Hull, the cause of the fire is unknown although it may possibly be accidental. The cause of the fire is still under investigation.
There were no injuries reported. The name of the owner is unknown.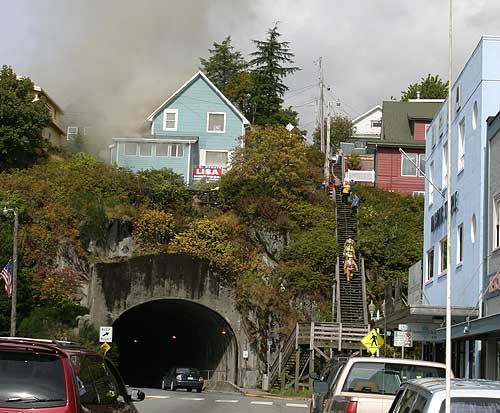 The early stages of the fire at 411 Front Street on Sunday, September 5th. Among the first fire fighters to arrive, Lt. Ken Montero and Firefighter Jason Spear are seen climbing the stairs over the tunnel on the way to the fire. Heavy smoke conditions are seen from the water side of the house.
Photo by Wayne Knudson of Schallerer's Photo & Gift Shop ©2004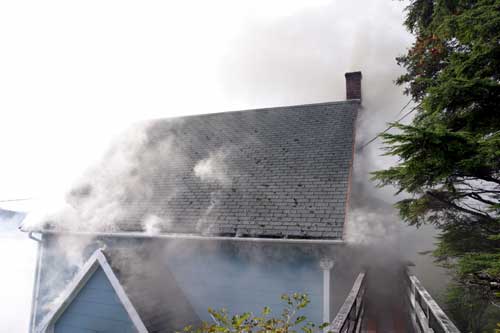 A view from the walkway to the upper apartment.
Heavy smoke conditions are seen before the arrival of firefighters indicating the fire had a good head start before the arrival of the first units.
Photo by Wayne Knudson of Schallerer's Photo & Gift Shop ©2004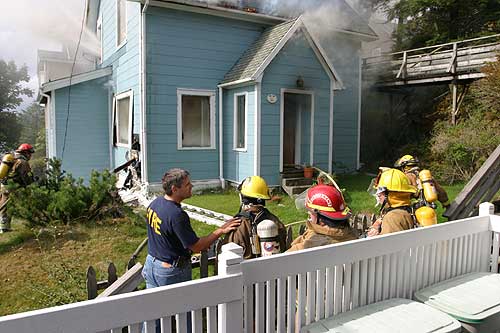 Incident Commander Lt. Kevin Murphy (blue T-Shirt), confers with firefighters in front of the burning building at 411 Front Street. Firefighters from North Tongass Volunteer Fire Department and South Tongass Volunteer Fire Department were called to assist Ketchikan Fire Department with the stubborn blaze. Firefighters were eventually pulled out of the structure when smoke and fire conditions along with increasing instability of the structure itself made interior operations too dangerous.
Photo by Wayne Knudson of Schallerer's Photo & Gift Shop ©2004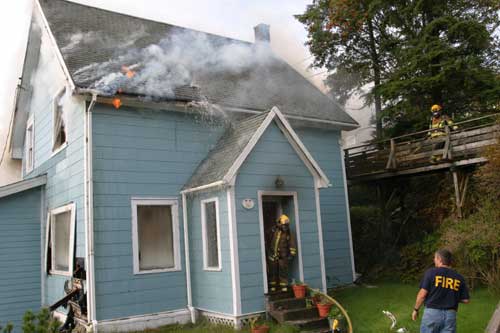 Firefighters can be seen attempting to attack the fire from the front of
the house and the walkway to the second floor apartment. Fire can be
seen coming from under the eves.
Photo by Wayne Knudson of Schallerer's Photo & Gift Shop ©2004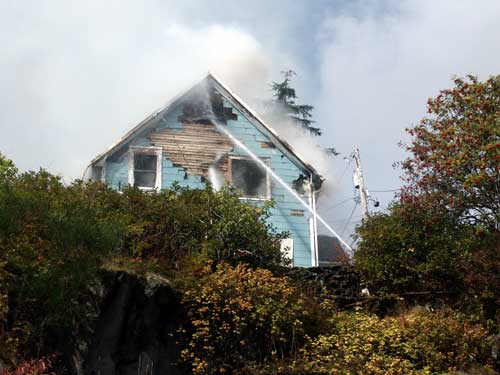 Firefighters working outside the structure spray water on the stucture in an attempt to control the fire...
Photo by Dick Kauffman ©2004



E-mail your news & photos to editor@sitnews.org


Post a Comment View Comments
Submit an Opinion - Letter

Sitnews
Stories In The News
Ketchikan, Alaska