Fairweather Will Need New Engine

Schedule to Sitka, Skagway in Flux
September 06, 2004
Monday

Juneau, Alaska - The fast vehicle ferry M/V Fairweather which began service in May 2004 will need a replacement engine. As a result of being able to operate on only three of four engines, the Fairweather's schedule to Sitka and Skagway will be highly dependent on tides and winds.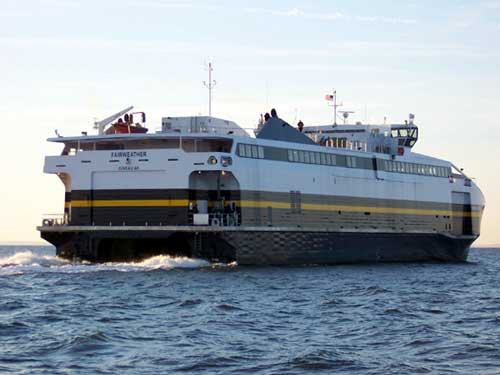 Fairweather
Photo courtesy Alaska DOT

"The engine manufacturer is currently searching for a new engine to replace the number one engine, which has been damaged by loose parts caused during assembly," said Captain John Falvey, General Manager of the Alaska Marine Highway System. "Our hope is that the engine will be located and available for installing when the Fairweather is in for scheduled maintenance in mid-October."
In the meantime, the fast ferry will continue to serve Haines, Skagway, and Sitka. However, sailings to Sitka will depend on tidal currents under 3-1/2 knots in Sergius Narrows, and those to Skagway will be prohibited by winds over 25 knots.
AMHS staff who diagnosed the engine problem last Wednesday determined that improperly installed parts in the exhaust manifold had worked loose and vibrated against the engine block to a point where a hole developed, allowing jacket water into the exhaust system. Experts from the engine manufacturer in Germany are scheduled to inspect the ferry's other three engines in the next few days to make sure the same problem is not taking place in them. All four engines are under warranty, so the repairs will be done at the manufacturer's expense.
Regarding schedules between Juneau and Sitka or Skagway, all travelers are encouraged to check with their local ferry terminal operators.


Source of News & Photo:
Alaska Department of Transportation
Web Site


E-mail your news & photos to editor@sitnews.org


Post a Comment View Comments
Submit an Opinion - Letter

Sitnews
Stories In The News
Ketchikan, Alaska