People of Ketchikan
Providing a continuum of care
by Kathleen Stack
September 05, 2004
Sunday

Ketchikan, Alaska - Monday is Labor Day. A day to pause from the regular routine to honor the nation's working men and women and the traditional end of the summer season. Among Ketchikan's many professional and skilled labor force is hand therapist Lucy Marie Cruise who specializes in rehabilitating patients with conditions affecting the hands.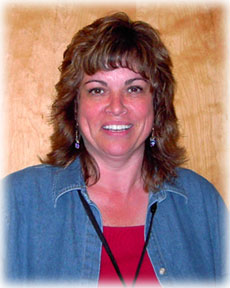 Lucy Marie Cruise
Photo by Kathy Stack
Cruise works for Ketchikan General Hospital in the therapy department. As a hand therapist she works with the physician and patient - in any situation - to provide a continuum of care. This often starts within days of the injury or surgery right through to the patient's return to work and/or a productive lifestyle. She provides therapy for patients who may have experienced repetitive stress injuries and provides the therapy ordered as follow up treatments for fractures, crush injuries, lacerations, and tendon and repair surgeries. According to Cruise, a patient may have multiple therapy needs such as those produced by a crush injury which might involve broken bones, lacerations and cut tendons.
Cruise specializes on other services that would involve rehabilitation - such as splinting. She states splinting is a craft and that it can be very challenging. It is an art in itself to design a splint that will hold body parts in place or that will assist body parts in moving when they no longer can on their own. Currently, Cruise is the only specialist who crafts splints in Ketchikan.

A therapist's high degree of specialization requires continuing education and, often, advanced certification. This enables the hand therapist to work with patients to hasten their return to a productive lifestyle. And Cruise stays up-to-date in her speciality. She is a member of the American Society Of Hand Therapists and attends conferences to learn about the latest advances and treatment techniques at least once a year.

Cruise came to Ketchikan two years ago from a small southeast Arizona desert town named Safford, where she worked as a hand therapist in a private clinic.

Cruise said she was on a quest looking for a mentorship and spotted an ad in a professional magazines that Dr.Wolf of the Southeast Orthopedic and Sports Medicine Clinic in Ketchikan was offering a mentorship opportunity. Cruise said she was interested in the mentorship opportunity which would allow her to attend clinics and see patients with Dr. Wolf as well as be able to observe surgeries performed and to learn from Dr. Wolf. Cruise was interested in the mentorship position as she plans to achieve an advanced Hand Therapist Certification in the next few years. Cruise said she and Dr. Wolf spend two to three days a month in the clinic together and maintain close communications regarding patients' recovery and progress. Cruise says this working mentorship is very different from big cities where its difficult to get a learning opportunity like this.

Cruise is a single parent with two daughters. Erin, age sixteen, attends school in Arizona and loves music as well as other normal teen things. Elena, ten years old, enjoys piano, drums, drawing, and visual arts.

Before becoming a hand therapist, Cruise made her living as a singer. She said she spent twenty years singing in night clubs to put food on the table. Cruise sang Blue Grass, Jazz, and was even in a Polka band for a while. She still performs and has participated in a few of the popular Ketchikan Monthly Grinds featuring local performers. Cruise will be performing Blue Grass this month at the Monthly Grind which is held in Saxman.
Lucy Marie Cruise said she loves Ketchikan and her job. She said she has not observed this kind of personal care in other places that she says we are so lucky to have in Ketchikan.
E-mail your news & photos to editor@sitnews.org


Post a Comment View Comments
Submit an Opinion - Letter

Sitnews
Stories In The News
Ketchikan, Alaska