Governor proclaims September Alcohol & Drug
Addiction Recovery Month in Alaska

"Join the Voices for Recovery . . . Now!"
September 02, 2004
Thursday

Alaska Governor Frank H. Murkowski has issued an Executive Proclamation designating September 2004 as Alcohol and Drug Addiction Recovery Month. He encourages all citizens to support men, women and youths who are in substance abuse recovery and treatment, and their families. "Substance abuse affects thousands of Alaskans of all ages, races and ethnic backgrounds in all communities," said Governor Murkowski. "This month, I urge you to encourage family and friends, one by one, who have taken steps to recovery. Your support makes a tremendous difference."
"People with co-occurring substance abuse and mental disorders can and do recover, and people with such disorders deserve access to the services they need to recover," said Joel Gilbertson, Commissioner, Alaska Dept. of Health & Social Services. "This month we also honor Alaska's health-care providers, who dedicate their lives to the recovery process and to educating the public about alcoholism, drug dependence and treatment issues."
William Hogan, Director, Division of Behavioral Health, encourages those who are suffering from alcohol or other drug addiction to celebrate recovery month by taking a first step towards their own recovery. "Recovery is available to everyone - all you have to do is ask," said Hogan. "There are likely people in your faith community, your family, your workplace and those answering help line calls who are ready to help you today."
For more information about available prevention, treatment and recovery resources, please call the Division of Behavioral Health at 800-465-4828, or visit the web site at www.hss.state.ak.us/dbh.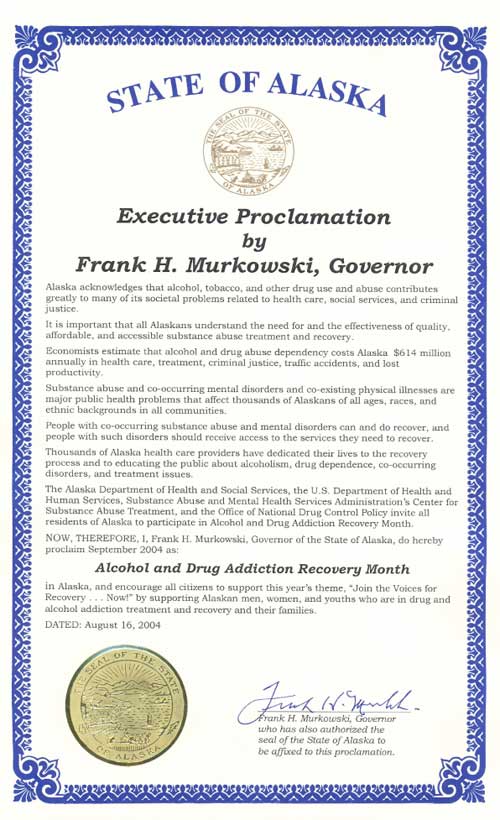 Source of News Release:
Alaska Health & Social Services - Division of Behavioral Health
Web Site
E-mail your news & photos to editor@sitnews.org


Post a Comment View Comments
Submit an Opinion - Letter

Sitnews
Stories In The News
Ketchikan, Alaska