Unemployment down slightly in August

September 22, 2003
Monday - 12:05 am

Alaska's unemployment rate fell two-tenths of a percentage point in August to 6.7 percent. The comparable national rate (not seasonally adjusted) fell three-tenths of a percentage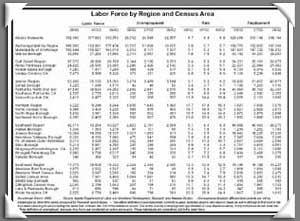 Click to view a larger Labor Force by Region & Census Area graphic report for August 2003

point to 6.0 percent.

According to Dan Robinson, a labor economist with the Alaska Department of Labor and Workforce Development, the August unemployment data conform to a long-running pattern. "For more than twenty-five years Alaska has always recorded a decline in unemployment from July to August," Robinson said. "Despite Alaska's heavily seasonal labor market, which can show big monthly swings, certain annual patterns have held remarkably constant."

Anchorage, Fairbanks, Juneau, and Ketchikan all recorded slightly lower rates in August. Ketchikan's unemployment rate was reported at 5.9 percent in August - a drop from July's unemployment rate of 6.6 percent. Last year, Ketchikan's unemployment rate for August of 2002 was reported at 8.3 percent.

The Denali Borough and the Aleutians East Borough shared the state's lowest unemployment rate of 3.5 percent. At the other end of the spectrum, the Wade Hampton Census Area had August's highest unemployment rate at 26.5 percent.

August estimates of wage and salary employment statewide show a slight over-the-month increase of 100 jobs. At 319,600, the state had approximately 1,800 more jobs in August of this year than it did in August of 2002, and appears well on its way to a sixteenth consecutive year of job growth according to the Alaska Department of Labor.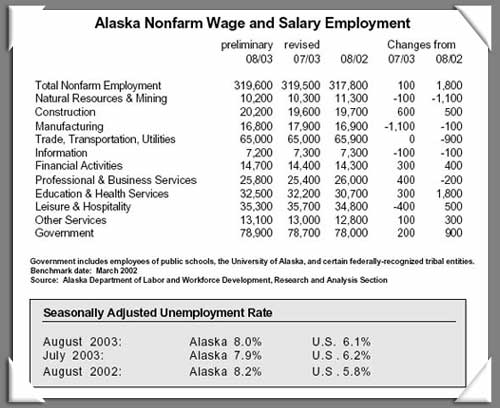 Statewide, jobs lost in the oil industry roughly equal jobs added in health care and social service. The construction industry is still showing growth, although at a slower rate than in recent months. Jobs in the Leisure & Hospitality sector of the economy (hotels, restaurants, etc.) have also increased. More than a third of the approximately 900 new government jobs are attributed to federalized airport security positions according to information provided by the Alaska Department of Labor & Work Force Development.

Source of News Release & graphic reports:
Alaska Department of Labor & Workforce Development
Web Site




Post a Comment -------View Comments

Submit an Opinion - Letter

Sitnews
Stories In The News
Ketchikan, Alaska