Local Marine Homeward Bound
Soon to put foot on American soil again...
by M. C. Kauffman
September 14, 2003
Sunday - 1:00 am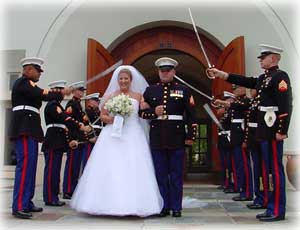 Newly weds Sgt. Zack & Nikki Pilcher - June 2002
photo courtesy Gigi Pilcher



It's official! Sgt. Zack Pilcher and several hundred other Marines will soon have their feet on American soil once again. Pilcher and the First Battalion, 4th Marines Bravo Company will be arriving back in the United States on Monday morning - September 15th.

Eagerly awaiting his return and meeting him in California will be his wife Nikki Pilcher. The Pilchers are newly weds - married in June of 2002. With Sgt. Pilcher stationed in Iraq, their first wedding anniversary was spent apart.

Sgt. Pilcher is the son of Ketchikan residents Dan and Gigi Pilcher. His mother said, "I am so excited he is coming home - back to American soil! I sure wish I could be there to welcome him home." Sgt. Pilcher's mother said the days have been long and that although she was aware that her son was in harm's way, she tried not to worry.

Born and raised in Ketchikan, Sgt. Pilcher joined the United States Marine Corps in June of 1996. He deployed to Iraq on March 20, 2003, where he served for six months.

Writing from Iraq, Sgt. Pilcher said he was involved in a couple of fire-fights outside of Al Kut and Saddam City which is in eastern Baghdad. Sgt. Pilcher said when they got outside of Saddam City their Amtraks were surrounded by Iraqi people all crying and cheering. He said, "It was an awesome sight to see. The people are very happy to be free" and we are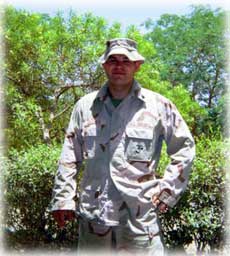 Sgt. Zack Pilcher - Iraq August 2003
photo courtesy Sgt. Pilcher

doing a good job of getting Iraqi back on its feet.

Pilcher also served in Al Hillah and said, "The people in Al Hillah are very friendly and the children love the Marines." He said the children waved at them every time they drove by or would come up to them when they were patrolling through the streets.

He said the part of Iraq that they were in was fairly nice with lots of palm trees along the river. Sgt. Pilcher said it seemed to get hotter and hotter but said they got use to it. According to Pilcher, the Marines had a couple of TV rooms and computer rooms with air conditioning so they did get a little bit of a break from the heat.

Asked recently if he and the troops felt they had the support of the folks back home Pilcher replied, "Yes, we feel that the people support us and have not forgotten about us. The Marines are doing a great job of coping with being over here." He said, "The moral is still good. Most of the Marines want to get home but know that if we don't do a good enough job right now we will be right back here fighting again."

Asked what message he would like to give the folks back home, Sgt. Pilcher said, "Don't forget the Americans who have given their lives in the name of freedom."

Welcome home Marines!



E-Mail MC Kauffman: mc@sitnews.us

©2003

Post a Comment -------View Comments

Submit an Opinion - Letter

Sitnews
Stories In The News
Ketchikan, Alaska