Ketchikan Regional Youth Facility Receives
Special Citation for Architectural and Design Excellence
September 08, 2003
Monday - 12:45 am

The American Institute of Architects (AIA) Committee on Architecture for Justice (CAJ) announced on September 4th the 20 projects selected for publication in its 2003-2004 Justice Facilities Review, two of which were awarded citations for demonstrating architectural and design excellence.
The two projects receiving special citations from the jury were The Lloyd D. George U.S. Courthouse and Federal Building in Las Vegas, by Cannon Design, and Ketchikan Regional Youth/RDT Facility in Ketchikan, Alaska, by ECI/Hyer Inc. These projects and their architects will be honored at the second annual Congress on Infrastructure Security for the Built Environment (ISBE) September 16-18 in Washington, D.C., in tandem with the CAJ fall conference.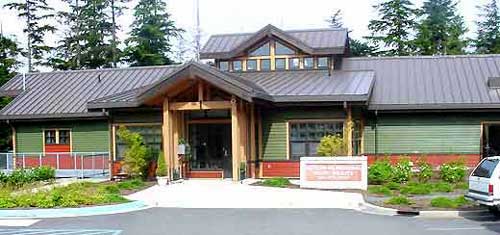 Ketchikan Regional Youth Facility - 3058 Fifth Avenue - Ketchikan, Alaska
designed by ECI/Hyer, Inc.
Photo courtesy Alaska Dept. of Health & Human Services
---
According to a AIA news release, the Ketchikan correctional facility rose above the rest in capturing the jury's immediate attention. Juror Chuck Kehoe, president of the American Correctional Association (ACA) wrote this about the facility: "This multi-use juvenile facility is a beautiful fit with the external environment in its non-institutional appearance.The Ketchikan Facility is a good example of a facility that can be designed to meet the multiple needs of youth in smaller, more rural communities."
American Correctional Association (ACA) stated in their news release, the facility provides both secure detention for juvenile offenders and a program for youth with mental health issues. The design allows these two populations to be separated while still benefiting from the multi-use spaces. The facility's program is centered on four youth-detention and four mental-health single-occupancy beds, with two swing cells available to both populations for flexibility. To meet the requirement of sight and sound separation between populations while maintaining an efficient, open plan, the design connects a centralized workstation to two independent living wings.
Information provided in the news release said the Ketchikan Regional Youth Facility site offers beautiful views of a nearby creek as well as challenging topographic conditions. Consequently, the building is supported on a foundation of steel pilings up to 60 feet long. Traditional Alaskan Native American exterior paint colors, sloping roof forms with long eave projections, and covered entryways complete a building envelope intended to harmonize with its breathtaking surround. The jurors stated that this entry caught their attention immediately because it breaks from the traditional style of juvenile detention facilities. "The Ketchikan facility is a good example of a facility that can be designed to meet the multiple needs of youth in smaller, more rural communities," they concluded.
The Justice Facilities Review serves as an indicator of the proven strategies and latest trends that are being used in the design and construction of justice facilities all over the country. The selection process is conducted by a jury that is responsible for choosing projects for inclusion that demonstrate a quality of form, as well as functional and current architectural responses to complex justice design issues. This year's jury was comprised of representatives from the justice, architecture and government sectors and they reviewed newly constructed facilities that ranged from courthouses, to forensic laboratories, to maximum security prisons.
Previous stories:
"Wind" Expresses A Longing To Be Back Outside; Art Designed by Donny Varnell for Youth Facility...
July 01, 2003

Grand Opening of New Ketchikan Regional Youth Facility...
March 11, 2002
Source of News Release:
American Institute of Architects (AIA) Committee on Architecture for Justice (CAJ)
Web Site




Post a Comment -------View Comments

Submit an Opinion - Letter

Sitnews
Stories In The News
Ketchikan, Alaska