High Adventures For Ketchikan Scout Troop 4
by Michael & Susan Round
September 06, 2003
Saturday - 12:50 am

Ketchikan, AK - Fifteen boys from Ketchikan Boy Scout Troop 4 flew to Anchorage on July 13 to attend Camp Gorsuch, located in Chugiak, Alaska. The weather was hot and dusty so swimming in the lake was everyone's priority. The scouts' first visit to Camp Gorsuch proved to be eventful and productive for both the younger and older scouts alike.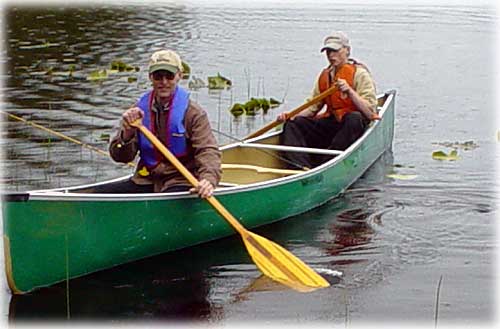 Rob and Doug Miller

Older Scouts Rob Miller, Spencer Round, Eli Murph, Patrick Enters, Christian Jorgensen, Brian Kenyon, Karl Chaudary, Michael Bruce, and Lee Yonker enrolled in Project COPE, an acronym for Challenging Outdoor Personal Experience. This program is an opportunity for scouts 13 to 18 years old to challenge themselves and each other with climbing, swinging, and balancing through low course events as well as high course events conducted 40 feet above the ground. The program uses initiative games and trust events for team building and confidence development. Participants received a COPE Badge and their Climbing Merit Badge as a result of completion of this program.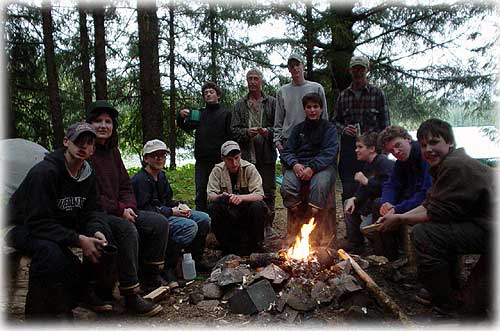 Around the Campfire

Karl Chaudary, Taylor Murph, Spencer Round, and Lee Yonker achieved the Lifesaving Merit Badge, an Eagle Scout Required Badge. Additionally the following rank and/or merit badges were obtained since Troop 4's last Court of Honor: Jacob Creasy, Joey Miller - Fly Fishing Merit Badge; Jacob Creasy, Patrick Enters, Eli Murph - Rifle Shooting Merit Badge; Christian Jorgensen, Brian Kenyon, Joey Miller, Taylor Murph - Fingerprinting Merit Badge; Brian Kenyon, Joey Miller, - Mammal Study Merit Badge; Taylor Murph - Wilderness Survival Merit Badge; Rob Miller - Rowing Merit Badge.
Trout fishing was great says Spencer Round

This year's Troop 4 High Adventure was a ten day trip to Prince of Wales Island. Scouts enjoyed canoeing and portaging the Sarcar System, floating the Thorne River, as well as hiking, camping, and memorable trout fishing. Participants earned their Canoeing Merit Badge prior to the trip: Spencer Round, Lee Yonker, Rob Miller, Jared Oien, Jacob Creasy, Taylor Murph, Eli Murph, Karl Chaudhary, Sam Roth.
New rank acheivments include Star Scouts: Spencer Round, Jacob Creasy, Eli Murph, Taylor Murph, Michael Bruce. Tenderfoot: Christian Jorgensen

For information about Troop 4, visit their web site.

Troop 4 meets at the Holy Name School gym each Thursday from 7:00 pm - 8:30 pm.

Lee Yonker with Sarcar Commemorative Paddle made by his Dad...
Photo courtesy Michael & Susan Round
Photos courtesy Michael & Susan Round ©2003
Related:
Ketchikan Boy Scout Troop 4
http://home.att.net/~holy-name/bsa/bsahome.htm

Post a Comment -------View Comments

Submit an Opinion - Letter

Sitnews
Stories In The News
Ketchikan, Alaska