Help for Alaska's Growing Mariculture Industry Signed Into Law
By MARY KAUFFMAN
August 28, 2018
Tuesday PM

(SitNews) Ketchikan, Alaska - Alaska's blue economy took a big step forward yesterday at Trevor Sande's Hump Island Oyster farm outside Ketchikan, where Governor Bill Walker signed an administrative order and a bill aimed at growing the mariculture industry throughout Alaska.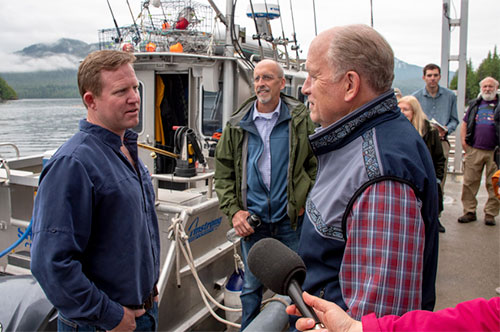 Governor Walker arrives at Hump Island Oyster farm on Monday. Also pictured are Ketchikan Mayor David Landis (middle) and Hump Island Oyster farm owner Trevor Sande (left).
Photo courtesy Office of the Governor
Walker signed legislation into law Monday to help participants in Alaska's growing mariculture industry get access to capital. Representative Dan Ortiz (I-Ketchikan) sponsored House Bill 76 after learning that many of the small businesses in Alaska's mariculture industry were having trouble securing financing for improvement projects through private lending institutions.
HB 76 changes the Alaska Mariculture Revolving Loan Fund to allow up to 40 percent of the fund to be used for loans to help pay for shellfish and seaweed hatcheries or enhancement projects. Expanding the purview of the loan fund to include hatcheries will allow those invested in the mariculture industry to develop a stable supply of seed for resident marine plants and shellfish at no additional cost to the State of Alaska.
"Mariculture is a uniquely well-suited industry for Alaskan investment," Governor Walker said. "It expands our strong renewable fisheries industry, creates jobs, offers a scalable business model that can thrive from Alaska's smallest coastal communities to our largest ports, and opens the door to a new knowledge economy that can be a model for the world. From oysters to scallops to sea cucumbers to kelp, I look forward to seeing how Alaskans approach a new industry frontier."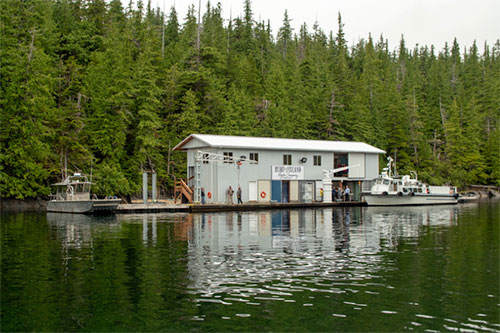 Hump Island Oyster farm
Photo courtesy Office of the Governor
"Where private banks see too much risk I see too much potential to pass up," said Rep. Ortiz. "We have a growing mariculture industry in Alaska that is ready to thrive with some much-needed investment, and we have small businesses in the industry that want to expand. A lack of access to capital is holding back those ready to put in the hard work to ensure success. I believe we took a step forward in solving that problem today with House Bill 76 becoming law."
The Alaska Mariculture Revolving Loan Fund was created in 2012 with a $5 million investment. The purpose of the fund was to provide loans for the development of Alaskan-owned mariculture operations with a goal of diversifying the economies in many coastal communities. To date, the Alaska Mariculture Revolving Loan Fund has made seven loans totaling $598,000 with no delinquencies or defaults. To better accommodate the time-consuming nature of the mariculture industry and the long lag time from seed to a product that can be sold, HB 76 includes provisions allowing loan repayments to be deferred for up to six years for most loans and up to 11 years for the new hatchery loans authorized by the bill.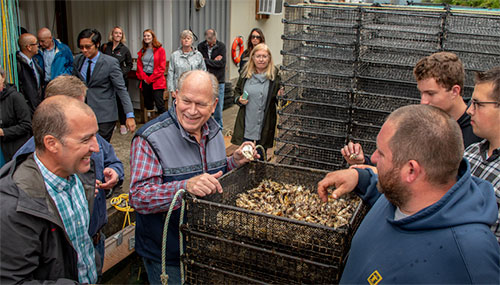 Tour of Hump Island Oyster farm
Photo courtesy Office of the Governor
New growers are expected to add to the 35 farms and 6 hatchery/nurseries that already are producing a mix of oysters, clams, mussels and various seaweeds. Eventually, sea cucumbers, scallops, giant geoduck clams and algae for biofuels will be added into the mix.
Data from the state Department of Natural Resources show that two farms have applied at Kodiak totaling nearly 37 acres, and one Sitka applicant has plans for a 15 acre plot. Other communities getting into the mariculture act include Seldovia, Port Chatham, Juneau, Naukati, Cordova, Ketchikan and Gustavus.
In 2017, Alaskan farms produced 11,456 pounds of clams, 1,678 pounds of mussels, 16,570 pounds of seaweeds and 1.8 million oysters.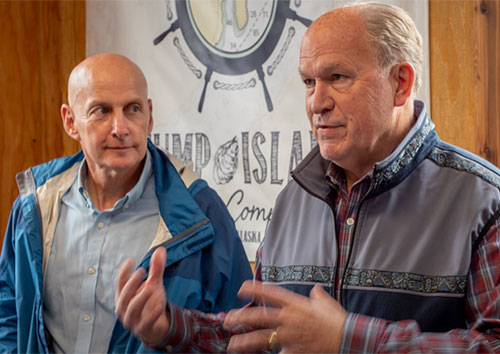 Rep. Dan Ortiz and Gov. Walker at Hump Island Oyster farm.
Photo courtesy Office of the Governor
Oysters always have been the dominate mariculture crop, and several farmers have added kelp to their acreage. The seaweed takes just three months to grow to harvestable size and can provide a ready cash flow to farmers while they wait for up to three years for their bivalves to ripen.
Kelp is poised to be one of Alaska's biggest crops with one of the biggest payouts.
"If only 3 tenths of a percent of Alaska's 35,000 miles of coastline was developed for oysters, for example, it could produce 1.3 billion oysters at 50 cents adding up to $650 million a year," said Julie Decker, director of the Alaska Fisheries Development Foundation and head of an 11-member mariculture task force established in 2016 by Governor Walker through administrative order.
The task force concluded that mariculture crops could yield $1 billion for the state within 30 years.
Most of the mariculture requests in Alaska are located in Southeast and Southcentral regions and range in size from .02 acres at Halibut Cove to 292 acres for two sites at Craig on Prince of Wales Island.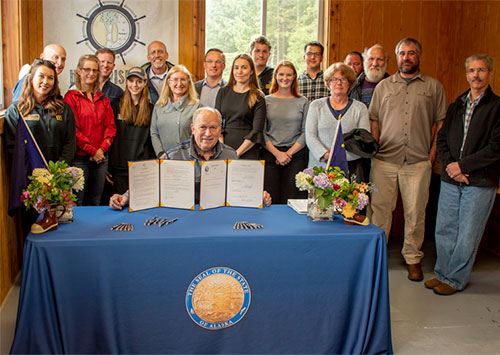 After signing, Governor Walker presents the administrative order and bill aimed at growing the mariculture industry throughout Alaska.
Photo courtesy Office of the Governor
House Bill 76 passed the Alaska House of Representatives last year by a vote of 26-14. The Alaska State Senate unanimously passed the bill in May by a vote of 19-0. Alaska Governor Bill Walker signed HB 76 into law yesterday during a ceremony at the Hump Island Oyster Farm north of Ketchikan.
At the oyster farm, Governor Walker also issued Administrative Order 297, extending the life of Alaska's Mariculture Task Force. The 11-member Task Force, established in February 2016 by Administrative Order 280, released their Alaska Mariculture Development Plan earlier this year, a comprehensive plan for growing the mariculture industry in Alaska. The Development Plan includes five priorities:
expand participation,
coordinate and refine regulations,
establish accessible funding, and
conduct necessary research to create a thriving mariculture industry worth $100 million by 2040.
By renewing the Task Force Monday, Governor Walker established it as an ongoing advisory panel to work with state, federal, tribal, industry, and other stakeholders to support the implementation of the Development Plan. The Task Force will present recommendations and a progress report to the Governor by May 1, 2021.
"Race Cassic" Game of Chance Bill Signed
Also while in the Ketchikan area, Governor Walker signed legislation into law on Monday adding the Race to Alaska to the list of events eligible for a "race classic" game of chance permit. House Bill 18 will allow the Greater Ketchikan Chamber of Commerce to offer a "race classic" contest based on people guessing the winning time of the 750-mile Race to Alaska, which is a human-powered boat race from Port Townsend, Washington to Ketchikan, Alaska. Similar "classics" are offered by the Chamber's of Commerce in Juneau, Fairbanks, Kenai, Seward, Petersburg, Delta, and Big Lake.
"A race classic permit allows the Greater Ketchikan Chamber of Commerce to take advantage of a thrilling boat race to raise money. Whether it's the new scholarship fund, community projects, or economic development projects, the benefits of this new race classic will be spread across the entire Ketchikan area," said HB 18 sponsor Representative Dan Ortiz (I-Ketchikan).
Ortiz said, "With a myriad of essential bills to work on this bill could have gotten lost in the shuffle. However, thanks to the diligence of a bunch of hard-headed people from Ketchikan this bill crossed the finish line in time to take advantage of the next Race to Alaska."
House Bill passed the Alaska House by a vote of 36-1 in February of last year. The Alaska State Senate unanimously approved the bill on May 11, 2018.
Alaska Governor Bill Walker signed HB 18 into law Monday during a ceremony at the Ketchikan Chamber of Commerce.
The 2019 Race to Alaska is scheduled to start on June 3 in Port Townsend, Washington.
On the Web:
Alaska Mariculture Revolving Loan Fund

Alaska Mariculture Development Plan
Source of News:
Office of Gov. Bill Walker
www.gov.alaska.gov

Office of Representative Dan Ortiz
akhouse.org
Representations of fact and opinions in comments posted are solely those of the individual posters and do not represent the opinions of Sitnews.
Contact the Editor
SitNews ©2018
Stories In The News
Ketchikan, Alaska

Articles & photographs that appear in SitNews may be protected by copyright and may not be reprinted without written permission from and payment of any required fees to the proper sources.

E-mail your news & photos to editor@sitnews.us

Photographers choosing to submit photographs for publication to SitNews are in doing so granting their permission for publication and for archiving. SitNews does not sell photographs. All requests for purchasing a photograph will be emailed to the photographer.