State of Alaska, USDA Forest Service Begin Work on Alaska State-Specific Roadless Rule
By MARY KAUFFMAN
August 03, 2018
Friday PM

(SitNews) Juneau, Alaska - The State of Alaska and the USDA Forest Service announced Thursday the signing of a memorandum of understanding to develop an Alaska state-specific roadless rule.
An Alaska state-specific roadless rule will determine which currently designated roadless areas would require a different management designation to further Alaska's economic development or other needs, while still conserving roadless areas for generations to come.
According to a news release from the U.S. Forest Service, the state-specific rule will amend the 2001 Roadless Rule, which prohibits road construction, road reconstruction, and timber harvesting on certain National Forest System lands across the country. Currently, in Alaska, 67 percent of National Forest System lands are inventoried roadless areas. An additional 26 percent are designated Wilderness, where road construction is also prohibited.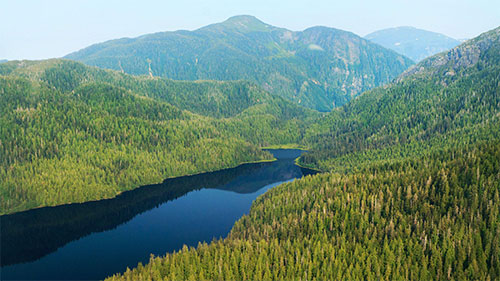 A small glimpse of the 16.7 million acres of the Tongass National Forest.
Photo courtesy AudubonAlaska.org

In establishing this new rule, the USDA Forest Service is responding to Alaska's petition for a full exemption from the 2001 Roadless Rule. The petition was accepted by Secretary of Agriculture Sonny Perdue in April 2018, with the decision to pursue a state-specific roadless rule. National Forest System lands in Alaska that are designated Wilderness would be unaffected by this rulemaking.

"We will continue to work with the people of Alaska, the state government, industry, tribes and Alaska native corporations to maintain the health and vibrancy of our National Forests," said Secretary Perdue. "The national forests in Alaska should be working forests for all industries."

According to a news release from the U.S. Forest Service, the Forest Service and state will work closely together, as the Forest Service did with Colorado and Idaho to develop their state-specific roadless rules. An important part of this process will be working with stakeholders from across the region to inform development of this state-specific rule.

"The State of Alaska is ready to begin this work. I am confident that state and federal officials will be responsive to input from local residents every step of the way and that together we will account for the diverse needs of people who live, work, and recreate in the forest," Governor Bill Walker said of the project.

Secretary Perdue aims to sign a final Alaska Roadless Rule within the next 18 months according to the Forest Service. The preparation process will involve National Environmental Policy Act environmental review and disclosures, gathering public feedback, conducting public outreach, and consultation with Alaskan Tribes and Native Corporations.

U.S. Senator Lisa Murkowksi (R-AK) said in a prepared statement, "As I have said many times before, the Roadless Rule has never made sense in Alaska. I welcome today's announcement, which will help put us on a path to ensure the Tongass is once again a working forest and a multiple use forest for all who live in southeast." Murkowski said, "I thank Secretary Perdue for recognizing the need for economic relief in these communities, and look forward to continuing to work with the administration, state officials, Sen. Sullivan, and Congressman Young to see this process through to the finish line."

U.S. Senator Dan Sullivan (R-AK) also commented in a prepared statement saying, "I welcome this first step to set forest management and the economy of Southeast Alaska back on track."

Sullivan said, "The Roadless Rule as applied to Alaska doesn't work - it doesn't work for our timber or mining industries and it doesn't work for hydro and other renewable energy development either. As even the Supreme Court has recognized, Alaska is different. I am glad the Forest Service is committed to work with the State of Alaska and the people affected by its policies to create a more workable regulation that can provide for responsible development."

"I have always maintained that the roadless rule does not work in Alaska. It not only violates ANILCA, but it has made the timber industry in Southeast Alaska difficult to sustain," said Congressman Don Young (R-AK). "This one-size-fits-all approach doesn't account for Alaska's unique history and geography. I thank Secretary Perdue for his leadership and look forward to continuing to work with him, as well as my colleagues in Congress, to ensure Alaska's national forests are properly managed."

However all were not pleased with the MOU. Defenders of Wildlife President and CEO, Jamie Rappaport Clark, said in a prepared statement, "The Trump administration's decision to appease the State of Alaska and walk away from protections for roadless areas and old-growth habitat in the Tongass National Forest is devastating news for Tongass wildlife that rely on intact forests and watersheds like wolves, deer and salmon. The Trump administration has demonstrated yet again that it will not rest until all of America's treasured public lands and wild spaces are exploited, industrialized, and opened up for more logging, roadbuilding, drilling, and other commercial activities."

According to the Defenders of Wildlife, rather than expending scarce time and resources unraveling protections for treasured wildlands, the Forest Service should be investing in activities that restore watersheds, enhance forest resiliency to climate change and deliver valuable ecosystem services to the American people. Fishing, recreation and tourism are the sustainable economic drivers in southeast Alaska and despoiling the very forests and watersheds that sustain this economy makes no economic sense. Sacrificing rare old-growth habitat to keep the unprofitable timber industry afloat at taxpayer expense is poor public policy and does a disservice to Americans and our forest system.

The Roadless Rule, finalized under the Clinton Administration, generally prohibits roads and logging in Inventoried Roadless Areas on National Forests nationwide with some exceptions for safety, mining, and utility projects. The current Roadless Rule is incorporated into the 2016 Tongass Land Management Plan, which provides separate and distinct protections for roadless areas in the Tongass National Forest in Southeast Alaska. Quoting a news release from Audubon Alaska, creating an Alaska-specific version of the Roadless Rule could lessen existing safeguards for the Tongass National Forest, while making the Tongass Land Management Plan vulnerable to changes that would further limit protections.

Susan Culliney, Policy Director for Audubon Alaska said, "Over half of the big old trees have been cut in Southeast Alaska, and the Roadless Rule is key for protecting what is left."

Culliney said, "The Tongass National Forest is just beginning to implement a transition away from the unsustainable practice of old-growth clearcutting, and we fear the Roadless Rule modification could be the thread that unravels the entire Tongass Land Management Plan."

"We hope that policymakers will see the forest for the trees and realize that big trees and unbroken landscapes are the very foundations of a healthy Alaskan economy," continued Culliney. "The birds, fish, and wildlife are the true engines of economic growth in Southeast Alaska and they all depend on intact old-growth forests."

According to a newsletter released today (August 3, 2018) by the Southeast Alaska Conservation Council, the MOU also identifies plans to form a state-led, yet-to-be-named public advisory panel, like the Tongass Advisory Committee formed for the 2016 Tongass Plan Amendment, with only one representative from an environmental or conservation group included, while mining and forestry each get a seat.

The signing of this MOU comes the day after the introduction of the Roadless Area Conservation Act of 2018 (S. 3333), a bill which would provide lasting protection for all inventoried roadless areas covered by the existing rule within America's National Forest System, including the Tongass, according to the Southeast Alaska Conservation Council. That bill was introduced by Senator Maria Cantwell, along with 16 other Senate co-sponsors, in an effort to enshrine the Roadless protections in law and shield it and the forests the rule protects from the types of attacks we are now seeing from the Forest Service and the State of Alaska according to the SEACC newsletter.

The USDA indicated that the administrative process will begin later this summer. The new Alaska version of the Roadless Rule could apply to both the Tongass National Forest as well as to the Chugach National Forest in Southcentral Alaska.

The memorandum of understanding signing comes roughly a month after U.S. Secretary of Agriculture Sonny Perdue's visit with Murkowski to Prince of Wales Island, which allowed him to see firsthand the challenges presented by a "one-size-fits all" Roadless Rule. During his trip, Perdue heard directly from community leaders about the need to have a working forest that allows for multiple use to build a stronger, more sustainable economy in southeast Alaska.

The Tongass, which is the nation's largest national forest, spans 16.7 million acres, but federal regulatory restrictions, particularly the Roadless Rule, have inpacted access for timber, hunting, mining, recreation, and even renewable energy development. The result is a weaker regional economy, as local communities face higher energy costs and fewer employment opportunities.

Source of News:
USDA Forest Service
www.fs.fed.gov

Office of U.S. Sen. Lisa Murkowski
www.murkowski.senate.gov

Office of U.S. Sen. Dan Sullivan
www.sullivan.senate.gov

Office of Congressman Don Young
www.donyoung.house.gov

Audubon Alaska
www.audubon.org

Southeast Alaska Conservation Council
seacc.org

Defenders of Wildlife
defenders.org
Representations of fact and opinions in comments posted are solely those of the individual posters and do not represent the opinions of Sitnews.
Contact the Editor
SitNews ©2018
Stories In The News
Ketchikan, Alaska

Articles & photographs that appear in SitNews may be protected by copyright and may not be reprinted without written permission from and payment of any required fees to the proper sources.

E-mail your news & photos to editor@sitnews.us

Photographers choosing to submit photographs for publication to SitNews are in doing so granting their permission for publication and for archiving. SitNews does not sell photographs. All requests for purchasing a photograph will be emailed to the photographer.