President visiting Alaska to discuss climate change and the continuing threats of global warming
Stops will include Anchorage, Seward, Dillingham and Kotzebue
By MARY KAUFFMAN
August 24 2015
Monday PM

(SitNews - Ketchikan, Alaska) - President Barack Obama is visiting Alaska to discuss climate change and the continuing threats of global warming. His first stop will be in Anchorage where he will attend a major conference hosted by the U.S. Department of State at Anchorage's Dena'ina Civic and Convention Center on August 31st.
The White House announced on July 17th, that President Obama will address the GLACIER conference. The conference, entitled the Conference on Global Leadership in the Arctic: Cooperation, Innovation, Engagement and Resilience (GLACIER), will focus the world's attention on the most urgent issues facing the Arctic today and will provide an unprecedented opportunity for foreign ministers and key stakeholders to define the region's most crucial challenges; highlight innovative ways in which these challenges can be addressed at the local, national and international levels; and broaden global awareness of the impacts of Arctic climate change.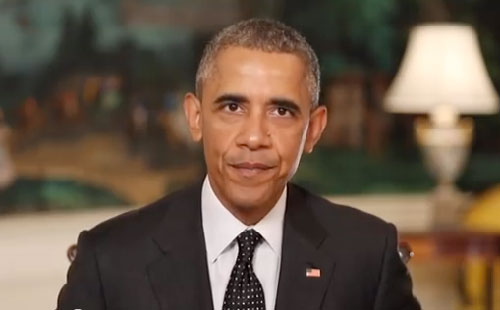 President Barack Obama
SitNews' snapshot from President Obama's video announcing his trip to Alaska.
Courtesy www.whitehouse.gov
President Obama announced in mid-August why he is visiting Alaska in a video. In his video he said, "I'm going because Alaskans are on the front line of one of the greatest challenges we fact this century, climate change." He said, "Climate change for most Americans is already a reality - deeper droughts, longer wildfire seasons, some of our cities even flood at high tide. In Alaska, glaciers are melting. The hunting and fishing upon which generations have depended for their way of life and for their jobs are being threatened."
According to the Federal Aviation Administration, the President will also be visiting Seward, Dillingham and Kotzebue. The FAA will be issuing multiple Temporary Flight Restrictions (TFR) in support of a "VIP visit to Anchorage, Seward, Dillingham and Kotzebue, on August 31 through September 2, 2015." Quoting the FAA, "Be advised that noncompliance with the published NOTAM may result in the use of force."
Regarding the conference, the State Department has invited foreign ministers and high-level leaders from the seven other Arctic nations as well as countries and intergovernmental bodies with strong interests in the Arctic, including Canada, China, Denmark, Finland, France, Germany, Iceland, India, Italy, Japan, the Republic of Korea, the Netherlands, Norway, Poland, Russia, Singapore, Spain, Sweden, the United Kingdom and the European Union. Cabinet-level U.S. Government officials will also be invited. Leading policy makers, indigenous leaders and influential public and private sector representatives from Alaska, the Arctic region and around the world are also expected to attend.
Participation at GLACIER is currently by invitation only. GLACIER will take place during the U.S. Chairmanship of the Arctic Council, but is not an Arctic Council sponsored event.
U.S. Senator Lisa Murkowski sent a letter to President Obama last week, urging him to broaden the agenda of his upcoming trip to Alaska beyond the single issue of climate change. In her letter, Murkowski asks the President to acknowledge that climate change is only one part of the Alaska story, while detailing a number of investments Alaskans have made with renewable energy and innovative energy technologies.
"First, climate change must not be used as an excuse to deprive Alaskans of our best economic prospects. Many renewable energy projects in our state were made possible with State revenues derived from oil production. As you will see, Alaska has developed institutions and programs that maximize the benefits of resource production to improve the lives of our people," Murkowski stated in the letter. "Second, climate change is an opportunity for the federal government to partner with Alaskans and leverage the expertise that we have developed. I am hopeful that after your visit you will recognize the unique needs of our State, and direct federal agencies to work in greater partnership with the State of Alaska, the Alaska Center for Energy and Power, the Cold Climate House Research Center, the Alaska Village Electric Cooperative, and others," wrote Murkowski.
Regarding today's announcement that the President plans to visit the city of Kotzebue as part of his tour of the 49th State, Northwest Arctic Borough Mayor Reggie Joule said, "We are excited that the President selected Kotzebue as an Arctic community to visit." Joule said,"The Arctic region has come into international focus as the United States assumes the Arctic Council chairmanship. We are mindful of the honor and the responsibility of being a host community."
"We welcome President Obama to Kotzebue, the Gateway to the Arctic," said Maija Lukin, City of Kotzebue mayor. "It is encouraging to have the President see the real-life impacts of climate change we have faced. We've been working as a community to mitigate these impacts for years and look forward to working together on future projects that ensure our residents have a home for generations to come."
President Obama is slated to visit the community on Sept. 2, 2015.
"We see firsthand the effects of climate change in our region," said Larry Westlake, Regional Elders Council president. "We look forward to discussing climate impacts and solutions with the President."
"We are humbled by the opportunity to have the President of the United States of America visit our community," said Dominic Ivanoff of the Native Village of Kotzebue. "We hope the President will leave with an understanding of how climate change is impacting the Arctic. We are eager to share how we are working with youth to strengthen the future of the Inupiaq language and culture."
"Maniilaq Association and the 12 Tribes constituting our board warmly welcome President Obama to our Inupiat homeland," said Timothy Schuerch, president and CEO of Maniilaq Association. "For thousands of years we have thrived in this region, sustained by the abundant subsistence resources of our lands, rivers, and ocean. We invite President Obama to engage in meaningful government-to-government consultation with our Tribes during his visit, so that we may share with him our challenges as well as successes in addressing the impacts of climate change in Northwest Alaska."
In response to President Obama's video earlier announcing his visit to Alaska, Congressman Don Young (R) said in a prepared statement, ""Many Alaskans have expressed anxiety and worry about further land use designations or ocean preserves that would permanently lock away resources critical to our state and local economies, including fish, oil and gas, minerals, and timber. The resources within Alaska can be and should be managed and developed responsibly. It is my hope that the President will use his visit as an opportunity to learn about the many challenges we face and not as a platform to pander to extreme interest groups using Alaska as a poster child for their reckless agenda."
Tomorrow, Alaska Governor Bill Walker plans to outline the issues he would like to convey to President Obama during his upcoming visit.
Related Video:
President Obama Is Going to Alaska. Here's Why:
https://www.whitehouse.gov/webform/president-obama-going-alaska-heres-why

President Obama Is Going to Alaska. Here's Why:
https://www.youtube.com/watch?v=igaz_hm7zKM

U.S. Sen. Lisa Murkowski's letter to President Obama
http://www.murkowski.senate.gov/public/_cache/files/e35792d3-dc5d-4331-85b5-57dfb344af5c/potus-letter.pdf

GLACIER Conference Agenda
http:www.state.gov/e/oes/glacier/index.htm
Source of News:
FAA
www.faa.gov

Conference on Global Leadership in the Arctic: Cooperation, Innovation, Engagement and Resilience, or GLACIER
www.state.gov/e/oes/glacier/index.htm

Whitehouse
www.whitehouse.gov
Contact the Editor
SitNews ©2015
Stories In The News
Ketchikan, Alaska

Articles & photographs that appear in SitNews may be protected by copyright and may not be reprinted without written permission from and payment of any required fees to the proper sources.

E-mail your news & photos to editor@sitnews.us

Photographers choosing to submit photographs for publication to SitNews are in doing so granting their permission for publication and for archiving. SitNews does not sell photographs. All requests for purchasing a photograph will be emailed to the photographer.