The uneasy, unbreakable link of money, medicine
August 09, 2015
Sunday PM

(SitNews) - Even after centuries of earnest oaths and laws, the debate about whether money compromises medicine remains unresolved, observes Dr. Eli Adashi in a new paper in the AMA Journal of Ethics. The problem might not be truly intractable, he said, but recent reforms will likely make little progress or difference.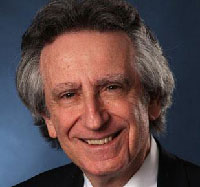 "More than likely, money and medicine will remain indivisible and irreconcilable for some time to come. Few expect otherwise."
Photo courtesy Brown University
First there was barter. A well-cooked meal for a lanced boil. Cords of wood for a home visit. A chimney sweep for a gash treated. And then there was commodity money such as tobacco, not to mention wampum wrote Adashi.
However, with specie and paper money on the rise in the New World colonies, barter for medical care was increasingly being relegated to a historic footnote. The outright innocence of it all notwithstanding, the ethics of barter and medicine in days of yore was most likely just as challenging as ethics is at present with contemporary monetary counterparts. The constancy of the fundamentals of human nature would have seen to that. Still, medicine was simply not all that present in most people's lives. Few users. Few providers.
Interestingly wrote Adashi, this steady state of "cash for care" had held sway through centuries during which physicians occupied a lofty perch. The twentieth century changed all that. Ironically, it was the advent of the employer-sponsored health insurance paradigm and its "fee-for-service" payment system that ushered in the contemporary business of medicine and the ethical challenges thereof. Under this system, patients were kept in the dark about the going rates for health care services.
"This is one of those things we have to appreciate as being with us for a long time," said Adashi. "It will probably be with us forever. It's probably not entirely fixable unless one really made a concerted effort driven by consensus to do so, but that doesn't exist. I think it's a useful exercise to call it as it is."
Those who worry physicians will be compromised by money -- and certainly not everyone does -- have sought to prevent it for centuries, Adashi writes. Physician's oaths dating back hundreds of years in Spain, India, Japan all decry greed (and in one case, miserliness). Nevertheless, in different countries and to different extents medicine and money remain entangled not only in how physicians make a living, but also in the debt their education creates, in their entrepreneurship, or by the other stakeholders in their industry, be they insurers or drug companies.
Even in the relatively laissez faire United States, reforms over the last few decades have sought to lessen potential challenges, Adashi notes. The "Stark Laws" attempted to curb physician referrals of patients to businesses they own. The Affordable Care Act took on the matter of disclosure of industry payments to physicians. The Affordable Care Act also encourages a transition from "fee-for-volume" payment, in which doctors are paid more for doing more procedures (as fast as possible), to "fee-for-value," in which their incentive is to produce a quality result at minimal cost.
But even that latter reform, Adashi writes, may not prove decisive.
"Whether or not a momentous alteration of the economic ground rules on this scale will in effect change hearts and minds remains doubtful," he concludes. "More than likely, money and medicine will remain indivisible and irreconcilable for some time to come. Few expect otherwise."
On the Web:
Money and Medicine: Indivisible and Irreconcilable By Eli Y. Adashi, MD, MS
AMA Journal of Ethics
http://journalofethics.ama-assn.org/2015/08/msoc1-1508.html
Edited by Mary Kauffman, SitNews
Source of News:
BROWN UNIVERSITY
www.brown.edu
Contact the Editor
SitNews ©2015
Stories In The News
Ketchikan, Alaska

Articles & photographs that appear in SitNews may be protected by copyright and may not be reprinted without written permission from and payment of any required fees to the proper sources.

E-mail your news & photos to editor@sitnews.us

Photographers choosing to submit photographs for publication to SitNews are in doing so granting their permission for publication and for archiving. SitNews does not sell photographs. All requests for purchasing a photograph will be emailed to the photographer.