Former Alaska Sen. Ted Stevens dies in plane crash
August 10, 2010
Tuesday

(SitNews) - Ted Stevens, the colourful American senator from Alaska, has been killed in a plane crash that occurred 17-miles north of Dillingham, Alaska Monday night.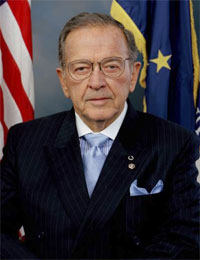 Former Alaska Sen. Ted Stevens dies in plane crash
Stevens, who survived a similar crash in Alaska in 1978 that killed his first wife Ann, was on a junket to a fishing lodge courtesy of the telecoms company GCI when the aircraft came down in bad weather in a remote part of the state.
Five of the nine people on board the plane are believed to have died.
A family spokesman said Stevens was among those killed. Some of the other survivors were reported to have struggled with serious injuries through the night until help arrived.
Also on board was Sean O'Keefe, the former head of Nasa and the North American chief executive of the European defence contractor Eads. He and his son survived the crash, a source said. O'Keefe, 54, who led Nasa for four years until 2005 which included heading the agency when the Columbia space shuttle blew up in 2003. After Nasa he became chancellor of Louisiana State University, joining Eads last year.
The plane went down at about 8 pm Alaska time on Monday near Lake Aleknagik, about 320 miles south-west of Anchorage. The Air Force 11th Rescue Coordination Center, manned by Alaska National Guardsmen, was contacted by Dillingham Flight Service after a Good Samaritan spotted the downed aircraft around 7 p.m. Monday. A Good Samaritan team was able to hike into the crash site and provide medical assistance last night.
Stevens, 86, who served in the Senate for 41 years, longer than any other Republican, was renowned in Alaska for his ability to direct hundreds of millions of dollars in federal government funds to the sparsely populated, oil-rich state.
He was affectionately known as Uncle Ted, and in 2000 was named "Alaskan of the century" by the state legislature. The state's main airport, in Anchorage, was also named after him.
Alaskan voters began to see Stevens in a different light after he was charged with accepting hundreds of thousands of dollars in gifts from oil companies and contractors, as well as remodelling work on his home, which doubled in size. He was convicted on seven charges of corruption in 2008. Howevber, the convictions were overturned a few months later after the US attorney general, Eric Holder, said there had been serious misconduct by prosecutors, including the withholding of important evidence. Eight days after his conviction, however, Stevens lost his bid for re-election to the Senate.
Alaska Governor Sean Parnell expressed deep sympathy for the victims of Monday's plane crash in Southwest Alaska.

"All who were aboard the flight and their families, friends and colleagues are in our thoughts and prayers," Governor Parnell said. "As Alaskans, we grieve for those who were lost and extend our comfort and condolences to their loved ones," said Parnell.

Governor Parnell said, "Senator Stevens' life was dedicated to Alaska and her people, and he will be remembered for his untiring efforts to build the 49th state over his many decades of public service," Governor Parnell said. "Known as the 'Lion of the Senate,' he was also a distinguished patriot dedicating his life to America and constitutional principles. Senator Stevens was a father, a grandfather, a husband, and a personal friend to countless Alaskans. We will miss him greatly."

The former Alaska governor and fellow Republican Sarah Palin described Stevens, who won several medals as a pilot in the far east during the second world war, in glowing terms. Stevens was reportedly served in the Flying Tigers.
"He is a warrior, an Alaskan hero, a world war two vet who dedicated his life to his country. He is one of our heroes up here," she said.
U.S. Senator Lisa Murkowski (R-AK) said in a prepared statement, "Last night, Alaska lost a hero and I lost a dear friend. The thought of losing Ted Stevens, a man who was known to business and community leaders, Native chiefs and everyday Alaskans as 'Uncle Ted,' is too difficult to fathom. His entire life was dedicated to public service-from his days as a pilot in World War II to his four decades of service in the United States Senate. He truly was the greatest of the 'Greatest Generation.' "

Murkowski said, "The love and respect that Alaskans of all persuasions feel toward Ted Stevens is on a par with what the American people felt towards leaders such as John F. Kennedy, Dr. Martin Luther King, Jr. and Ronald Reagan. Ted had the vision of a John Kennedy that Alaskans are an exceptional people who would achieve great things in his lifetime; the compassion of a Dr. Martin Luther King Jr., in devoting his life to alleviating the Third World conditions that plagued Alaska's Native people; and the unwavering strength of a Ronald Reagan whether fighting for the men and women of our military or for Alaska's right to develop ANWR and its abundant natural resources."

"On this sad and tragic day, we pray for all those who have perished, as well as the survivors and their families. I ask Alaskans to join me today in prayer," said Murkowski.
U.S. Senator Mark Begich (D-AK) said in a prepared statement, "Alaska has lost one of its greatest statesmen and a true pioneer of our state with the passing of Senator Ted Stevens. Over his four decades of public service in the U.S. Senate, Senator Stevens was a forceful advocate for Alaska who helped transform our state in the challenging years after Statehood. Senator Stevens' many contributions to Alaska are enormous and his legacy of fierce devotion to Alaska will be long-lasting.
Congressman Don Young (R-AK) said in a prepared statement "My deepest sympathies and my prayers go out to all of the families of those who were killed in this plane crash. This is an absolute tragedy for Alaska and for its people. Ted was a very close, personal friend of me and my family. I used to babysit his kids, and he would babysit mine. He's been my mentor, first in the State Legislature, and then as our Senior Senator and I will miss him a great deal. Ted is a true Alaskan hero, and a hero for our nation. I am a man of strong faith and I know that he is in heaven continuing the good Lord's work as he did here on earth. I will continue to pray for Catherine, the kids, and the families of all of the other victims on board. May God bless them all."
Before the crash that killed his first wife, Ann, Stevens is reported to have spoken of a premonition that he would die in a plane crash.
Stevens remarried Catherine several years after the loss of his first wife Ann. He has a daughter.
Stevens and O'Keefe were close friends who were described as fishing buddies.
Governor Sean Parnell has ordered state and U.S. flags (per public law 94-344) to be lowered to half-staff today in honor and memory of Senator Stevens. The U.S. flag will be raised to full-staff Thursday morning, while state flags will remain lowered until sunrise the day following the senator's memorial service.
E-mail your news & photos to editor@sitnews.us


Publish A Letter in SitNews Read Letters/Opinions
Contact the Editor
SitNews ©2010
Stories In The News
Ketchikan, Alaska

Articles & photographs that appear in SitNews may be protected by copyright and may not be reprinted without written permission from and payment of any required fees to the proper sources.