Energy Package Signed by Governor
August 26, 2008
Tuesday

Alaska Governor Sarah Palin signed legislation Monday to help Alaskans combat the high cost of energy. The Governor signed House Bill 4001 and Senate Bill 4002 into law at the home of an Anchorage resident who took advantage of the Alaska Housing Finance Corporation's Weatherization and Home Energy Rebate Program.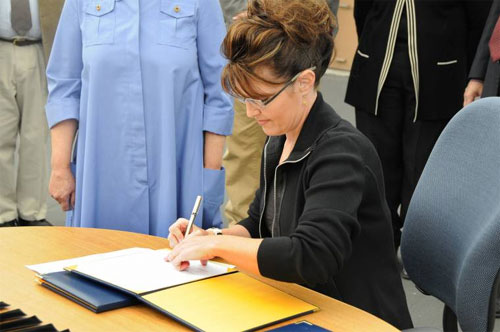 Governor Sarah Palin signs HB 4001 and SB 4002 into law. The bills make up the Energy Package recently passed by the legislature, which award qualified Alaskans $1,200 from state surplus to help with rising energy costs, and also appropriate $60 million to AHFC for energy efficient home grants.
Photo courtesy Office of the Governor

SB 4002 uses revenues generated from the state's natural resources to provide a one-time special payment of $1,200 to every Alaskan eligible for the 2008 Permanent Fund dividend. The bill also raises by 50 percent the maximum amount of loans that bulk fuel bridge and bulk fuel revolving loan funds can make to communities and cooperatives. It also suspends the state's motor fuel tax on gasoline, marine fuel, and aviation fuel for a year and strengthens the Power Cost Equalization Program. HB 4001 is the appropriation bill.

"Alaskans who signed up for direct deposit will see these funds on September 12, along with their dividend," said Governor Palin. "In rural Alaska, particularly, many people are facing a choice between feeding their families and heating their homes, and they could use this payment from the state's energy-generated surplus to cover some of those bills."

Carol Geczy's home has been weather-stripped, insulation was added to the attic and crawl space, drafts were sealed and smoke and carbon monoxide detectors were installed. Approximately $5,000 was spent on the home with an expected energy savings of 20 to 30 percent. The improvements were made in part by AHFC's Weatherization Program.

"The Governor's resource rebate, along with AHFC's Weatherization and Home Energy Rebate programs, are putting hundreds of millions of dollars into the hands of Alaskans to help combat high energy costs," said Dan Fauske, AHFC's chief executive officer. "Investing money in making your home more energy efficient is just about the best bang for your buck you can get."

Governor Palin also signed a proclamation declaring September as "Energy Efficiency Month" in Alaska. The proclamation encourages Alaskans to lower their costs by conserving energy and by using existing energy more efficiently at work, home and on the road.

"Conserving energy and using it more efficiently doesn't necessarily mean you have to sacrifice your quality of life," said Governor Palin. "It's the little things, like making sure lights, computers and appliances are turned off ­ and slowing down on the road, which will save money spent on gasoline."

Source of News & Photo:
Office of the Governor
www.gov.state.ak.us

E-mail your news & photos to editor@sitnews.us


Publish A Letter in SitNews Read Letters/Opinions
Contact the Editor
SitNews ©2008
Stories In The News
Ketchikan, Alaska