Taquan Flightseeing Resumes
August 02, 2007
Thursday

Ketchikan, Alaska - A full schedule of flights to Misty Fjords National Monument and fly-outs to remote bear viewing locations resumed this week at Taquan Air, according to company president and CEO Brien Salazar.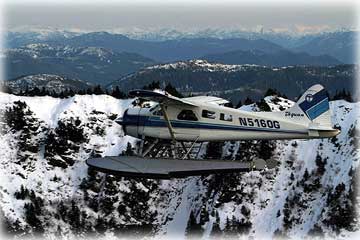 Taquan Air
Photograph by Carl Thompson
Salazar said it is normal operating procedure for the cruise lines to withdraw sales of an excursion, following a serious accident. He said the cruise lines conduct an internal investigation before any further dealings with the supplier.
Salazar said all but one of the cruise lines serving Ketchikan are again booking Taquan Air flightseeing trips, following the tragic accident last week. "We anticipate that all lines will be offering our shore excursions by Thursday," said Salazar.
On Thursday, July 26, Brien Salazar received an email from FAA principal operations inspector Mick Green stating "I would like to clarify that the FAA has not suspended, hindered or changed Taquan's operations in any way, and your company is authorized to resume operations as you see fit". Since the accident, the carrier has maintained its scheduled passenger, freight and mail flights to the 18 communities that it serves. Charter and contract flight operations, aircraft maintenance, freight forwarding and expediting, and fuel sales also have been unaffected, Salazar stated.
Taquan's emergency response plan was immediately implemented when there was no response to radio attempts to reach the missing aircraft last week. The aircraft, a DeHavilland Beaver operated by Taquan Air was on a flight seeing tour from Ketchikan when it crashed July 24th in steep mountainous terrain in the Misty Fiords, killing everyone onboard.
On board the downed DeHavilland Beaver were the pilot and four passengers from the cruise ship Sun Princess. The Taquan Air pilot was Joseph H. Campbell, age 56 of Ketchikan. The four passengers onboard were William F. Eddy, age 59 and Jeanne J. Eddy, age 59 of Jacksonville Florida, and Paul J. McManus, age 60 and Marianne M. McManus, age 56 of Cherry Valley, Massachusetts. The four passengers were traveling on the Sun Princess, an 856-foot ship with Princess Cruises that was on the second day of a seven-day roundtrip cruise from Seattle.
The downed plane was located on land near the south arm of Rudyerd Bay about 35 miles northeast of Ketchikan.
Taquan's emergency response plan included notifying the Federal Aviation Administration and U.S. Coast Guard and organizing an aerial search. After the crash site was confirmed, Taquan Air named a care team to provide for next of kin needs, and made counseling services available to the airline's 50 employees. Salazar expressed his sincere appreciation for the community support received by Taquan Air during this difficult time.
Taquan Air has operated since 1977, and under its present ownership since 2000. The airline is now located in the 3.5 acre Harbor Point business park at 4049 Tongass Avenue. It has a new passenger terminal, freight facility, maintenance hanger and office complex under construction at the new location.

On the Web:

Taquan Air
www.taquanair.com

E-mail your news & photos to editor@sitnews.us


Publish A Letter in SitNews Read Letters/Opinions
Contact the Editor
SitNews ©2007
Stories In The News
Ketchikan, Alaska