Viewpoints
American Pit Bull Terrier Day
By Tammy Sivertsen
August 16, 2006
Wednesday

August 16th is a National holiday - do you know what one??
It is national American pit bull terrier day. I just want people to know that the American pit bull terrier is getting a bad rap. Not all American pits are killers. Any breed of dog can bite or kill people. Let me tell you some things.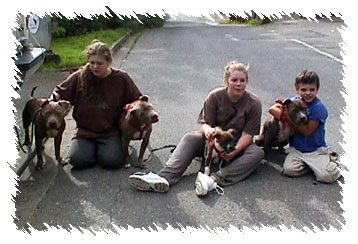 From left to right: Grizzly, Rande, Kenia,
Ivy, Mojo, Gemini and Kenny
Photo By Tammy Sivertsen

The name ''pit bull'' is not a breed of dog. It is a word that people use for the bully breeds. In 1884 the AKC was formed, they-did not want any fighting dogs in their show ring. The dog fighting people didn't want to show their dogs. In 1898 the UKC. was formed . They change the name ''pit bull'' to the American pit bull terrier . The first dog that was registered was ''Bennett's ring'' own by Chauncy Bennett the founder of the UKC. in 1972. The people that wanted to show their dogs with AKC changed the name to the ''American Staffordshier terrier. Yes it is the same dog.. The American pit bull terrier was known as a fighting dog and the American Staffordshier terrier was known as a show dog. Petey the dog from the show the Little Rascals was the first dog to be register with the UKC and the AKC
This breed has come a long way from fighting. It's against the law to fight dogs in all 50 states. Now the dogs are loving family pets, they were used in the war, farm dogs and are used in law enforcement. The Washington State Patrol is using American pits for narcotics and explosive detection dogs. You can see them at http://www.lawdogsusa.org . If these dogs are so unpredictable why are the police using them? That is because they are great dogs. They are loving dogs.
Yes they do bite people - but Labrador retrievers bite more people than pits do. We walk our dogs through town , when we get to the docks the tourist look at us. I have had people tell me that all American pits need to be killed. I am totally against breed banding.
One time while we were on the dock, a tourist was telling me that my dogs where killers. I told him that my dogs would not kill any one. He wanted to call the police and have them take the dogs from me, I was starting to get upset with that person. Out of nowhere a man grabbed my dogs face and started to cry. I asked what are you doing - he said, "He looks like my dog". He was kissing my dog and Grizzly was kissing him back. I told the other person (that hates American pits) ya my dog is a killer! He could not believe that my dog did not bite the man. He told me he was sorry, "I see now that they are not all killers".
That is just one person. Just think if other people could see that - maybe, just maybe the American pit bull terriers will be loved more. So please tell people that they are not killers. Remember that this is the day for American pits. Give your dog or your friend's dog another hug and a kiss on this day.
Thank you all for reading this.

Tammy Sivertsen
Ketchikan, AK - USA
Note: Comments published on Viewpoints are the opinions of the writer
and do not necessarily reflect the opinions of Sitnews.
Send A Letter -------Read Letters

E-mail the Editor

Sitnews
Stories In The News
Ketchikan, Alaska