Pennock Island's Eight-mile Challenge
By M.C. Kauffman
August 26, 2005
Friday

Ketchikan, Alaska - The Pennock Island Challenge, an eight-mile benefit swim around Pennock Island, will take place on August 28th to raise awareness and funds for American Diabetes research.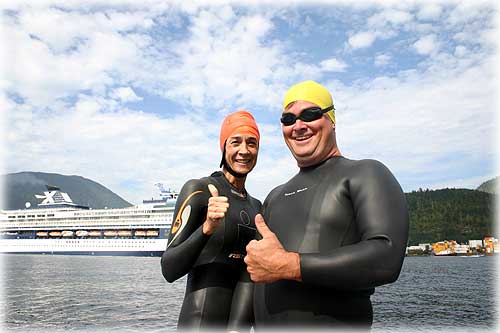 Swimmers Debby Spence and Chris Wilhelm
take a break Wednesday from training for the Pennock Island Challenge.
Photograph by Tom Butterfield ©2005

Twenty-four swimmers are scheduled to take part in the benefit event that begins at the Pennock reef marker. The swimmers will travel down the west channel around the southern end of Pennock and up the east Tongass Channel.
According to information provided by the Pennock Island Challenge website, the course is sheltered from large surf except at the first turn on the southern end where the Tongass Narrows meets Nichols Passage.
Leaving the world behind in the first leg of the benefit swim, participants will swim down the west channel of the Tongass Narrows. Swimmers and crew will later have a fantastic view of Ketchikan's waterfront, scenic Deer Mountain and Pennock Island's rugged coast as they move up the east channel.
Debby Spence and Chris Wilhelm were photographed while training for the upcoming swim benefit. Spencer and Wilhelm will be participating in
the event as a two-member relay team.
Photograph by Tom Butterfield ©2005

Solo swimmers will swim the entire eight miles. Four-person teams and two-person teams with individual escort boats trade off swimmers after successive half-hour legs, then switch to ten-minute legs until the finish line is reached - which is estimated to be 3 to 5-hours later depending on a variety of factors.
Solo Participants:
Britta Christensen
Elizabeth Einset
Sean Seaver
Willie Schulz
Dawn Allen Herron
Rocky Elerding
Loren Prosser
Mark Monticino
Shannon Titzell
Bo Merideth
Klete Keller
Gary Stysick
Relay Teams
Two-Member Teams

Debby Spence and Chris Wilhelm
Cheryl Elliott and Jennifer Castle

Four-Member Teams

Don Mitchel, Mike Elerding, Fred Jorgensen, and Bill Elberson
Larry Pullin, Greg Stryk, Glyn Seaberg, and Mike Spence
Skippers/ Kayakers
Harold Carson · Tara Prosser · Josephus Govaars
Carl Jones · Adriane Schulz · Southeast Sea Kayaks
Allegra Machado · Christine Lyshol · Gayle Nixon
Mike Schuler · Tom Schulz · Bryan Schulz · Joe Hasibar
Amanda Skyles · Greg Harrison · Baranof Skiff Rentals
Angie Taggart · Debbie Carlson · Mary Schulz · Al Flury
Kathy Schulz · Adrianne Schulz · Melissa Schulz
To raise funds for American Diabetes Research, raffle tickets were sold for the event. The grand-prize winner of the raffle will receive two Alaska Airline tickets.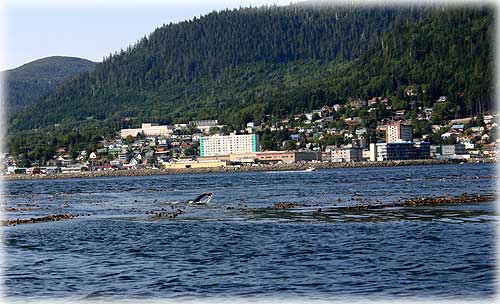 Chris Wilhelm swimming at the course start area, north Pennock Island on August 17th.
The west end of Ketchikan can be seen in the background.
Photograph by Eli Murph ©2005

Sponsors of the swim benefit are Ketchikan General Hospital, the Northwest Cruise ship Association, The Landing, Gilmore Hotel, Food Services of America, Madison Lumber & Hardware, Wells Fargo, First Bank, Rainforest Web Design, Cape Fox Lodge, E.C. Phillips & Son, Ketchikan Lions Club, AlaskaMade.com, Steamers at the Dock, Eagles Club, Ketchikan Ready-Mix and Quarry, Southeast Sea Kayaks, Alaskan Aquamarine Experience, Southeast Aviation, and Southeast Alaska Pilots' Association.
Donations for the raffle were contributed by TYR Sports (60 pairs of goggles), Adolph Kiefer & Associates (Kiefer backpack and towel), Southeast Aviation )Flightseeing trip for four (4) people), and Alaska Airlines (Two round-trip tickets).

On the Web:
Pennock Island Challenge
http://www.alaskateamada.com/
Contact M.C. Kauffman at mc(at)sitnews.us


Publish A Letter on SitNews Read Letters/Opinions
Submit A Letter to the Editor
SitNews
Stories In The News
Ketchikan, Alaska