Chamber Arranges Tour on Navy's USS OGDEN
By Dick Kauffman
August 23, 2005
Tuesday

Ketchikan, Alaska - The 569-foot USS OGDEN LPD5 - a member of the Navy-Marine Corps Team - recently made a stop in Ketchikan on her return trip to her homeport of San Diego, California.
The Sailors and Marines on board the San Diego-based amphibious transport dock ship were in Alaska participating in the recent exercise Alaskan Shield/Northern Edge. The exercise was a U.S. Northern Command exercise conducted with military, state and local agencies and focused on homeland security actions in and around the state of Alaska.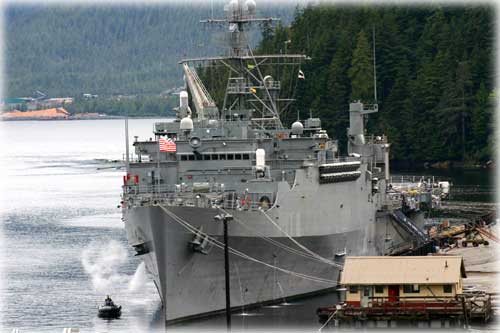 USS OGDEN LPD5 - Location Ward Cove
Photograph by Chris Wilhelm ©2005

While the Ogden was in port at Ward Cove, the Greater Ketchikan Chamber of Commerce assisted in scheduling a tour on Sunday aboard the ship for Big Brothers Big Sisters.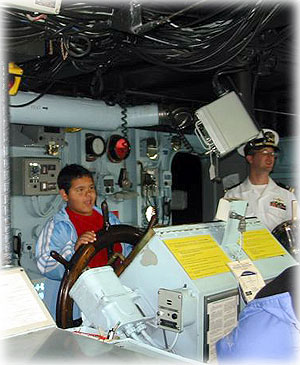 Ketchikan resident Tyler at the wheel...
Photograph by Gretchen Klein ©2005

According to Gretchen Klein, the Big Brothers Big Sisters program coordinator, the group enjoyed the tour.

The USS Ogden, named for the city of Ogden, Utah, has a crew of 24 officers and 396 enlisted personnel. She has a Marine Detachment of approximately 900. Commander Michael P. Taylor is the Commanding Officer and the Executive Officer is Commander Select Christopher J. Zayatz.

The USS Ogden's armament includes two 20mm Phalanx CIWS, two 25mm Mk 38 guns, and eight .50-caliber machine guns.

Displacing approximately 16,900 tons with a maximum speed of 21 knots, the USS Ogden has a well deck capacity of one Landing Craft Air Cushion (LCAC), or one Landing Craft Utility (LCU), or four Landing Craft, Mechanized-8 (LCM-8), or nine Landing Craft Mechanized-6 (LCM-6), or 24 amphibious assault vehicles (AAV).

There are no aircraft but a telescopic hangar is installed aboard. The hangar is not used to accommodate helicopters but on the flight deck there is space for up to six CH-46 helicopters.

According to the Navy News Service, Ogden worked with the U.S. Coast Guard, state and local law enforcement and other first responders during the Alaskan Shield/Northern Edge exercise to test joint compatibility. The maritime interdiction training scenarios included compliant and non-compliant boarding of various participating vessels. Guided-missile destroyer USS Russell (DDG 59), frigate USS Crommelin (FFG 37) and various Coast Guard units were also participants in the joint exercise.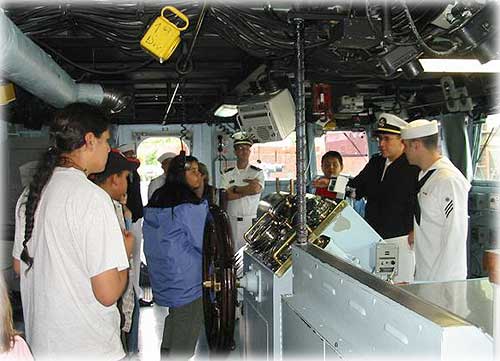 The Greater Ketchikan Chamber of Commerce assisted in
scheduling a tour on August 21, 2005 for Big Brothers Big Sisters of Ketchikan.
Photograph by Gretchen Klein ©2005

Alaskan Shield/Northern Edge '05 took place Aug. 15-19th. There were simulated events in numerous communities from Barrow to Anchorage and from Unalaska to Ketchikan testing the integration of at least 28 different agencies.
Alaska is the only state to practice its emergency response capabilities at the national level biannually. Other states normally conduct this level of intense training every 7 to 10 years.
E-mail your news & photos to editor@sitnews.us


Publish A Letter on SitNews Read Letters/Opinions
Submit A Letter to the Editor
SitNews
Stories In The News
Ketchikan, Alaska