Ketchikan's unemployment rate 4.7 percent in July
August 22, 2005
Monday

Ketchikan, Alaska - Ketchikan's unemployment rate for July was 4.7 percent down from June's 5.9 percent. With 9,170 reported in the workforce in Ketchikan in July, the number reported employed during the month was 8,741.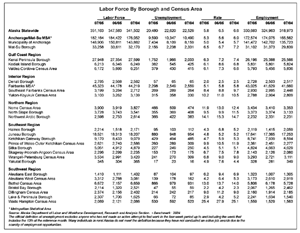 Alaska Labor Force by Borough and Census Area
Click on graphic to view a larger chart...
According to the Alaska Department of Labor and Workforce Development, Ketchikan's unemployment rate for July fell below the state's reported unemployment rate of 5.8 percent and below Anchorage's unemployment rate of 5.0 percent , Fairbanks' 5.1 percent and Juneau's unemployment rate of 4.8 percent.

As expected in July, statewide seasonal employers including seafood processors, construction companies, hotels and restaurants added a significant number of jobs over the month, pushing the rate lower.
Through the first seven months of 2005, statewide unemployment rates have been noticeably lower than in 2004, and July's statewide 5.8 percent rate is the lowest since May 2001. According to Dan Robinson, an economist with the Department, the state's labor market may be heating up.
"There were fewer unemployed Alaskans in July than there have been for almost four years and preliminary estimates indicate that payroll employment growth is stronger than in recent years," Robinson said.
The Denali Borough had the state's lowest rate at 2.0 percent and Wade Hampton had the highest at 25.4 percent.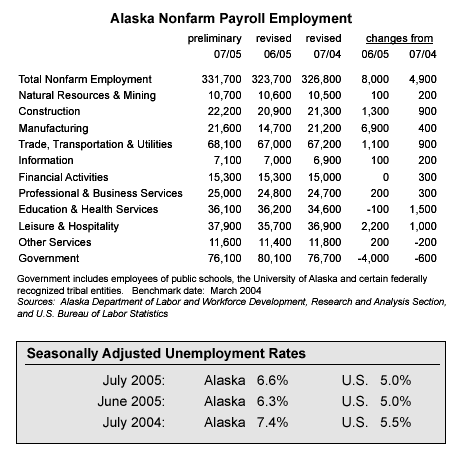 Statewide preliminary estimates of payroll employment show an over-the-month increase of 8,000 jobs. Seafood processing added 6,900 jobs in July as the salmon fi sheries neared peak production, while the construction and hospitality industries hit full stride as well. Government employment fell by 4,000 in July due mostly to the summer academic break.
Since July 2004 the state has added 4,900 jobs for a growth rate of 1.5 percent. Industry leaders continue to be health care, construction, retail trade and restaurants.


Source of News & Charts:
Alaska Department of Labor and Workforce Development,
http://www.labor.state.ak.us

E-mail your news & photos to editor@sitnews.us


Publish A Letter on SitNews Read Letters/Opinions
Submit A Letter to the Editor
SitNews
Stories In The News
Ketchikan, Alaska