Alaska seabird makes its own bug spray
by Ned Rozell
August 09, 2005
Tuesday

An Alaska seabird his a citrus smell that may repel mosquitoes and ticks as effectively as store-bought repellants, an Alaska scientist has found.
Crested auklets nest by the thousands in old lava flows on Bering Sea islands. During the breeding season they give off a pungent citrus-like odor. Hector Douglas, a Ph.D. student at University of Alaska Fairbanks, studied the auklets years ago in the Aleutians and wondered about the function of the sweet scent.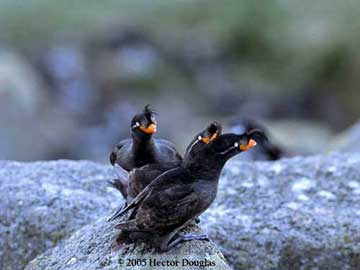 Crested auklets on St. Lawrence Island in July 2005.
Photograph by Hector Douglas.
"A flock of crested auklets would pass over as I ran my Zodiac, and it was as if I had passed through a citrus grove," he said.
After his encounters with the odor, Douglas read a report about a bird that rubbed lime rinds in its feathers as a possible defense against lice.
"That made me wonder if the auklet's citrus scent might be a chemical defense against ticks and lice," he said.
Douglas turned his interest into doctoral research at UAF's Institute of Marine Science, and he and colleagues at Virginia Military Institute and Wake Forest University determined the chemical composition of the crested auklet's odor. The odor included a class of chemicals called aldehydes. Douglas recreated the auklet scent with synthetic chemicals and tested it on ticks using a can of water heated to human body temperature. The can rotated on a customized record player.
"The ticks were lured by the heat and movement of the can and they attached, unless the auklet scent was present, when they veered away," Douglas said.
Mosquitoes are rare on most Bering Sea islands, and Douglas said mosquitoes were far from his thoughts until he spent a month camped in the tundra beside an auklet colony on St. Lawrence Island.
"On warm calm days the mosquitoes were thick; those were the times that I smelled the auklet's citrus scent the strongest," he said. "That made me wonder if the odor might also repel mosquitoes."
Douglas took his synthetic auklet potion to the Florida Medical Entomology Lab to test it against one of the most aggressive mosquito species, Aedes aegypti, the yellow fever mosquito. Researchers at the lab in Vero Beach evaluate mosquito repellents, and Douglas used their methods, covering his hand with a piece of filter paper and sticking it into cages filled with female mosquitoes. When the filter paper contained only the chemical ethanol, mosquitoes swarmed his hand. Then he added the auklet chemicals.
"Even down to 1 percent (concentration of auklet chemicals), the mosquitoes soon gave up and went to the sides of the cage," he said. "Mosquitoes respond the same way to DEET.
"The results were comparable to commercial mosquito repellents, Douglas wrote along with his colleagues in an article published in the July issue of the Journal of Medical Entomology. The scent chemicals are powerful stuff, but Douglas said people shouldn't expect to see crested auklet mosquito repellent on sale anytime soon.
"I've only taken the first step, to show these chemicals repel mosquitoes," he said. "More research would be required to determine how this discovery could be safely applied, but I think it has potential.
"Douglas is working to finish his dissertation, and next month he travels to Snowbird, Utah, to talk at the annual meeting of the Animal Behavior Society about how the citrus scent affects other crested auklets.
"My research shows that the crested auklets are attracted to the citrus odor," he said. "They preen it into their feathers, and it seems to be involved in courtship and choosing mates. It's a perfume that packs a punch."
This column is provided as a public service by the Geophysical Institute, University of Alaska Fairbanks, in cooperation with the UAF research community. Ned Rozell [nrozell@gi.alaska.edu] is a science writer at the institute.

Publish A Letter on SitNews
Read Letters/Opinions
Submit A Letter to the Editor
SitNews
Stories In The News
Ketchikan, Alaska