Former Alaska Governor Jay Hammond Dead at 83
August 02, 2005
Tuesday

Former Alaska Governor Jay Hammond died today. Hammond was 83.
For a lot of people, Jay Hammond was Alaska. He was governor in turbulent times, and navigated the often-perilous waters of public policy with common sense and good humor. After leaving public office, he stayed involved, writing and speaking on issues in which he had a lively interest.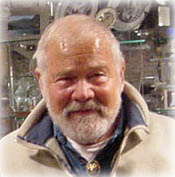 Jay Hammond
File Photo by Dick Kauffman



On hearing of former Governor Jay Hammond's death, Alaska Governor Frank H. Murkowski ordered the U.S. flag and the Alaska state flag to half staff.

Governor said, "With the passing of former Governor Jay Hammond today, Alaska has lost one of its premier visionaries, a popular leader who epitomized what it means to be an Alaskan, and a fairly good poet."

"Jay served as governor from 1974-1982 amid the most hectic period of growth in our young state. He was sworn into office the year that construction began on the Trans-Alaska Pipeline and was at the helm when oil began flowing four years later and the state began receiving its share of the oil wealth," said Murkowski.

The governor said, "Jay believed that public service was the highest calling a person could undertake and his record of service to the state of Alaska reflects that value well."

Hammond served the Bristol Bay region in the state House of Representatives from 1959-1965 before moving to the state Senate where he rose to the post of Senate President. He also served as mayor of the Bristol Bay Borough before his election to governor.

Hammond is widely recognized as the champion of the Permanent Fund and the dividend program. He recognized that by giving Alaskans a stake in this vital savings account, the corpus of the fund would remain protected from the political process.

Decades after leaving the Governor's Office, Hammond remained an active opinion leader in Alaska, serving on many blue ribbon panels and penning positions in newspaper columns. Governor Murkowski said, "To his last days, Jay continued to help guide Alaskans toward greater understanding of the complex issues before us. "

The Alaska Democrats say history will remember Hammond best for the Alaska Permanent Fund and, especially, the Permanent Fund Dividend, which he championed from its inception until his death. That's appropriate the Alaska Democrats say and added we should not forget his contributions in other areas: land use policy, oil and gas leasing, and taxation, to name just a few.

Even while in failing health, Hammond remained a prominent champion for a long-term fiscal plan and a strong defender of the Permanent Fund dividend program.

Hammond had a belief in Alaska and its people - he didn't just talk about the issues, he gave his time and energy to teaching and encouraging Alaskans themselves to stand up for themselves and Alaska. Jay Hammond will be missed in Alaska's homes and log cabins, in its public forums, and in the legislature, on both sides of the aisle.

E-mail your news & photos to editor@sitnews.us


Publish A Letter on SitNews Read Letters/Opinions
Submit A Letter to the Editor
SitNews
Stories In The News
Ketchikan, Alaska