Viewpoints
Not Unnoticed
By Scott R. Davis
August 23, 2005
Tuesday

Several years ago, Jim Hill came to Ketchikan after being hired as the Assistant Chief for the Ketchikan Fire Department. Since arriving, his tenacity in obtaining nothing but the best for the Ketchikan community in the way of equipment and training is second to none!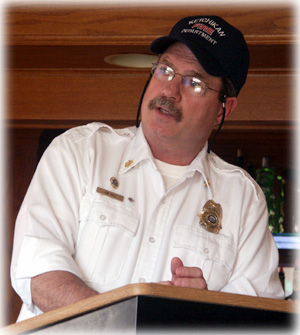 Jim Hill, Assistant Chief for the Ketchikan Fire Department, speaks before the Greater Ketchikan Chamber of Commerce on April 06, 2005.
File photo by Dick Kauffman
Jim organized Hazardous Material Training for responders in the community with many Ketchikan area Firefighters, Law Enforcement and members in the private sectors becoming Hazardous Material Technicians. Some of these members became certified for the first time.
In addition, Local, State and Federal grants reaching upwards of, what I GUESS to be, nearly $1,000,000.00 to equip the entire Ketchikan Community with Hazardous Material testing, monitoring, protective suits, breathing equipment, etc. etc. (the list is too long to list here). For that I am certain responders will be safer and most certainly more informed when, and not IF we are called to any hazardous material incident.
Jim works a 40 hour work week. NOT! The time and energy involved in these past several years in preparedness and training and the improvement of the response capabilities of the Ketchikan area has, by far, exceeded this number.
This past week, a table top, a toxin drill and a mass casualty drill involving all agencies on the island as well as outside agencies and evaluators took place in Ketchikan. This is the largest hazardous material exercise that I have ever been involved in that lasted over a period of 3 days. The amount of time involved in the preparation, implementation, and documentation is monumental! During the exercises, information of the Ketchikan area, community leaders, the lessons learned as well as the personnel training were invaluable for the Ketchikan Community.
Jim's desire to improve the response capabilities for the Ketchikan Community as a whole has not gone unnoticed.
Thank you Jim.
Scott R. Davis, Chief
South Tongass Volunteer Fire Dept.
Ketchikan, AK - USA
Note: Comments published on Viewpoints are the opinions of the writer
and do not necessarily reflect the opinions of Sitnews.
Write a Letter -------Read Letters

E-mail the Editor

Sitnews
Stories In The News
Ketchikan, Alaska