Study in Science reveals recreational fishing takes big bite of ocean catch

US saltwater recreational fishing catch rivals commercial fisheries for many depleted fish stocks including red snapper, black seabass, and lingcod
August 30, 2004
Monday

U.S. saltwater recreational fishing catch rivals commercial fisheries for many depleted fish stocks including red snapper, black seabass, and lingcod
Taking a hard look at the common belief that recreational fishing accounts for only 2-3% of total landings in the U.S., a new study published in the journal Science (August 26th) reveals that recreational catches account for nearly a quarter of the total take of over fished populations, including many of the most economically valuable species such as red snapper, red drum, lingcod, and bocaccio.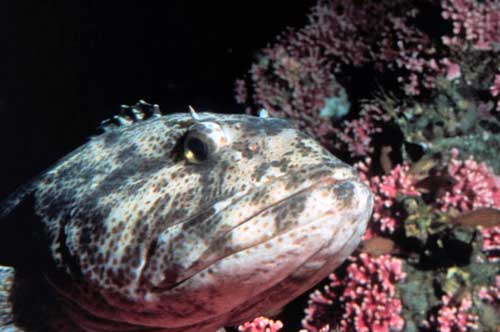 Lingcod, Ophiodon elongatus
Photo credit: OAR/National Undersea Research Program (NURP;
Alaska Department of Fish & Game

For specific depleted populations in the U.S.--particularly the large charismatic fishes that people care about most--recreational landings outstrip commercial landings. This is true for red snapper (59% recreational) and gag (56%) in the Gulf of Mexico, red drum in the South Atlantic (93%), and bocaccio on the Pacific coast (87%), among others.
"The conventional wisdom is that recreational fishing is a small proportion of the total take, so it is largely overlooked," says lead author Felicia Coleman of Florida State University. "But if you remove the fish caught and used for fish sticks and fishmeal (pollock and menhaden) - two strictly commercially caught species that account for over half of all U.S. landings - the recreational take rises to 10% nationally. And if you focus in on the populations identified by the Federal government as species of concern, it rises to 23%."
The study is the first comprehensive analysis of the impact of recreational saltwater fishing in the U.S. Using all available federal and state data, the authors formally compare commercial and recreational landings for the past 22 years - first for all federally managed fish, and then for species of concern (species officially classified by the National Marine Fisheries Service as "over-fished" or "experiencing over-fishing") both nationally and regionally. The Pew Charitable Trusts, one of the U.S.'s largest philanthropies, sponsored the study. Pew has sponsored major research on fisheries, including a number of widely reported recent studies on the deterioration of the marine environment.
At the regional level, recreational catches for these species of concern made up 64% of landings in the Gulf of Mexico (west coast of Florida, Alabama, Mississippi, Louisiana and Texas), 38% in the South Atlantic (North Carolina, South Carolina, Georgia, and the east coast of Florida), 59% along the Pacific Coast (California, Oregon and Washington), and 12% in the Northeast (Maine, New Hampshire, Massachusetts, Rhode Island, Connecticut, New York, New Jersey, Delaware, Maryland, and Virginia) in 2002.
"With over ten million saltwater recreational anglers in the U.S., and recreational fishing activity growing as much as 20% in the last 10 years, their aggregate impact is far from benign," says co-author Will Figueira of Duke University, currently at the University of Technology Sydney in Australia. "Recreational anglers are operating below the radar screen of management. While the individual may take relatively few fish, we show that a few fish per person times millions of fishermen can have an enormous impact."
"The large impacts of recreational fisheries surprised us, and they may startle many people, including fishermen, concerned about the health of our oceans. But if anything, our results likely underestimate the true impact of recreational fishing because we did not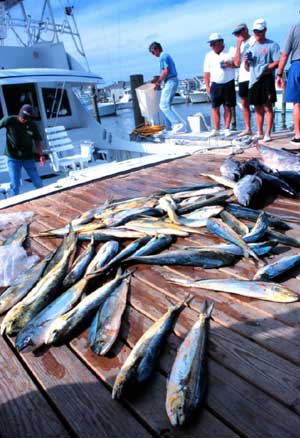 Charter boat unloads a catch of
yellowfin tuna and dolphinfish.
Photo Credit: William B. Folsom, NMFS/ NOAA

include fish that are discarded at sea or die from the effects of catch-and-release fishing," says co-author Larry Crowder of Duke University.

There is a long held belief that the individual catches of recreational fishermen could never take a significant bite out of the ocean's bounty. Most people picture recreational fishing as a Norman Rockwell image of father and son in a dinghy, each with a single hook and line. But many recreational fishermen today are equipped with sonar devices and global positioning systems to find fish, and powerful, far-ranging boats to travel far offshore ­ technologies that make them every bit as effective as their commercial counterparts.

"Recreational fishing in the ocean has lost much of its art," says Coleman. "Someone with absolutely no fishing ability can go out on a charter boat and bring in a remarkable catch ­ not because they know the environment, but because they rely on the professional, expert fishing knowledge of the captain and crew."

Recreational fishing targets large, top-level predatory fish in the ocean. Removal of these fish can create dramatic changes in ocean food webs and cause cascading effects that alter the overall productivity and health of marine ecosystems. In addition, some fish populations have dropped to such low numbers that they have been considered for placement on the threatened and endangered species lists, including bocaccio (a rockfish) on the Pacific coast which is primarily caught in recreational fisheries (87%), and Goliath grouper which is currently protected from harvest in the southeastern U.S., but is still caught by catch and release.

While the cumulative impact of commercial fishers is constrained by limits on who, where, when and how much fish they can catch, there are no controls on the aggregate impact of recreational fishers. Current management of saltwater recreational fisheries focuses primarily on the individual fisherman -- setting limits on the number and size of fish one can bring in -- without restricting the number of people allowed to fish. Approximately 40% of coastal states do not even require salt-water recreational fishing licenses. No states require a license for people younger than 16, and few require it for anyone fishing from shore.

"Size limits and bag limits are well intentioned, but lead to discarding of fish that are likely dead or dying. Unlike hunting on land, where hunters are licensed and the total take is controlled or managed by license lotteries, similar controls for saltwater recreational anglers simply do not exist," says Crowder.

Limiting fishing to catch and release may not solve the problem either. At least 20% of released fish end up dying, according to NMFS stock assessments for many species. For deep water species, this number is much higher. In addition, impressively large species like goliath grouper may well survive a catch-and-release encounter, but face repeated stress from successive catches. "Because they tend to move very little outside of the spawning season, an individual is easy to find and a single fish can be targeted repeatedly. A goliath grouper near one of my study sites had 20 hooks in its mouth," says Coleman. "Bringing up a 400 pound fish onto your boat creates a marvelous photo opportunity, but it undoubtedly causes enormous physiological stress on the fish. And catching it is about as exciting as pulling up a Volkswagen."

"In some ways, recreational fishing is where commercial fishing was 20 years ago with very weak controls and rapidly increasing numbers of fishermen," says Federal Ocean Commissioner Andrew Rosenberg, of the University of New Hampshire and former Deputy Director of NMFS. "The challenge is to come up with new ways to balance the increase in the number of people fishing with the need to reduce the number of fish caught and killed. The stocks can't sustain the increasing pressure and the only way to ensure we will have fish in the future is to leave more in the water now."

"This study is a rigorous compilation and analysis of data about recreational fishing that is long overdue and much needed," says Pew Ocean Commissioner and marine ecologist Jane Lubchenco of Oregon State University. "The availability of a credible analysis of such a controversial topic will greatly assist decision-making. Policy makers and fishery managers should now be able to move beyond assertions and begin to address the issues."

Many recreational fishers have a strong conservation ethic and the good news is that, with the help of strong management measures, depleted stocks can be rebuilt. "Everyone has to be part of the solution. There's little use in commercial and recreational fishers pointing fingers at each other," says author and ardent recreational fisherman Carl Safina, president of the Blue Ocean Institute. "Commercial fishing is not all bad and recreational fishing is not all good. A fish doesn't care if you are a commercial or recreational fisherman. It only cares if it is surrounded by water -or on ice."

"Recreational fishing is important to many people," says Coleman. "For some it's a way to commune with nature, for others it fulfills a deep desire to hunt. But if folks want to continue recreational fishing, we all need to support management of both commercial and recreational fisheries that will allow fish populations to recover and protect the structure and function of marine systems."

Source of News & Photos:
Florida State University
Web Site


E-mail your news & photos to editor@sitnews.org


Post a Comment View Comments
Submit an Opinion - Letter

Sitnews
Stories In The News
Ketchikan, Alaska