July Unemployment Rate Declines

August 30, 2004
Monday


Ketchikan, Alaska - The state's unemployment rate fell five-tenths of a percentage point in July to 6.5 percent which was reported as due to typically strong summer employment

gains. Unemployment numbers through the first seven months of 2004 reveal a relatively stable job market characterized by modest but steady employment growth. Dan Robinson, an economist with the Alaska Department of Labor and Workforce Development, reported the numbers.

July's labor force in Ketchikan was reported as 7,965. Of that number 417 of the labor force were reported unemployed and 7,548 reported employed. Ketchikan's July unemployment rate was 5.2 percent which is down from Ketchikan's unemployment rate of 6.4 percent in June. (For more details, click on the Labor Force by Region graphic for a full size chart.)

Anchorage's unemployment rate was unchanged in July at 4.9 percent, while Fairbanks saw a drop of five-tenths of a percentage point to 5.3 percent. Juneau's unemployment rate held steady at 5.0 percent.

The Denali Borough recorded the state's lowest unemployment rate in July at 1.7 percent. The borough has one of Alaska's most seasonal economies because of its small population and dependence on summer jobs associated with Denali National Part. Winter unemployment rates have been as high as 17.9 percent in recent years, while summer rates generally fall to three or four percent.

The state's highest reported unemployment rate in July was the Wade Hampton Census Area at 23.4 percent. Wade Hampton has seen consistently high unemployment rates for several years. The last time it was below 20 percent was in December of 2001.

Employment estimates from the monthly payroll survey show that Alaska added 7.000 jobs in July, most of them seasonal. The biggest over-the-month increase was in manufacturing, where July salmon runs boosted seafood processing by more than 6,000 jobs. The construction industry added a combined total of 2,500 jobs in July. Government's large monthly decline is a result of the summer break for public schools.

Over the year, the state has added about 4,000 jobs, an increase of 1.3 percent. Statewide, health care employment has shown the most growth over that period. Construction jobs are up 900 jobs compared to July 2003, and manufacturing jobs are up 400. Growth in the trade, transportation, and utiltites sector has come mostly from the retail trade industry.

The U.S. unemployment rate for July was 5.7 percent.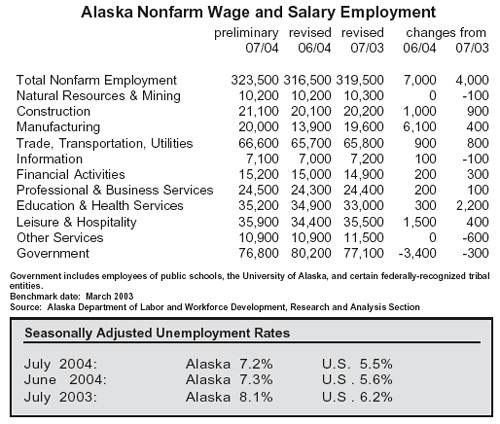 Source of News Release & Charts:
Alaska Department of Labor & Workforce Development
Web Site

E-mail your news & photos to editor@sitnews.org


Post a Comment View Comments
Submit an Opinion - Letter

Sitnews
Stories In The News
Ketchikan, Alaska