Governor Announces Completion of New SE Transportation Plan

Will Speed Road, Ferry Travel
August 14, 2004
Saturday

Ketchikan, Alaska - Southeast Alaska residents and visitors will be able to get around the region faster and easier under a new transportation plan that will use new roads and shuttle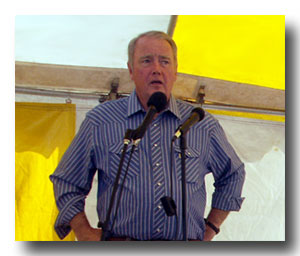 Gov. Murkowski announces the completion of the new SE Alaska Transportation plan at the Ketchikan Shipyard Saturday morning...
Photo by Dick Kauffman

ferries to provide rapid, reliable and cost-effective transportation, Governor Frank Murkowski said Saturday morning. Approximately 40 people including shipyard workers, community members and public officials were present to hear the Governor announce the completion of the new Southeast Alaska transportation plan at the Ketchikan Shipyard Saturday morning.

"Transportation is the lifeblood of a region, and in Southeast Alaska, transportation means roads and ferries," the Governor said. "Our plan uses the right mix of transportation links to give Alaskans access to jobs and economic opportunities, access to neighboring communities, and access to the world at large."

The Southeast Alaska Transportation Plan (SATP) calls for the state to extend the region's existing highway system, deploy new fast ferries to cover road gaps of 70 miles or more, and retire obsolete and mainline feeder ferries, the Governor said. The goal is to develop a surface transportation system that puts every community within one-day's travel of other major regional communities.

To provide for transportation needs over the next 20 years, the plan also identifies 34 essential road and utility corridors the state should reserve for future roads. Most notably, the plan calls for construction by 2010 of a road linking Juneau to Skagway, with frequent ferry service to Haines and a new ferry terminal near the Katzehin River.

The plan also calls on the state to:
Build a new ferry terminal serving Sitka from the east or northeast side of Baranof Island, linked to town by a cross-island road, to provide more frequent and less expensive ferry service
Build a road along the Bradfield Canal corridor to link Southeast with the continental highway system through British Columbia
Build a road between Kake and Petersburg, with a short shuttle ferry crossing across the Wrangell Narrows
Build a road linking Kake and Totem Bay, with a short ferry shuttle connection to the north end of Prince of Wales Island near Red Bay
Replace aging mainline ferries on Juneau-Bellingham routes, as long as ferry revenue continues to cover ferry operating costs
The SATP, representing the normal five-year update of the region's transportation plan, covers transportation projects out to 2025. While the department estimates the total scope of the work will cost an estimated $1.8 billion, more than $1.3 billion of that would come from federal earmarks, including $240 million for two new mainline ferries and approximately $500 million for the road connection from the continental road system to Ketchikan and Wrangell via the Bradfield Canal corridor.
"For too many years, Southeast Alaskans have needed road-building, but got only roadblocks," Murkowski said. "This ambitious but achievable plan of action will help fulfill my vision of building a safe, reliable and efficient transportation system that will improve the quality of life for residents, and enhance the economic opportunities and stability of the region."

E-mail your news & photos to editor@sitnews.org


Post a Comment View Comments
Submit an Opinion - Letter

Sitnews
Stories In The News
Ketchikan, Alaska