Forty years and counting on Mount Wrangell
by Ned Rozell
August 14, 2004
Saturday

Alaska - When Carl Benson stepped on the summit plateau of Mount Wrangell in May 2004, he saw the same view of the Copper River valley that he had on his first visit, when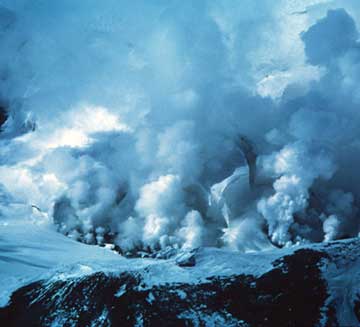 A view of Mt. Wrangell's steaming North Crater.
Photo by Carl Benson.

he was 34 years old and John F. Kennedy was president.

Now 77 and a professor emeritus at UAF's Geophysical Institute, Benson first stepped on the summit of Mt. Wrangell in 1961. Since then, he has spent months camping near the summit of the 4,317-meter (14,163-foot) volcano, which from a distance resembles a body under a white sheet.

A recent ankle surgery has limited Benson's time on the mountain, but he made it up for a few hours in 2004 as part of an international expedition of Japanese, Russian, and Alaskan scientists who are drilling ice cores on Mt. Wrangell's summit. With the help of pilot Paul Claus of Ultima Thule Outfitters and his turbo-equipped Single Otter, the team recovered 50 meters of core ice from Wrangell's summit caldera in 2003, and a segmented 216-meter core in 2004.

When Benson and others began studying the glacier/volcano interactions on Mt. Wrangell in 1961, the only way to ferry equipment to the summit was with Jack Wilson's Super Cub. Wilson, a pilot based in Copper Center, made 69 ski-wheeled landings at the summit between 1961 and 1965.

Scientific research on Wrangell's summit began in 1953, when University of Alaska president Terris Moore first landed there with his Super Cub in support of cosmic ray research that included university scientists Robert Elsner, Charles Wilson, and the late Fred Milan. At the time, Moore's 36 landings there were the highest-altitude ski plane landings in North America.

On Benson's first trip to Mt. Wrangell in 1961, extreme winds shredded the scientists' tents, forcing them to live in a large snow cave for one month. Later, Benson and others built a "volcanically heated" hut on an exposed portion of the summit. The floor of the hut was so warm that the scientists had to open vents near the ceiling to allow some of the hot air to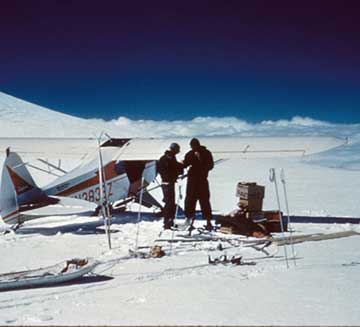 Bush pilot Jack Wilson helps glaciologist Carl Benson unload scientific gear on Mt. Wrangell's summit in 1961.
Photo by Sam Scott.

escape. The hut held up until Mt. Wrangell's North Crater heated up, possibly in response to shaking from the great 1964 earthquake. In 1973, Benson found that cracks had formed in the hut's floor and that corrosive gases had disintegrated all the screws that held the building together.

Though the volcanically heated hut is long gone, scientific research continues on Mt. Wrangell. The mountain's flat summit and dry snow make it an ideal place for retrieving ice cores that show the history of weather in the region. A research group that includes Takayuki Shiraiwa of the Institute of Low Temperature Science in Japan, Dan Solie and Benson of UAF's Geophysical Institute, and Yaroslav Muravyev of the Russian Academy of Sciences, will compare the ice cores with similar cores from Russia's Ushkovsky Volcano. Ushkovsky, on the Kamchatka Peninsula, is another glacier-capped volcano of about the same height and near the same latitude as Mt. Wrangell. The scientists hope to see how different areas on the Pacific Rim react to changes in somewhat predictable weather patterns known as the "Pacific Decadal Oscillation."

Benson and volcano researcher Steve McNutt are also using aerial photographs of the mountain's North Crater to see possible effects of the November 2002 earthquake. Both the Great Alaska Earthquake of 1964 and a magnitude 7.9 earthquake near Mt. St. Elias in 1979 produced major changes in the heating within the crater.

Two of Benson's colleagues, Martin Truffer and Martin Lüthi, traveled to Wrangell's summit in August 2004 in another attempt to find out the depth of the ice in Wrangell's Summit Caldera. Benson and others never found the bottom of the ice using radio echo sounding, but Truffer and Lüthi plan to use seismic techniques.

"There could be a kilometer-thick piece of ice there," Benson said.


This column is provided as a public service by the Geophysical Institute, University of Alaska Fairbanks, in cooperation with the UAF research community. Ned Rozell (e-mail) is a science writer at the institute.
E-mail your news & photos to editor@sitnews.org


Post a Comment View Comments
Submit an Opinion - Letter

Sitnews
Stories In The News
Ketchikan, Alaska