Wright Brothers' Master Pilot Awards Presented

August is Alaska Aviation Safety Month
August 13, 2004
Friday

Ketchikan, Alaska - In a ceremony held on August 3rd in Juneau, the Federal Aviation Administration kicked off Alaska Aviation Safety Month by recognizing Ken Eichner of Ketchikan and three other Southeast Alaska pilots with the Wright Brothers' Master Pilot Award. The award recognizes those who have contributed and maintained safe flight operations for 50 or more consecutive years of piloting aircraft.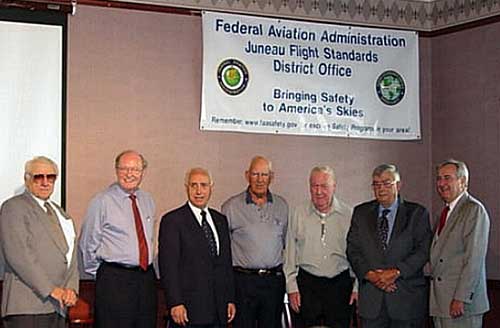 Picture Left to right: Layton Bennett (Master Pilot Awardee), Steve Thompson (Master Pilot Awardee). Nicholas Sabatini (FAA Associate Administrator for Regulation and Certification), Kenneth Eichner (Master Pilot Awardee), Kenneth Loken (Master Pilot Awardee), Mike Barton (Alaska Transportation Commissioner), and Patrick Poe (FAA Alaskan Region Administrator)
Photo courtesy FAA

On hand to honor the Master pilots were Alaska Transportation Commissioner Mike Barton, FAA Associate Administrator for Certification and Regulation Nicholas Sabatini, and FAA Alaskan Region Administrator Patrick Poe.
Wright Brothers' Master Pilot Award recipient Kenneth Charles Eichner, 86, was born in Washington in June of 1918. When he was 20 years old, Eichner moved to Ketchikan - at the time Ketchikan was considered a war zone. Eichner was told that if he got his Private Pilot license he would be able to fly as a pilot in the war. He decided to learn to fly in 1944 with the hope of flying for the military.. He received his Private Pilot license in 1945 but was not to realize his dream of flying during WWII. Instead he became a trapper and used his piloting skills to get him to remote wilderness areas to do some trapping. As time went on he became interested in prospecting and mining and used his aircraft to get to mining areas.
Temsco Helicopter's employed Eichner from 1960 to 1990. He became the President of the company in 1965. Eichner built the company into one of the most successful helicopter companies in Alaska in its heyday.
Eichner received his Commercial Certificate in 1960 followed by a Rotorcraft rating in 1962 and an Instrument rating in 1983. He also initiated the development of the Ketchikan volunteer Rescue group. This volunteer organization was instrumental in many difficult rescues. Many people owe their lives to this organization. He assisted in many accidents and made his equipment and personnel available whenever there was a need. Many times the FAA called upon Mr. Eichner for assistance, and he was always there.
Eichner still maintains private pilot currency. Forever young, and looking for new pursuits, in 2002 he authored and published a book entitled "Nine Lives Of an Alaska Bush Pilot".
Also honored with the Wright Brothers' Master Pilot Award were Ken Loken of Douglas, Steve Thompson of Juneau, and Layton A. Bennett of Haines.
Related News Story:
4 honored for 50 years of safe flying...
Juneau Empire
Source of News & Photograph:
Federal Aviation Administration
Web Site


E-mail your news & photos to editor@sitnews.org


Post a Comment View Comments
Submit an Opinion - Letter

Sitnews
Stories In The News
Ketchikan, Alaska