2004 Blueberry Arts Festival Contest Winners
August 10, 2004
Tuesday

Ketchikan, Alaska - The Ketchikan Arts Council provided a list of winners of the 2004 Blueberry Arts Festival contests. The Blueberry Arts Festival took place this past weekend in Ketchikan.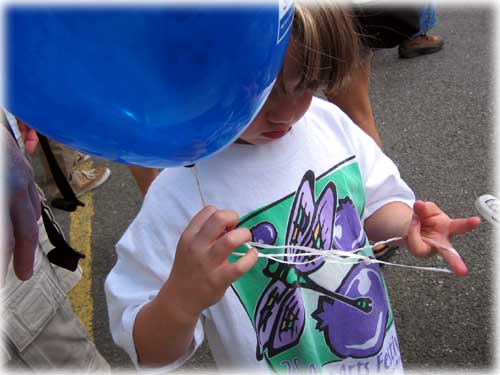 With a bright blue balloon and wearing the 2004 Blueberry Arts Festival shirt,
this young girl is dressed for the Blueberry Arts Festival Saturday...
Photo by Mandy Davis ©2004

The Juried Art Show held at the Mainstay Gallery had 82 entries and 51 artists. This event was sponsored by the Arts Council. The winners:
1st place: Juneau Port of Call by Chris Rose. (pastel)
2nd place: Happy, Go Lucky by Gary McWilliams (marble)
3rd place: Monkey, by Jenessa Albertson (watercolor)
Honorable mention: Beetle Brooch, by Andi Smith (bronze/copper)
Honorable mention: Berry Season, by Sharron Huffman (ink and paint on silk)
Honorable mention: Winter Skating Pond, by Mary Ida Henrikson (oil/encaustic/canvas)
Honorable mention: Dos Mundos, by Kathy Rousso (spruce root and maguey)
Honorable mention: Wize Steps In, by Tom Ferry (fimo)
People's Choice: First City, by Callie Bellow (mixed media)
There were 18 entries in the Best Blueberry Dish Contest sponsored by the Arts Council. The winners:
Grand Champion: Blueberry Sorbet with almond and blueberry tuiles, by Mandy Davis
2nd place: Blueberry Hazelnut Cheesecake by Emily Anderson
3rd place (tied): Me-Oh-My Simply Peachy Blueberry Festival Pie by Rebecca Noland
3rd place (tied): Blueberry Cheesecake by Stephanie Alley
Winners of the Spelling Bee sponsored by Community Connections:
1st place (8 and under): Stephanie Strassburg. Winning word: justice.
1st place (9-12): Garrett Blasingame. Winning word: delirious.
1st place (13-18): Erik Judson. Winning word: Mardi gras.
1st place (adult): Sonia Streitmatter. Winning word: schizophrenic.
Winners of the Trivia Contest sponsored by Friends of the Library:
1st place, youth: Peter Stanton. (Question: What is Ketchikan's biggest industry? Answer: tourism)
1st place, adult: David Sweetman. (Question: Where was Ketchikan's airport from the 1940s to 1973? Answer: Annette Island)
Winners of the Great Blueberry Debate sponsored by the Toastmasters:
Winning Team: Gerry Knasiak and Keith Smith.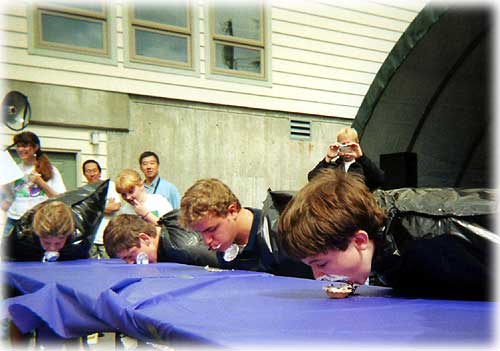 A few of the participants in the Pie Eating Contest....
photo by Dick Kauffman

Winners of the Slug Race sponsored by the AK Department of Fish & Game:
First Place: Muzzy trained by Aisha LaKoud
Second Place: Long trained by Kodie Moss
Third Place: Sweetie trained by Sydney Edwards
Winners of the Big Slug Contest sponsored by the AK Department of Fish & Game:
First Place: Spot (42 grams) sponsored by Nicholas Vermillion
Second Place: Bill (38 grams) sponsored by Simon Brooks
Third Place: Banana (32 grams) sponsored by Julian Ianuzzi
Winners of the Pie Eating Contest sponsored by WestCoast Cape Fox Lodge:
1st place, 6&7 year-olds: Naomi Updike
1st place, 8-10 year-olds: Brendan Stanton
1st place, 11-12 year-olds: Deandra Banie
1st place, 13-18 year-olds: Laughton Elliott-DeAngelis
1st place, adults: Paul Sakamoto
Grand Champion: Paul Sakamoto
Great Blueberry Race winners (A fundraiser for Ketchikan Yourth Court):
1st place ($1000): Scott Sammons
2nd place ($300): Sam Bergeron
3rd place ($150): Laurie Murphy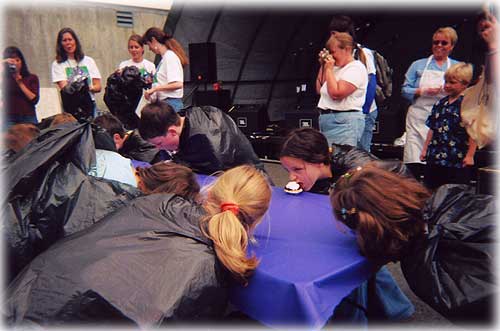 A few of the participants in the Pie Eating Contest....
Photo by Dick Kauffman

Winners of the Battle of the Bands sponsored by the Arts Council:
Best band: Bone Tox and the Lost Package
Best solo performer: Christy Miller
Best original song about blueberries: Ryan Miller Extravaganza
14th Annual Richard Brautigan and Dick Whittaker Trout Fishing in America Poetry Slam and Brothel Beat Poetry Contest. Sponsored by Soho Coho Gallery, Parnassus Bookstore, & the New York Cafe winners:
1st place: B Hutton
2nd place: Saravati
3rd place: Emily Moore reading a poem by Neal Gilbertson
Source of News:
Ketchikan Art Council
Web Site

E-mail your news & photos to editor@sitnews.org


Post a Comment View Comments
Submit an Opinion - Letter

Sitnews
Stories In The News
Ketchikan, Alaska