Whitesides Celebrates 100th Birthday Saturday
August 06, 2004
Friday

Ketchikan, Alaska - Former Ketchikan resident Lois Whitesides will be celebrating her 100th birthday on Saturday, August 7th in Medford, Oregon. Birthdays are always special days, and Lois will celebrate her 100th birthday with family and friends.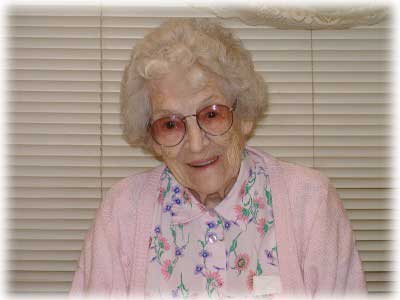 Lois Whitesides
Photo by Byron Whitesides ©2004

For many years Lois and her late husband, Frank, resided in Ketchikan. They were the owners of Y&W Garage which was located on Stedman Street. Lois and Frank had intended to make Ketchikan their life long home. However, after Frank passed away in the late 1950's, Lois later moved from Ketchikan.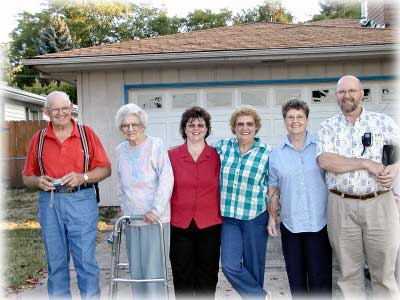 Lois Whitesides poses with 3 generations of family members...
Dale, Lois, Jean Eileen, Myrna, Lois and Byron
Photo by Byron Whitesides ©2004

She presently lives with her daughter, Myrna Tenbrook, in Medford, Oregon. Her family reports that Lois recently suffered a stroke and is currently recovering in Three Feathers Nursing Home. Lois plans to return to daughter Myrna Tenbrook's home in Medford upon recovery.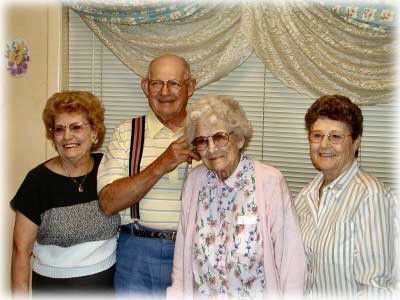 Lois Whitesides poses with her children: Myrna, Dale, and daughter Lois
Photo by Byron Whitesides ©2004

Lois has a son Dale Whitesides, who resides in Ketchikan. She also has 7 grandchildren, 14 great-grandchildren, and 6 great-great grandchildren residing in the Ketchikan Community.
Family member Sharyl Whitesides of Ketchikan provided a mailing address for friends of Lois' who wish to write to her. The address is:
Lois Whitesides
C/o Myrna Tenbrook
1334 East Jackson Street
Medford, Oregon 97504


E-mail your news & photos to editor@sitnews.org


Post a Comment View Comments
Submit an Opinion - Letter

Sitnews
Stories In The News
Ketchikan, Alaska