Greenpeace's Esperanza Departed Ketchikan Monday
by Dick Kauffman
August 12, 2003
Tuesday - 12:10 am

Ketchikan, Alaska - The M.V. Esperanza completed the first leg of its "Endangered Forests, Endangered Freedoms" tour of Southeast Alaska, leaving Ketchikan on Monday.
M/V Esperanza
Anchored west of Peninsula Point...
photo by Dick Kauffman - Aug. 04, 2003

According to Greenpeace, "the ship's week-long stay was marked by controversy as local officials tried to make the ship's visit as difficult as possible."
"As an Alaskan and an American, I'm shocked at the way that Ketchikan has reacted to our visit," said Melanie Duchin, Greenpeace Forests Campaigner and Alaska resident. "In Alaska, we have a tradition of welcoming visitors whether you agree with them or not, and in America, we have freedom of speech. This city's attempts to silence us are not typical of Alaskans, and they will not prevent us from continuing on with this tour or our efforts to protect the nation's endangered forests."
In a news release issued Monday morning Greenpeace listed four actions they said were taken against them in Ketchikan which made their visit difficult. First, Greenpeace said their 30-year history of nonviolence was ignored and a team of six armed Federal Protective Service officers were flown in to guard Ketchikan's federal building, solely because of Greenpeace's presence in the area.
However, Ketchikan Borough Mayor Mike Salazar said the assignment of these Federal Protective Service officers to guard Ketchikan's federal building was a decision made by the federal government and was not a decision made by the local governing bodies.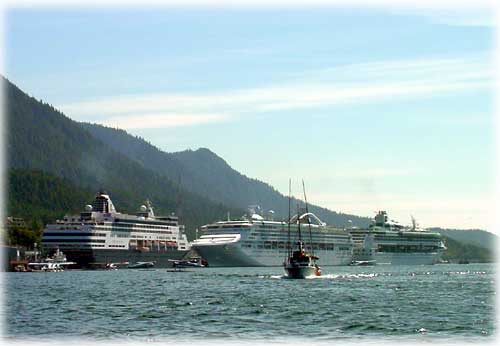 Ketchikan's downtown waterfront.
The city of Ketchikan is hidden from view behind the ships.
photo by Gigi Pilcher - August 06, 2003

The second action listed by Greenpeace regarded the City of Ketchikan rescinding dock space at the city's public dock in late July. Greenpeace said that despite the fact that permission to dock had been granted on July 8th a letter notifying them of the reversal stated, "As you are aware, safety and security continues to be a priority. The U.S. Coast Guard has re-informed us of that fact and we cannot provide the security your vessel and the cruise ships would require." According to Greenpeace, even after the Coast Guard denied voicing security concerns with respect to the Greenpeace ship, Greenpeace said the City continued to refuse to accommodate the Esperanza, citing a lack of space.
While acknowledging that it was unfortunate that a Harbor Department employee may have mistakenly advised Greenpeace that moorage space could be made available, Ketchikan City Manager Karl R. Amylon stated in a news release on August 1st that political considerations played no part in reaching his decision. "The overcrowding of Ketchikan's Port facilities is well documented," Amylon stated. "The Esperanza is not the only vessel the City has been unable to accommodate due to a lack of available space," he said. "If nothing else, this incident reinforces the need for the City to move forward with increasing the number of berths at the Port," Amylon said.
The third action which Greenpeace said made their visit difficult regarded the resolution passed by the Ketchikan Gateway Borough Assembly which Greenpeace said condemned their visit and advised businesses and residents of "their right to not provide services or supplies to Greenpeace." Two days later, the Greater Ketchikan Chamber of Commerce passed a similar resolution.
The resolution passed on August 4th by the Ketchikan Borough Assembly by a vote of 5-1 requested Greenpeace not to disrupt road building, timber harvesting, or other economic activities; to reconsider their visit to Southeast Alaska; and advised that businesses and citizens may exercise their right to not provide services or supplies to Greenpeace.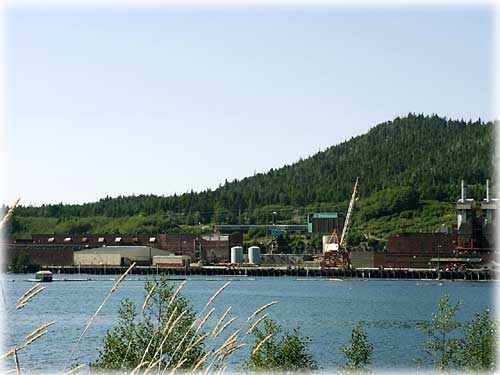 Ward Cove
photo by Dick Kauffman - August 11, 2003

The final action which Greepeace said created difficulties for them was not being allowed by the Ketchikan Gateway Borough to dock at Ward Cove. Greenpeace said after being denied a berth at the city docks, the Esperanza anchored outside Ward Cove, the site of the defunct Ketchikan Pulp Company mill, which is now owned by the Ketchikan Gateway Borough. Greenpeace said when they requested to dock at the mill, the Borough agreed and that two hours later, the Borough rescinded its permission, citing safety and liability concerns.
According to Borough Mayor Mike Salazar, this decision was based entirely on public safety and liability issues and was not political. In addition to Greenpeace's request to dock at Ward Cove, Greenpeace planned to set up a tent on the dock to hold open house. Salazar said the dock is an industrial site with demolition & clean-up still in progress and posed a very real public safety concern.
Quoting a Greenpeace news release, "Despite these inflammatory moves by local officials, residents have expressed their support for Greenpeace. Everywhere, the ship's crew met residents who said they were embarrassed by the city's treatment of Greenpeace."
During their week-long stay in Ketchikan, Greenpeace staff met with the Tongass Conservation Society, the U.S. Forest Service and members of the community to discuss logging issues. Greenpeace said during their visit they also documented national forest areas that have been clearcut as well as pristine lands.
The Greenpeace boat tour continues on to the Cleveland Peninsula, Cholmondeley Sound, Kosciusko Island, Anan Creek and Juneau. The Esperanza which is the latest and largest vessel in Greenpeace's fleet arrived in Ketchikan last week on August 4th.
For more information on the "Endangered Forests, Endangered Freedoms" tour visit visit www.greenpeaceusa.org.
Related article:
Greenpeace Vessel Will Not Moor at the Port of Ketchikan; City has provided Greenpeace with possible alternative moorage options...
Sitnews - Saturday - August 02, 2003



Post a Comment -------View Comments

Submit an Opinion - Letter

Sitnews
Stories In The News
Ketchikan, Alaska