Senator Robin Taylor Resigns Senate Seat To Accept New Position
Governor Murkowski Appoints Taylor of Wrangell
to New Role Working with SE Alaska Transportation Projects
August 08, 2003
Friday - 7:40 pm

Ketchikan, AK - Speaking to a crowd of approximately 40 people at the Ted Ferry Civic Center Friday morning, Sen. Robin Taylor announced that he would be resigning his senate seat and accepting a position with Governor Murkowski. Taylor said he was looking forward to his new postion and the new challenges.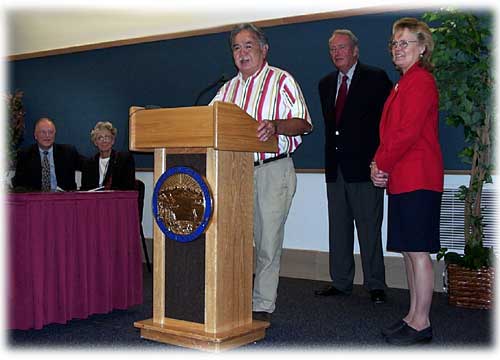 Left to Right: Senator Robin Taylor & Kaye Taylor; Rep. Bill Williams at the podium, Governor Frank Murkowski and Representative Peggy Wilson...
Photo by Dick Kauffman
Governor Frank Murkowski, who called the press conference, named Senator Robin Taylor to a new role in the Department of Transportation, as the special assistant to the Southeast region transportation director.
"I have been talking with Senator Taylor about a new role to benefit the people of Southeast Alaska. He has been in the Legislature for 19 years and has noticed a real need to improve transportation links in this part of Alaska," said Governor Murkowski. "Senator Taylor is ideally suited to the task. His entire career in the Alaska State Legislature has been concerned with how to improve the Alaska Marine Highway and the need for better connection with the Canadian transportation system."
Taylor and his wife Kaye have been residents of Alaska since moving to Ketchikan in 1961 and have lived in Wrangell since 1977. Taylor received his undergraduate degree in history from the University of Washington, and his law degree from Willamette University. Taylor served in the Alaska House of Representatives from 1985 until 1992 when he was elected to the Alaska State Senate, where he chairs the Legislative Council Joint Committee. Taylor indicated that he would resign his Senate seat in late September and would begin his new position shortly thereafter. The newly created position pays $74,514 plus benefits.
Also speaking at the Ted Ferry Civic Center Friday morning, Representative Bill Williams and Representative Peggy Wilson both praised Senator Taylor on his contributions over the past twenty years to the people of Southeast.
Murkowski said that Taylor would be assisting with the Bradfield Canal Road and other special projects. He will be the Department of Transportation and Public Facilities' liaison for the Southeast electrical intertie, the shuttle ferry/road interconnections, the Gravina access bridge project, the U.S. Forest Service access road across Gravina Island/Cleveland Peninsula and the completion of the Metlakatla Road.



Post a Comment -------View Comments

Submit an Opinion - Letter

Sitnews
Stories In The News
Ketchikan, Alaska