So Many Creeks, So Few Names
by Ned Rozell
August 03, 2003
Sunday - 1:15 pm

A waterway close to my house is one of five Pearl creeks in Alaska, according to the Dictionary of Alaska Place Names, by Donald Orth. One might think that five watersheds sharing the same name would cause confusion, but Alaska is a big place, and there seems to be room for a few repeats.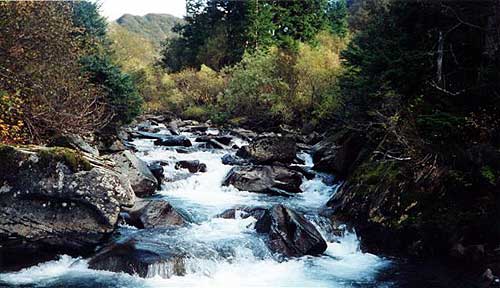 Gold Creek near Juneau, one of 25 Gold Creeks in Alaska.
Photo by Sven Eric Franzen...

Take Willow Creek for example. Alaska has 63 of them. Twenty-eight Alder creeks are scattered around the state. Spruce creeks flow in 22 different locations in Alaska, Cottonwoods in 19, and Birches in 14. Prospectors and others who mistook spruces for Pines misnamed six creeks in Alaska. Those who knew their dendrology named four creeks for Tamarack, two for Aspen, and one for Poplar.
Fish and game were a handy reference for those faced with naming an Alaska stream. Note the 39 Fish creeks, 25 Caribou creeks, 17 Porcupine creeks, and 12 Rabbit (but no Hare) creeks. Larger mammals got even more attention; 18 creeks have the name Wolf, after an animal known to stalk the Beaver (29 creeks). Sheep inspired the name of 33 creeks, but not nearly as many as Moose, which give their name to 55 creeks. Sixty-seven creeks Bear the name of the state's largest carnivore.
In Alaska, there exists one Good Creek. Six creeks are Happy, but one is a Problem, and another is Difficult. Four are Troublesome, four more are Disappointments, and one is Hellbent.
One Alaska creek is Gay, five are Straight, and 26 are Crooked. Ten creeks are Hidden, 21 are Lost, and one is Fake. Eight creeks are Swift, but only one is Slow. Rose creeks are found in four locations throughout Alaska, but none are near Stink Creek.
Alaska creeks are Cold (4), Chilly (1), Warm (1), Dry (23), and Extra Dry (2). Alaska creek names may drive one to a state of Confusion (1), but at least drivers have a choice between Automatic (1) and Standard (2) creeks.
Alaska has five Mosquito creeks, but, alas, just one Dragonfly. Both insects are known to hover above Slippery, Slope, Slide, Sleem, and Slime creeks.
No Alaska creeks wear the name Pebble, but two are Stone, four are Gravel, 34 are Rock and 48 are Boulder. Miners named six First Chance creeks, 18 Last Chance creeks, 23 Eldorados, and 30 Bonanzas. Gold Creek was the natural, if hopeful, choice of 25 creek-namers. Four realists named creeks for their Hard Luck. Fortune must have smiled at both Too Much Gold creeks and at Easy Money Creek, which is not to be confused with Easy Moose Creek.
Flowing within Alaska are Thanksgiving Creek, Merry Christmas Creek, Happy New Year Creek, four Easter creeks, and 13 different Fourth of July creeks. Nineteen creeks are Deep, but none are Shallow.
Finally, when considering Alaska's creeks, there is but one Question. Of course, there is also an Answer.
Source of Story & photograph:
This column is provided as a public service by the Geophysical Institute, University of Alaska Fairbanks, in cooperation with the UAF research community. Ned Rozell is a science writer at the institute.



Post a Comment -------View Comments

Submit an Opinion - Letter

Sitnews
Stories In The News
Ketchikan, Alaska