Murkowski, Hastings Press NOAA, BSEE About Arctic Protests;
Greenpeace ship on way to study unexplored Arctic ocean habitats they suspect threatened by offshore drilling
July 17, 2012
Tuesday

(SitNews) - U.S. Sen. Lisa Murkowski (R-AK) and Rep. Doc Hastings (R-WA) sent a letter last week to Dr. Jane Lubchenco, the Under Secretary for Oceans and Atmosphere and Administrator at National Oceanic and Atmospheric Administration (NOAA), and James Watson, Director of the Bureau of Safety and Environmental Enforcement (BSEE), asking what measures NOAA and BSEE have taken to ensure that the planned protest activities in the Arctic by Greenpeace do not disrupt or threaten safe operations, disturb marine mammals or interfere with anticipated Native Alaskan subsistence efforts.
"We share your concern for ensuring proper oversight of oil and gas operations on the Outer Continental Shelf," Murkowski and Hastings wrote. "In that regard, we want to be sure that you have the resources, are planning and prepared to respond to the steps that Greenpeace is planning to impede exploratory drilling operations in arctic waters off the north coast of Alaska."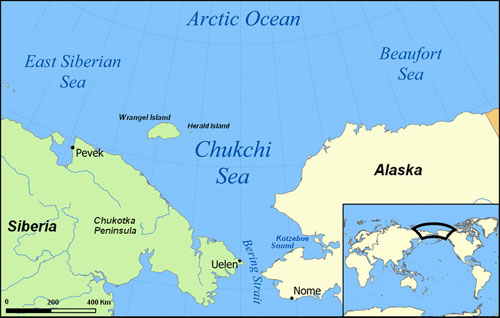 Greenpeace is attempting to protest and "monitor" Shell's activities by interfering with permitted work in the Arctic through the usage of a 216 foot ice class ship, two large rigid hull and four small inflatables, two submarines, and an aerial drone. Murkowski and Hastings say they are concerned that federal agencies have not accounted for the likelihood that Greenpeace's activities will cause disturbance to marine mammals, pollution to the environment, or conflict with Native Alaskans through the physical presence of vessels.
"NOAA's and BSEE's analysis of planned oil and gas exploration in the Chukchi and Beaufort Seas has devoted extraordinary and unprecedented attention to the potential impacts of vessels and other activities," they wrote. "Though the potential for impacts is similar, there has been no such analysis or permitting of the planned protest activities or the operation of the vessels participating in them. In addition to the environmental problems presented by the protest fleet, it seems that there are special dangers in having multiple submarines operated by different parties in and around drilling operations."
Murkowski is the Ranking Member on the Senate Energy and Natural Resources Committee and the Senate Appropriations Subcommittee on the Interior, Environment, and Related Agencies. Hastings is the Chairman of the House Natural Resources Committee.
The Greenpeace ship Esperanza departed from Dutch Harbor on their Arctic expedition on July 6th with plans to study unexplored ocean habitats that might be threatened by offshore oil drilling, as well as industrial fishing fleets.
The "Save the Arctic" tour plans to employ an array of modern research tools including small submarines, acoustic monitoring equipment, and unmanned aerial vehicles, and begins when Shell's drill rigs approach their staging ground in Dutch Harbor to await further melting of the Arctic sea ice.
"We're headed to the Arctic to show how little is known about this pristine ecosystem before Shell's rigs move in to destroy it. Instead of recognizing the grave warning of melting sea ice, Shell is planning to drill for more of the oil that caused the melting in the first place. We have to break this vicious cycle of corporate greed and work together to save the Arctic," said Jackie Dragon, Lead Arctic Campaigner for Greenpeace USA.
Since Greenpeace launched its Save the Arctic campaign in Rio on June 21st, nearly 500,000 people have joined together to call for the area around the high Arctic to be made into a global sanctuary and the wider region put off limits to industrial development. The first leg of the Esperanza ship tour includes submarine research in the deep canyons of the Bering Sea, to study the largest underwater canyons in the world and help protect unique ecosystems from overfishing and destructive fishing methods like trawling. During the second leg, scientists on board the Esperanza will use the submersibles and acoustic monitoring equipment to document the marine habitats and wildlife threatened by Shell's plans for exploratory drilling this summer.
This submarine diving in the area of Shell's planned drilling locations will be the first ever research submarine exploration of the Chukchi Sea, just before offshore drilling is scheduled to begin. The submersibles are equipped with indexing lasers, HD video cameras, and robotic arms to retrieve samples and can dive to a depth of 2000 feet (610 meters).
"There has been very little consideration of the impacts of drilling - or an oil spill - on the unique marine life of the Chukchi Sea. Very little is known about the Arctic seafloor, and yet Shell is willing to gamble it all before we even know what's in our hand," said John Hocevar, Oceans Campaign Director for Greenpeace USA. "Previous research has shown the Chukchi to be one of the most productive ecosystems in the world, with a large portion of the marine life living on the seafloor. As we saw in the Gulf of Mexico after the BP Horizon disaster, oil can completely cover the bottom, turning areas rich in corals, starfish, crabs, and other marine life into a wasteland."
In response to reports that Shell's drill rig Noble Discoverer ran aground on July 14th in Unalaska and became stuck near Dutch Harbor, Greenpeace Lead Arctic Campaigner Jackie Dragon said, "Shell can't keep it's drill rig under control in a protected harbor, so what will happen when it faces 20 foot swells and sea ice while drilling in the Arctic? Shell's whole drilling program seems to be running aground; the company has admitted its drill rig can't meet the standards required to avoid polluting Arctic air, and broken promises about its oil spill response plan and Arctic storm preparedness. Shell cannot be trusted, and President Obama should not let its Arctic drilling program move forward."
Jackie Dragon is on board the Greenpeace ship Esperanza, which is currently headed to the Chukchi Sea with research submarines and other equipment to study the marine habitats where Shell hopes to drill this summer.
As of Monday, the location of the Greenpeace ship Esperanza was in the Bering Sea. With the Waitt Institute's submarine they are exploring the world's largest underwater canyons
Edited by Mary Kauffman, SitNews
Source of News:
Office of U.S. Sen. Lisa Murkowski
www.murkowski.senate.gov

Greenpeace
www.greenpeace.org
E-mail your news & photos to editor@sitnews.us


Publish A Letter in SitNews
Contact the Editor
SitNews ©2012
Stories In The News
Ketchikan, Alaska

Articles & photographs that appear in SitNews may be protected by copyright and may not be reprinted without written permission from and payment of any required fees to the proper sources.