Tsunami debris surveys underway but will
cleanup funding arrive in time?
July 03, 2012
Tuesday

(SitNews) - Today the Marine Conservation Alliance Foundation (MCAF) released the results of their tsunami debris monitoring program. Further monitoring efforts are underway but additional funding is necessary to conduct cleanup activities.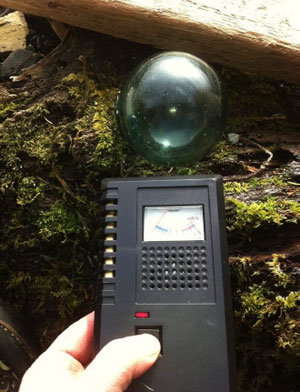 Japanese glass ball tested for radiation on Port San Antonio beach, near Craig.
Photo courtesy MCAF
Debris suspected to be from the tsunami was reported in Washington State in December 2011. In response, in January 2012, the Marine Conservation Alliance Foundation (MCAF) established a monitoring program to detect the presence of debris on Alaska's shoreline and to test suspected pieces for radiation. The program used experienced marine debris cleanup contactors in Sitka, Craig, Yakutat, and Kodiak.
As described in the newly released report, Results of the 2012 MCAF Japanese Tsunami Monitoring Program; buoys, large pieces of Styrofoam and liquid containers used for fuel were found along the shores. Experienced contactors recognized much of this was not typical debris. Near Sitka 1,600 pounds of mostly Styrofoam tsunami debris was identified from eight beaches. Styrofoam was also the biggest problem in Yakutat with 95 blocks and 52 floats identified. This was followed by the large black "oyster floats" (48 identified).
Using hand-held Geiger counters, monitors found no radiation contamination. This is consistent with expectations since the Fukushima meltdown occurred after the water had receded.
The study found that much of the debris is Styrofoam, which greatly concerned Marine Debris Program Coordinator Dave Gaudet. "Just imagine Styrofoam in the storms this winter getting bashed against the rocks. Right now the pieces are big and can be picked up, but next year they'll be broken to pieces and nearly impossible to remove."
This environmental catastrophe called for a quick response. "The question we needed to ask ourselves is how much and where are the densest deposits?" said Merrick Burden, Executive Director of the Marine Conservation Alliance Foundation (MCAF). "After that, where will funding come from to clean it?" MCAF proposed an aerial survey of the coastline. With summer weather MCAF advocates for a systematic aerial GPS-referenced photographic survey of the Gulf of Alaska coast from Cape Muzon to King Cove. This is the only manner in which a comparative assessment of the amount, type and locations of the debris can be done according to MCAF. The photographic survey can then be used to develop a cleanup program
The State of Alaska stepped forward by funding a systematic aerial survey from Dixon Entrance to the tip of the Alaskan Peninsula, a plan that is being carried out by Airborne Technologies Inc (ATI). With this information they can help identify priority areas for cleanup.
The concern now is finding the funding necessary to accomplish the cleanup this year. Dave Gaudet, MCAF Marine Debris Program Coordinator noted, "In practice, it is not possible to work safely and effectively after mid-September on the remote beaches of the Gulf of Alaska, so work needs to start soon."
Formed in 2003, the Marine Conservation Alliance Foundation (MCAF) is the research, education, and marine debris removal arm of the Seattle and Juneau-based Marine Conservation Alliance, an industry association that represents many of the harvesters and processors who provide seafood from the federal waters off Alaska and the communities that depend on sustainable fisheries.
Partnering with groups across Alaska, the Marine Conservation Alliance Foundation (MCAF) has helped remove over two million pounds of debris from Alaska shores.
The report was prepared by the Marine Conservation Alliance Foundation and was funded either fully or partly by the National Oceanic and Atmospheric Administration (NOAA).
Edited by Mary Kauffman, Sitnews
On the Web:
Download: Monitoring Study Results: Results of the 2012 MCAF Japanese Tsunami Monitoring Program
Source of News:
Marine Conservation Alliance Foundation (MCAF)
www.mcafoundation.org
E-mail your news & photos to editor@sitnews.us


Publish A Letter in SitNews
Contact the Editor
SitNews ©2012
Stories In The News
Ketchikan, Alaska

Articles & photographs that appear in SitNews may be protected by copyright and may not be reprinted without written permission from and payment of any required fees to the proper sources.