Alaska Science
Buzzed by the same bird?
By NED ROZELL
July 14, 2011
Thursday

(SitNews) - As I drifted with my family past a rocky cliff on the Yukon River, a gull cruised at us like an F-15, diving just over our heads to show its apparent displeasure.
As the gull looped to buzz us again, I felt a strong sense of déjà vu. When I floated by this same cliff 18 summers earlier, a gull did the same thing (the experience sticks in my mind because canoe-bound dogs, one of which accompanied me on each trip, get so excited at a close bird that you have to employ immediate corrective leaning to avoid swimming). We canoed 200 miles of the Yukon the past few summers, some of it with similar cliffs. This river bend was the only place where a gull came after us, which begs a question. Could it have been the same bird that was nesting on that cliff in 1993?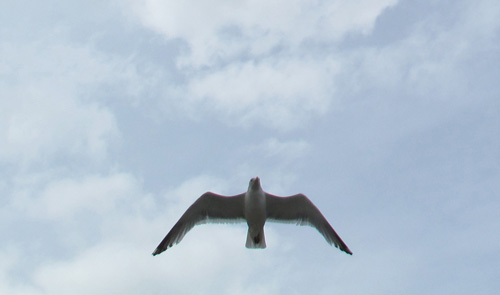 This gull swooped from its nesting site on the Yukon River to dive-bomb passing canoeists.
Photo by N. Rozell.

"I think it's feasible, but that would be an extraordinary lifespan for a gull," said bird biologist Abby Powell, a professor at the University of Alaska Fairbanks. "I think it's probably more likely it's a different individual . . . Who knows, maybe it could be a daughter."
Scientists have documented different types of gulls living into their twenties, though most of those birds didn't live in the far north for half the year. My recent encounter with the gull might have been a good example of what bird scientists call "site tenacity," or the choice of a bird to nest in the same place each summer after migrating north from hundreds or thousands of miles away. Pierre Deviche, an Arizona State University scientist who once worked in Fairbanks, noticed that a dark-eyed junco he was studying here would return each spring to the same spruce tree. There, it perched on the same branch it had the year before, and sang away.
"One very important factor influencing the evolution of site tenacity is the degree of predictability or physical stability of the nest site," wrote Paul Ehrlich and his coauthors in "The Birder's Handbook." "Cliffs tend to be there year after year . . . Barn Swallows and Bank Swallows provide another good example of well-developed versus poorly developed site tenacity in two related species that select very different sorts of nest sites. Barns stand for many years; banks are prone to erosion."
From studies of birds that return each summer to Alaska's North Slope, Powell has noticed that many return to the same spots to lay eggs and hatch their young.
"Some of our king eiders come back very, very close to the same exact nest site out on the tundra year after year," she said.
Possible advantages of returning to the same rocky ledge or cup of tundra plants include a bird's knowledge of what resources are available there, and the security of the spot.
"You would know what food is around and what the nesting conditions are," Powell said. "And a lot of birds would be likely to come back if they were successful (in breeding and raising young). And, if you don't get eaten there, you might think it's pretty safe."
This column is provided as a public service by the Geophysical Institute, University of Alaska Fairbanks, in cooperation with the UAF research community.
Ned Rozell is a science writer at the institute.
E-mail your news & photos to editor@sitnews.us


Publish A Letter in SitNews Read Letters/Opinions
Contact the Editor
SitNews ©2011
Stories In The News
Ketchikan, Alaska

Articles & photographs that appear in SitNews may be protected by copyright and may not be reprinted without written permission from and payment of any required fees to the proper sources.